Explore, Learn, and Play: Whether You're a Kid or an Adult, These Educational Titles Are a Must-Try On Your Quest Headset.
We live in a modern world where we use technology to make our lives easier and more enjoyable. So why not make "Learning" a fun activity?
According to EDUCAUSE, a growing body of research studies shows that game-based learning platforms "can develop an interesting dynamic that motivates pupils to develop competencies and also abilities as they focus on the tasks of the game."
So, keep the book and pen aside and embrace the joy of learning in VR with our handpicked selection of the Top 20 Best Educational Games and Apps on Quest For All Ages!
*These games and apps are available on all Meta Quest Headsets; Meta Quest 1, 2, 3 + Pro*
Here Are The Top 20 Best Educational Games On Meta Quest For All Ages
20. Librarium
Let's start this list off with Librarium VR!
Librarium is like Hogwards; a magical school where you can play games and study at the same time.
It features a big library of community-created flashcards decks and it also supports many languages like Chinese, Japanese, Korean, and Russian.
You can even make your own flashcards, play mini-games to see how much you've learned and buy extra science stuff from Kaplan
19. Nano VR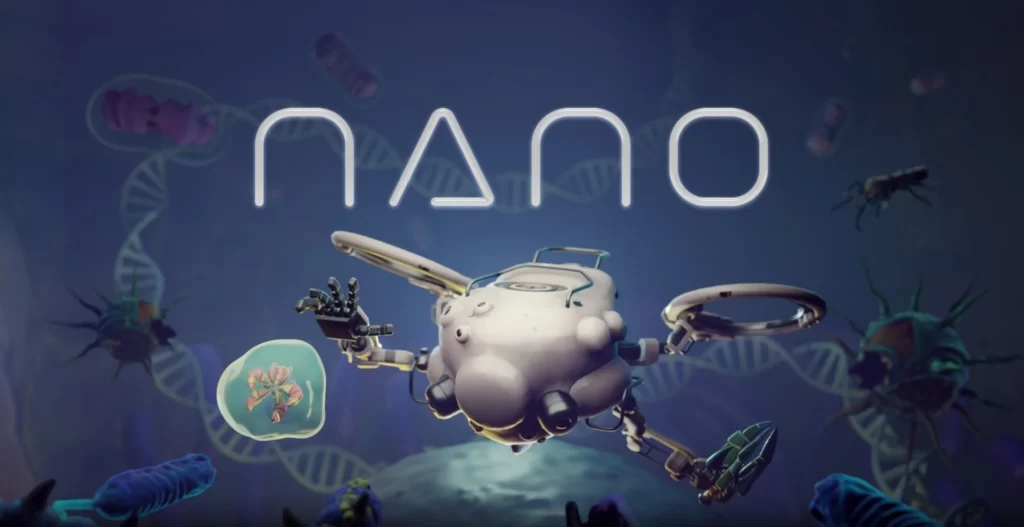 You're a trainee in a secret science program and must control the nano drone to get rid of the mysterious virus spread across the globe in human bodies.
To defeat the virus, you'll need to learn how the cell works, make energy from food, use DNA to create proteins, keep the cell alive etc etc.
Nano VR turns a boring science class into a fun VR game based on real Biology!
18. Pandemic by Prisms
Pandemic by Prisms is all about learning algebraic concepts and functions.
By analyzing data, making predictions, and devising strategies, you learn to apply algebraic thinking to limit the impact of the infamous 2020 pandemic on human lives and health systems.
It is a fun yet thrilling game that helps you improve algebraic skills and also understand the global health decision-making process.
17. Let's Create! Pottery VR
Have you ever created pottery in your life? Well, if you haven't, then you might want to take a stab at it with Let's Create! Pottery VR.
The studio describes the experience as a great way to relieve your everyday stress and find your inner peace. It's an impressive, therapeutic, and learning experience that you & your kids can enjoy from the comfort of your homes.
You can choose the colour of the clay, shape it on the potter's wheel with your own hands, add the necessary elements, burn and decorate like a real artisan.
But don't forget to take a screenshot of your first pot!
16. Futuclass Education
Explore, make mistakes, and receive instant feedback!
Futuclass Education offers an immersive VR learning experience that makes chemistry & physics a hell lot of fun and interesting. (It's like Rick & Morty messing around the lab)
The game features many gamified lessons where you can hold molecules, create atoms, and learn the nomenclature of salts, etc. These VR lessons are made with the help of qualified science teachers and have been tested and proven effective.
So, if you suck at physics & still can't remember the molecular name of some substance, then Futuclass Education is what you should go for. (LOL)
15. Apollo 11 VR
Apollo 11 VR is one of the best VR flying games/experiences on the Meta Quest. It takes you on an educational journey through space and time by letting you experience the historic Apollo 11 mission from start to finish.
You'll be able to pilot the Apollo 11 spacecraft, take part in landing and spacewalk simulations, and explore realistic recreations of the Moon and Earth.
Apollo 11 VR is an essential experience for any fan of flight or space exploration and a must-play for kids!
14. Titans of Space Plus
Titans of Space PLUS takes you on an incredible journey through our vast universe.
This guided tour provides two hours of beautiful and fact-checked content that covers every planet, major moon, dwarf planet, and even massive stars in our Solar System, all presented in holographic detail.
The added feature of spacewalking in zero gravity adds an exciting interactive element, letting you get up close and personal with your favourite moon.
Titans of Space prioritizes comfort and immersion; offering a comfort mode for motion-sensitive players and intuitive controls for a seamless experience.
13. Sculptr VR
SculptrVR is a creative VR sculpting game where you can not only craft an entire landscape but also invite your friends for some multiplayer fun like racing with hang-gliders and engaging in climbing challenges.
The game has an interactive gallery full of thousands of creations that you can remix and share with others.
It features intuitive creation tools, along with detailed voxel technology and a 10,000X zoom, for intricate design work.
No matter your age, you can always create something amazing in SculptrVR
12. Painting VR
Painting VR offers a realistic and immersive painting experience, featuring unlimited supplies, tools, and techniques to express your creativity and learn about art.
You can even customize your virtual studio, and there are different modes like sitting mode and zero gravity mode for added comfort and fun.
The in-game browser provides inspiration and tutorials, helping you learn about colours, painting techniques, and composition.
And if you have kids then there are also painting-by-numbers and colouring pages!
11. Ocean Rift
Ocean Rift VR lets you explore 14 stunning underwater habitats and encounter dolphins, sharks, turtles, whales and even prehistoric creatures.
There's an education mode where you'll find over 40 narrated information points, cool facts and insights about the different species and how they behave.
One of the standout features of the game is the innovative motion controls, allowing players to swim freely in the virtual ocean.
It is all about learning marine life and having a fun and educational experience.
10. Color Space
Color Space is one of the best VR games to boost your child's imagination and creativity.
It immerses your kids in a virtual colouring book filled with 13 life-sized works of art just begging for a splash of color.
The game adapts the timeless appeal of coloring books to the complete sensory control of VR. Kids have to simply choose a color and splash it on the book.
The more they color, the more it comes to life with animation and sound. It's a great example of how VR immersion can be genuinely helpful for your kids.
9. Gadgeteer VR
Gadgeteer is a physics-based puzzle game where you can solve puzzles and build your very own Rube Goldberg machine.
The game features 2 modes; The puzzle mode is like a big campaign, and the goal is to arrange objects and collisions to guide the ball from point A to point B.
The sandbox mode is just as you would expect, you'll have an entire living space at your disposal with an infinite supply of every object and gadget in your inventory.
Gadgeteer is a fantastic simulation puzzle VR game that'll surely give you a mental workout.
8. Cubism VR
Cubism is another simple yet challenging VR puzzle game with a minimal aesthetic, where you have to assemble increasingly complex shapes out of smaller puzzle pieces.
Your goal is to arrange all the 3D shapes to fill up every block of a play area. Trust me, it starts off easy but the difficulty quickly gets up.
It's a delightful puzzle game, that supports hand tracking and I highly recommend it.
7. First Steps
First Steps is "THE BEGINNER GAME"; perfect for all ages, designed by our very own Meta.
6. Anne Frank House VR
Anne Frank House is a VR experience that allows users to explore the Secret Annex where Anne Frank and her family hid from the Nazis during World War II.
The experience includes audio commentary from people who knew Anne Frank, as well as historic photographs and documents.
This is an unquestionable requirement for any history enthusiast!
5. Dance Central
Dance Central is a follow-the-leader full-body dancing VR game. It's simply dance but in VR!
The game features a music library of 32 songs, and each song has a unique choreography.
It also has a multiplayer mode that works as a "try to beat my high score" challenge that you/kids can play with your friends.
I think this could be a spectacular party game too, with everyone taking turns and showing off their dance moves!
So get ready to learn tons of moves, groove to the beats, and have an amazing time dancing in the virtual world of Dance Central!
4. National Geographic Explore VR
One of the assurances of Virtual Reality as a blossoming medium is that it can theoretically transfer you to places you may never be able to see with your own eyes.
True to form, the now-Disney-owned National Geographic has taken it upon itself to be among the first to provide such experiences with the National Geographic Explore VR Experience for Meta Quest!
I strongly and genuinely recommend National Geographic Explore VR because all of the experiences are loaded with sheer excitement, marvel, and astonishment.
National Geographic Explore VR
3. Mission ISS
2. Puzzling Places
1. Kingspray Graffiti
Kingspray Graffiti is a VR graffiti simulator that allows you to unleash your creativity and create realistic street art in immersive virtual environments.
With input from world-class artists, you'll have access to realistic spray paint tools with various caps, pressure and fading effects, metallic options, and a wide array of real-world colours.
Join forces with your friends & explore diverse locations such as city rooftops, train yards, and subway stations!
You can learn and enhance your graffiti skills with interactive tutorials and even utilize tools like ladders, scaffolds, and scissor lifts to reach higher surfaces and create cool designs.
Missing Halloween?:
8 Best FREE Horror VR Games On Meta Quest (2023)
Power Up Your Quest 2:
4 Easy Steps: How To Use Meta Link With Any Quest Headset!
So, those are our Best Educational Games for the Meta Quest. You can gift these games to your family and have fun playing and learning together.
Which of these educational games do you think your family would enjoy? If you have any other recommendations then do comment below.
Until Then STAY STRONG VR ARMY!
25 Best Quest MULTIPLAYER GAMES – Co-op & Team VR
Top 25 ESSENTIAL Best SideQuest Games To Sideload On Quest
The Best Free VR Games Like Beat Saber (Meta Quest + PCVR)
EDITOR'S CHOICE:
How To Get/Play Pavlov On Any Meta Quest for Free (2023)