Top 14 Best Simulation Games For Oculus Quest 2
Live Out Your Fantasies Of Doing The Things That You've Dreamed Of… Our List of Best Sims Has Something For Everyone…So Here Are The Best Sims For The Oculus Quest 2.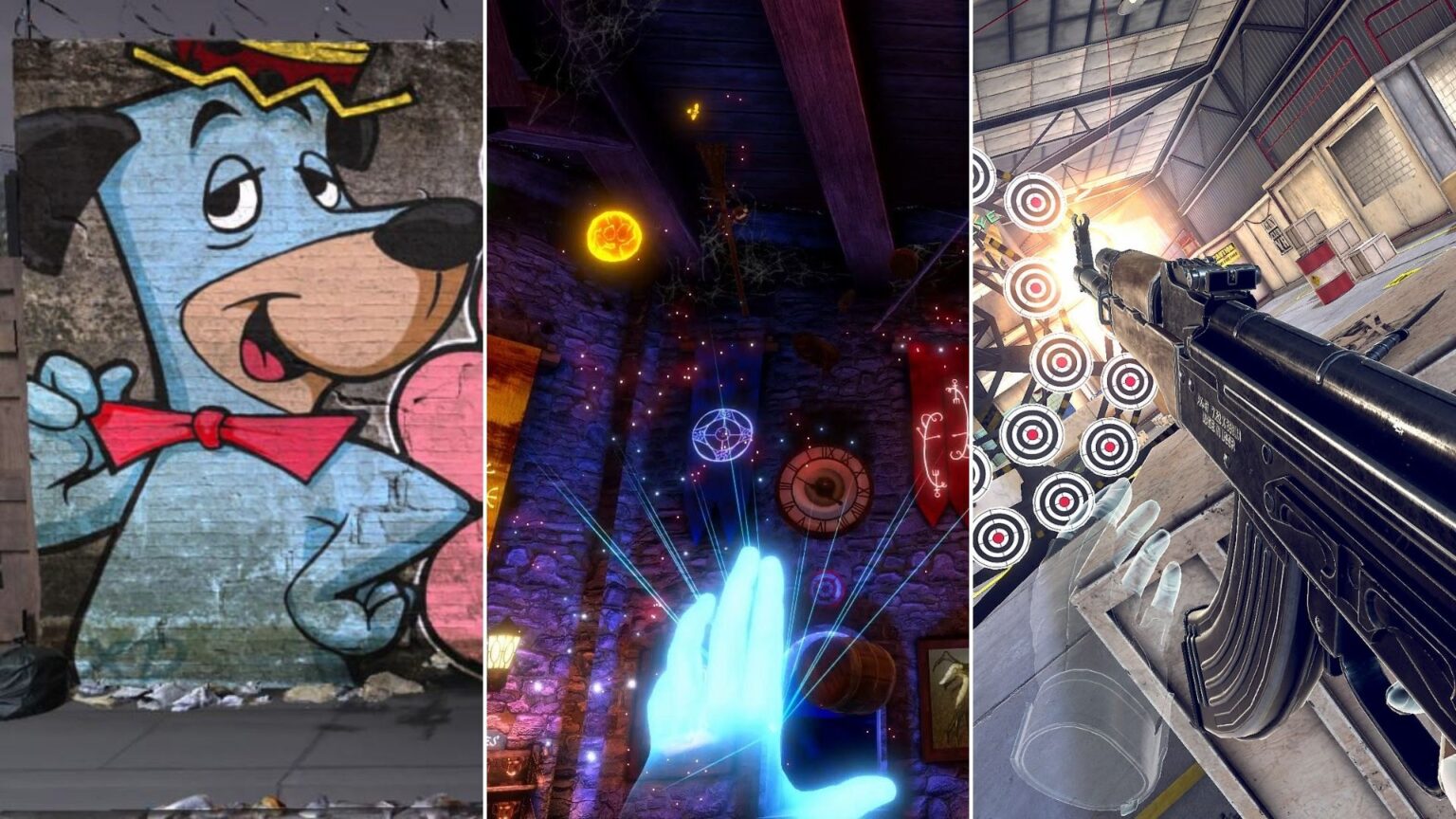 Looking for the Best Oculus Quest Simulation Games? Look no further cause these are the most amazing, satisfying, and Best Simulation Games for Quest 2 that you need to play right now!
In a world of high-octane shooters, fight royales and fantasy RPGs, simulation video games remain generally precious.
They can supply a level of detail and immersion that can not be matched, and also there's nothing more soothing than just wrecking chaos in Job Simulator.
No longer limited to pixelated polygons, we can now paint, ride roller coasters, and even become master chef, all without stepping foot outside our homes.
So let's get ready to dive into the VR world of Simulation Games!
Here Are Your
Top 14 Best Oculus Quest Simulation Games
14. Waltz of Wizards
So, let's start this list off with – Waltz of the Wizard: Natural Magic
Waltz of the Wizard takes you on an immersive journey into a magical world!
Dive into a truly interactive VR experience, where you can talk, use hand gestures, and and do things just like in real life.
You can interact with characters who exhibit hundreds of unique reactions, explore a detailed world filled with hidden secrets, and interdimensional beings!
Embark on an epic adventure within a 40-level fortress, complete with a compelling storyline, thrilling combat sequences, and challenging traps.
Overall, Waltz of the Wizard: Natural Magic aims to create a VR experience that brings fantasy to life in an accessible and immersive way.
13. Kingspray Graffiti
Kingspray Graffiti is a VR graffiti simulator that allows you to unleash your creativity and create realistic street art in immersive virtual environments.
With input from world-class artists, Kingspray delivers a realistic paint system.
It includes various spray caps, realistic pressure and fading, metallic effects, and a wide range of real-world colours from Ironlak, providing an authentic graffiti experience.
You get to join forces with your friends & explore diverse locations such as city rooftops, train yards, and subway stations!
Learn and enhance your graffiti skills with interactive tutorials, navigate and interact with the virtual world, and utilize tools like ladders, scaffolds, and scissor lifts to reach higher surfaces and create intricate designs.
Trust me you really are gonna get lost in this Artistic world!
12. Vermillion – VR Painting
Ever thought of becoming an artist? Vermillion got you covered!
Vermillion is an immersive VR game that provides a fully equipped oil painting studio for learning, creating, and collaborating with friends.
With a built-in web browser, you can access YouTube tutorials from your favourite artists, and even trace reference images directly on the canvas for precise proportions and details.
You can engage in multiplayer painting sessions with up to four people, where you can share palettes and canvases, or simply enjoy a paint night together.
The Best Part? You can also place the easel in your own room using Passthrough or immerse yourself in various studio environments.
So, whether you're a traditional artist or a beginner, Vermillion offers a user-friendly and immersive environment that sparks creativity, learning, and collaboration.
11. GUN CLUB VR
Are you ready to experience the ultimate VR shooting game? Look no further than Gun Club VR, which has recently undergone a major upgrade, making it even more realistic and immersive.
With over 100 weapons to choose from, Gun Club VR lets you handle, load, cock, and fire weapons just like in real life.
But Gun Club VR is not just another shooting game, it's an arcade-style game that features interactive ranges, sideshows, and sandbox mode.
Flick the safety, select burst or full-auto, extend the stock, or rack the slide to clear a round. The arcade-style progression system means you can play Gun Club VR for hours without getting bored.
So, lock and load and get ready to dive into the world of Gun Club VR!
10. Real VR Fishing
Real VR Fishing is one of the most popular VR games on the market and this popularity means that you can immerse yourself & compete or cooperate with other players from around the world.
Whether you're trying to catch the biggest fish or just chat with other fishermen, Real VR Fishing is a great way to socialize in VR.
And It's a great way to chill and unwind. What could be better than spending a few hours fishing in a beautiful virtual reality environment?
Real VR Fishing lets you choose from a variety of idyllic locations, including rivers, lakes, and seas. Relax, socialize, and get some exercise all at the same time.
So if you're looking for a fun and immersive VR experience, be sure to check out Real VR Fishing.
9. Job & Vacation Simulator
Now these two games: Job Simulator and Vacation Simulator don't need any introduction. I think anyone who watches VR content or own a VR headset surely heard of these two games.  
So, do you at any point pondered and imagined turning into the best auto technician or Chef or simply need to expel the dissatisfaction of your supervisor… Job simulator is the game for you!
In this game, you can be an Office specialist, Auto technician, Gourmet Chef and a Store Clerk. This is 2050 and there are no 9-5 occupations there's just fun in this world.
This is a standout amongst the best quest simulator games since you can do essentially anything!
And from the Makers of Job Simulator, robots set out to reveal what else people did other than 'work'.
They chose to go to a Vacation and there you have it The Vacation Simulator. Visit the lively universe of Vacation Island and gain genuine experiences of a get-away.
You can do anything whenever from movement rich goals loaded up with a bright cast of Bots and unlimited associations to sprinkle in the pool, and selfie your approach to totally unwinding! And that's Vacation Simulator For You!
8. 2 MD: VR Football Unleashed
Now, moving on to the number position 8 we have placed – 2 MD: VR Football Unleashed!
2MD introduces realistic motion controls that allow players to throw, hand-off, or run the ball with precision offering a unique and authentic gameplay experience.
The game supports various modes, including seated, standing, room-scale, or even full field-scale! And you can also choose from different game lengths, including 2-minute drills or longer exhibition games ranging from 20 to 60 minutes.
One of the standout features of 2MD is the ability to draw offensive plays directly in VR, giving players strategic control over their team's actions on the field.
With 56 customizable teams, you have the freedom to personalize your team and play style to match your preferences.
So, get ready to immerse yourself in over 60 stadiums filled with thousands of screaming fans, offering a lively and captivating atmosphere.
The game also features variable weather conditions, including sun, rain, wind, and snow, which adds an extra layer of challenge and realism to the matches.
7. Thief Simulator VR: Greenview Street
Thief Simulator VR: Greenview Street is an immersive VR game where players take on the role of a Thief!
Explore an open-world environment, execute heists with creativity, and evade law enforcement using an array of tools and gadgets.
Employ stealthy tactics such as hiding, sneaking, climbing, stealing, and hacking to outsmart NPCs and law enforcement.
The game features realistic physics, enabling players to throw, smash, and manipulate objects, further enhancing the immersive and interactive elements of the gameplay
You can also enjoy realistic car driving mechanics, customizing their vehicles with paint jobs and modifications to escape the police effectively.
Designed for both casual and hardcore players in VR, Thief Simulator provides comfort and intuitive gameplay modes, catering to different play styles and minimizing motion sickness!
Thief Simulator VR: Greenview Street
6. Onward
Onward VR is a tactical multiplayer shooter that pits two teams of players against each other in military combat simulations.
The game places a strong emphasis on teamwork and communication between players in order to win matches. Players are placed into squads and must work together to win.
There is also a single-player mode available so that players can practice their skills before they take on other players.
Onward is one of the most popular multiplayer VR games available on the oculus quest 2 and is surely gonna immerse you in the middle of Action.
Love Action/Fighting games? then here are: TOP 3 Best FIGHTING / BOXING GAMES For Oculus Quest 2]
5. The Climb
My fellow VR gamers we've reached the dizzying peaks of number 5 on our countdown of the Best VR Simulation Games, and this spot belongs to none other than The Climb!
It's like a virtual version of free solo climbing but without the risk of actual bodily harm.
You'll be climbing to epic heights, exploring caves, and finding shortcuts through stunning landscapes from around the world, all from the comfort of your home.
But there's more to The Climb than just the climb itself. You can also compete against your friends' ghosts and earn over 100 achievements to unlock new gear, making this game a real crowd-pleaser.
So, if you're someone who likes their thrills without spills, then The Climb might be your next favourite game.
4. Green Hell VR
Step into the shoes of Jake Higgins, an anthropologist stuck in the dangerous Amazon rainforest!
Green Hell VR offers an immersive jungle survival experience where players must navigate the dense and scary rainforest.
The game's crafting system adds a realistic touch to the VR experience; Find the right elements and manually assemble tools, spears, and shelters to survive.
You need to hunt wild animals using a bow and arrow to secure food and protect yourself. Work on your aim and skill to make your hunt successful.
Green Hell VR: Quest Edition offers a demanding gameplay experience tailored for virtual reality, providing a heightened sense of realism and immersion.
The game challenges you to test your survival skills and see how long you can endure in the cruel jungle!
3. Warplanes: WW1 Fighters
Warplanes: WW1 Fighters puts you in the cockpit of some of the most iconic planes from World War 1, and lets you take to the skies in a variety of thrilling dogfights.
The game features beautiful graphics and realistic flight physics. It also features a variety of planes to choose from, and a wide range of missions to keep you busy.
The game makes full use of VR capabilities and offer an incredibly realistic and enjoyable VR flying experience.
Warplanes: WW1 Fighters is a must-have for a fan of flight simulators, and is one of the best VR flying games on the market!
2. The Thrill of the Fight
And now, lets talk about the game on number 2nd position on our list – The Thrill Of The Fight!
The first aspect that stands out in this game is the feeling of throwing punches. The game has a unique physics engine that makes each punch feel realistic and satisfying.
You'll feel the impact of your punches as they connect with your opponent, and you'll feel the thrill of victory when you land that knockout punch!
I think the thrill of the fight is easily one of the most frustrating VR games but as soon as you knock out your opponent it becomes the most satisfying VR game.
The game requires a decent play area to play. I must tell you that if you don't have the recommended play area of 6.5 ft by 5 ft then don't you think of buying this game, because I'm telling you with my experience[I broke my fingers].
In my opinion, this game is not for everyone and especially not for kids. The game is very hard to play although it features easy difficulty. But yeah, I just wanted to point that out.
For only $9.99 you get the ultimate Boxing VR Simulator which is one of the major reasons that it's a hit among the VR Community.
1. GOLF+
Finally, onto the number 1 position on the list of Best Simulation Game, we have placed – GOLF+!
Immerse yourself in the world of golf with friends from around the globe through the single and multiplayer modes, where you can compete and showcase your skills on iconic real-world courses like Pebble Beach, TPC Sawgrass, and Pinehurst No. 2.
The Game features a variety of game modes, including Match Play, Skins, and Stableford, to suit your preferences and challenge yourself in different ways.
Customize your equipment with renowned brands like Callaway and TaylorMade, practice all aspects of your game at the Clubhouse to hone your skills.
And engage in Mini-Games where you can hit exploding targets and participate in weekly challenges!
GOLF+ is perfect for golf enthusiasts who want an immersive and realistic VR golf experience, as well as casual players looking for an enjoyable and accessible golfing game.
You'd Love It!:
Top 25 Best SideQuest Games to Sideload on Oculus Quest 2
So there you have it, our pick of the very Best Oculus Quest Simulation Games. We're quite fond of listing functions right here at VR Marvelites. 
And If you find some brilliant information then consider commenting and sharing it with your friends and family…
Until then Stay Strong VR Army!
Read Next:
KIWI Design Comfort Battery Head Strap REVIEW!