How To Sideload Oculus Quest 1 & 2 Content Using SideQuest: Windows And Linux
This Is The Ultimate And Illustrated Guide to Sideload Oculus Quest 1 & 2 With Sidequest (UPDATED 2022)
Today I'm going to be showing you the Easiest, Fastest, and Safest method on sideload oculus quest with sidequest.
After reading this article you'll know step by step how to sideload apps and games onto your oculus quest using an application called side quest. 
If you're not technically minded, don't take tension because this method is super simple and it works with Windows, Linux and Mac.
I ensure you that, You don't have to watch any other YouTube video or read any article because this is the best Illustrated guide on How To Sideload Oculus Quest 1 & 2 Using SideQuest: Windows & Mac
Due to very high demand, we have published a separate post for Apple MAC users. So If you're Looking To Sideload Your Oculus Quest Using SideQuest For Apple MAC then here's the link: How to Sideload Oculus Quest 1 & 2 With Sidequest On MAC | 4 Steps
Here's how you can Use Sidequest Wirelessly On Your Oculus Quest 1 & 2:
How To Use SideQuest WIRELESSLY On Oculus Quest 2 -WIN & MAC
How To Use SIDEQUEST WITHOUT PC on Quest – SideQuest Android
Here's How To Sideload Oculus Quest Using SideQuest (Windows & Linux)
And Do Check Out Our Ultimate Sidequest Guide To Know Everything About Sidequest
Related:
How to Sideload Oculus Quest 1 & 2 With Sidequest On MAC | 4 Steps
*Check Your Requirements*
So before we get into Sideloading Games and Apps through SideQuest, there are a few things that you'll need: 
1. An Oculus Quest (obviously)
2. You'll need a Type C to Type A USB cable to connect the Oculus quest to your PC.
Now, you won't be able to use the cable that comes in the box with a quest but you can use the charging cable of your phone that has a USB C type port.
Step 1 : Create New Organization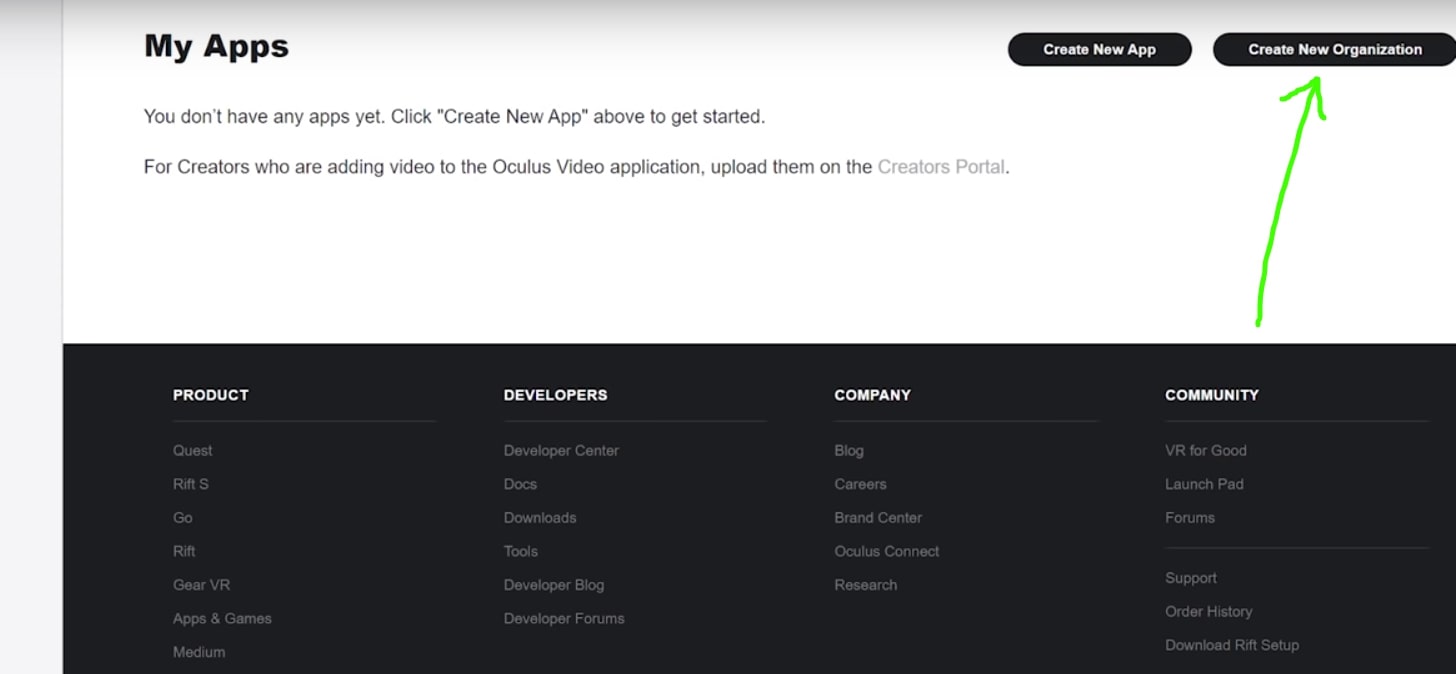 First, we need to enable developer mode on your oculus account. So to enable developer mode, we need to "CREATE A NEW ORGANIZATION".
Here's how to Create A New Organization:
So using a browser head over to the 

oculus dashboard




Then log in using your oculus account.


Click on create a new organization. 


In the box, you can enter whatever name for your organization that you like and

click on submit

.
Then all you need to do is agree to the terms and conditions and that's the first step done
Step 2 : Download and Install the Oculus ADB Drivers
 ***If you're running on a Windows PC you'll need to follow this step however if you're using Mac or Linux you can skip this step completely and jump straight to step number three***
Step Two: Now we need to install ADB drivers to allow your PC to communicate and transfer files to your oculus quest. You can also watch our Embedded video above or you can continue reading…
Here's How To Install the Oculus ADB Drivers

:
All you need to do is download the Oculus Go ADB drivers directly from the Oculus.


Once downloaded extract the folder where you want the drivers to be located using an application like WinRAR or 7-zip and open the extracted folder


Then right-click on

Android_WinUSB.inf

and click install.


Once installed go ahead and restart your PC
Read Our Post On How To Install Oculus ADB Drivers | What Is ADB Drivers? To Gain More Insight Regarding Oculus ADB Drivers
Step 3: Activate Oculus Developer Mode
Step 3: Now, we need to activate developer mode on our Oculus Quest to install SideQuest and ensure Sideloading games and apps doesn't get any error. 
Here's How To Activate Oculus Developer Mode
Head over to the Oculus app > on your mobile device


Ensure your Oculus quest is

turned ON

and on the

same Wi-Fi network

as your mobile device.


Look for Oculus Quest in the list on the Settings tab and make sure it says

'Connected'

.



Click on the headset

under settings in the drop-down menu and Tap on

More settings

and you'll see developer mode in the list,

tap on the developer mode

and assure the toggle is turned on 
Here are the links for downloading the Oculus app if you haven't downloaded it already:
Oculus app > For Android
Oculus app > For iOS
Step 4: Download and Install SideQuest
In step 4, we need to download and install Sidequest. 
First, Click Here and download the latest version of SideQuest from the releases listed. Download the version compatible with our operating system. 


After downloading SideQuest, extract the sidequest zip file using WinRAR or 7 zip.


Once extracted, open the sidequest folder and inside you'll find sidequest.exe. Run the sidequest.exe file and you'll be able to select your installation location.


Also, you may get a warning from windows about sidequest being an unrecognized app, don't worry just click on more info and click run anyway.


The first time you open the SideQuest app it may take some time to download and once the app is open, you can see you can download a number of useful apps and games like vridge, VRigade, Pavlov VR. 
If you're just stepping into VR Then these games might help: Top 15 Best BEGINNER Oculus Quest 2 Games To PLAY FIRST
Related:
Top 25 Best Side Quest Games to Sideload on Oculus Quest (2022)
Step 5: Connect Oculus Quest to the PC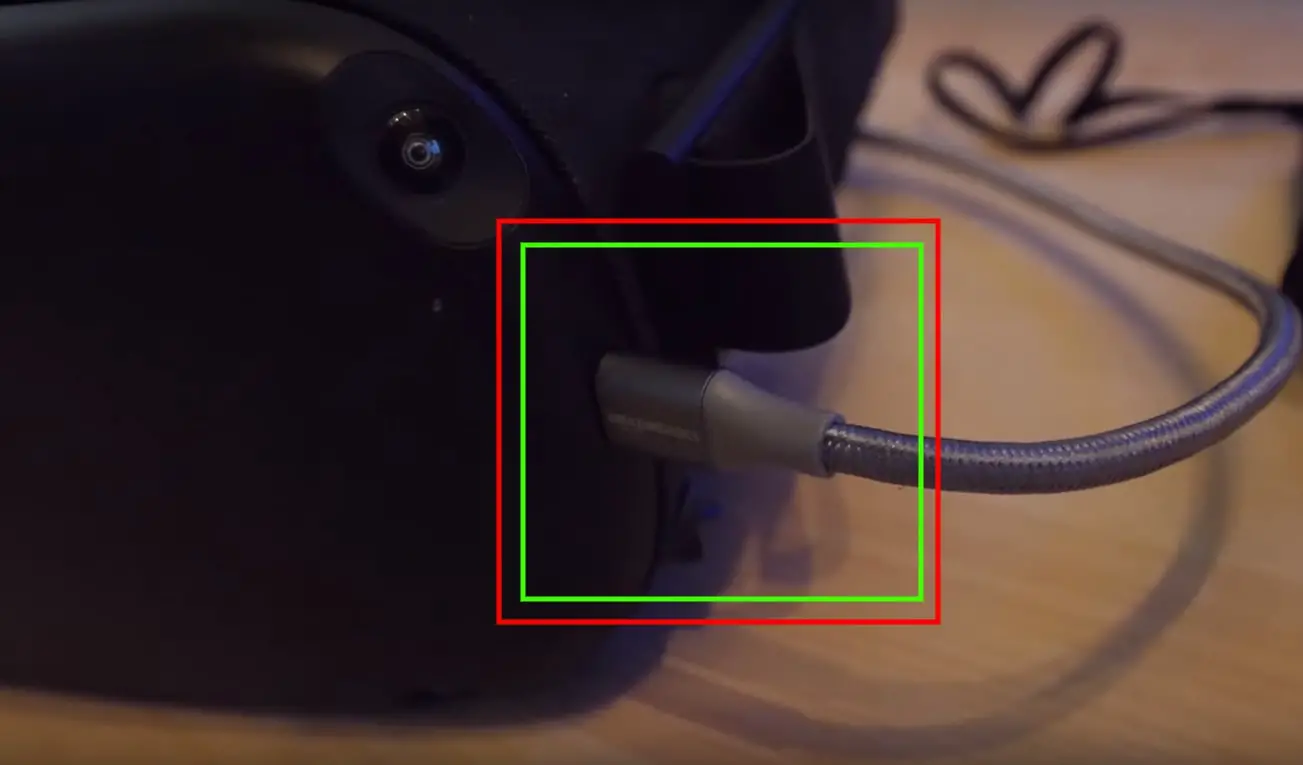 Step 5: We need to connect our Oculus quest to your PC using a USB C to USB A cable and if you're connecting your headset to your PC for the first time, you'll need to allow a notification that pops up in the headset itself.
Put the headset on and the pop-up will ask you if you want to allow "USB debugging", check the box that says always allow from this computer to prevent this from popping up again in the future once allowed that is step 5 complete
***You can use your phone's charging cable instead of the cable that comes with oculus quest. Plug the USB C end into your Quest and the other part of your cable into your PC.***
Power Up Your Quest 2 with Oculus Link:
How to Use Oculus Link With Steam
Additional Info:-
Now all you need to do is ensure your quest is still connected and that you have a green light in the top right-hand corner of sidequest. 
If you want to install any game or app, simply click on the app or game you want to install and click install.
And if you want to install apps that are not included on sidequest, you can simply drop the .apk files into the app and it will install it for you. 
You can also manage all the installed apps using this button at the top right of the app. In that section, you can uninstall and clear the app's data or backup the app
Just install the Games and Apps that you want while you're connected to your computer through a USB Cable and after downloading all the games and apps that you want, just unplug your quest and you're ready to go.
Play these SideQuest Games First: Top 21 Best SideQuest Games to Sideload on Oculus Quest
How To Play Those Games That You Downloaded Through SideQuest On Your Quest
So that is SideQuest, in a nutshell, Now if you want to access those games on your Quest, Go To Library > Unknown Sources and there you can see all of your Sideloaded games that you downloaded and installed.
For Roblox Fans:
How To Play Roblox VR On The Oculus Quest 2
If you have successfully installed SideQuest On Your PC then here are the leading Top 21 best sideload oculus quest games that I found connecting with Furthermore after you have played these games, you can check the more FREE Oculus Quest Games
There you have it. That's how you sideload oculus quest 1 & 2 with sidequest on your PC in just 5 easy and simple steps.
Thanks to sidequest, we have an easy and convenient way to install and enjoy these apps by sideloading them.
Feel free to support the developers of sidequest so they can continue to add more games and features to improve the application in the future.
If you find this guide helpful and useful, then make sure to share this article with your friends and family and let me know you care. 
And also let me know what is your favorite app that you've sideloaded on oculus quest I'd love to know in the comments because the comments section of VR Marvelites is always open for the VR Army!
More Sidequest Related Posts:
How To Uninstall Apps & Games – Sideloaded Using SideQuest
How To Use SIDEQUEST WITHOUT PC on Quest – SideQuest Android
How to Sideload Oculus Quest 1 & 2 With Sidequest On MAC | 4 Steps
How to Use SideQuest WIRELESSLY On Oculus Quest 1 & 2 – (WIN & MAC)
Read Oculus Quest 2 Tricks That Meta Doesn't Teach:
8 Oculus Quest 2 Tricks That Everyone Should Know
Why Sideloading And Why Use SideQuest to Sideload Oculus Quest?
By sideloading, you can open up new and unlimited conceivable outcomes to enjoy VR in Oculus Quest. So to sideload oculus quest you have to download "Side Quest" in order to sideload games or apps safely.
Sideloading applications is the ideal method for opening the maximum capacity of your Oculus Quest 1 & 2. There is a massive library of games and apps that you can Sideload your Oculus quest with.
What Is SideQuest?
Sideloading apps and games on the Oculus Quest using SideQuest is the easiest method to sideload the oculus quest. SideQuest serves as a platform for small developers who could not pass the publication filters of the official Oculus store.
It should be clarified that the content offered in sidequest is legal and Oculus doesn't mind using it.
SideQuest works with Windows, Linux, Mac and Now with Android.
Also, there is a massive library of games and apps that you can Sideload oculus quest with.
If you want to read more about sidequest: Is it legal or not? Is it Safe?
I've tried to answer all of the burning questions that are not answered anywhere regarding SideQuest and sideloading and I've kept it short 'n' simple and easy to digest.
So check out our Ultimate Sidequest Guide
If you want more Best Oculus Quest 1 & 2 Games Lists then here are some of our List, Until then STAY STRONG VR ARMY!
Top 25 Best Oculus quest Multiplayer games – Co-Op , Team quest Games
Top 21 Best SideQuest Games to Sideload on Oculus Quest
Top 10 Best Oculus quest Horror Games | Scariest VR games on Quest
Top 15 Best Oculus Quest Puzzle Games 2022 | Best VR Puzzle games
Top 10 Best Oculus quest Rhythm Games | Games like Beat Saber
Learn About PSVR 2:
Playstation VR 2: Release & Everything You Need To Know 2022