14 of the Best Free Multiplayer VR Games to Play with Friends & Family
Showcasing 14 Of The Best Free VR Multiplayer Titles That You And Your Friends Don't Want To Miss Out On
For years, VR Army has been dreaming of a way to share the immersive experiences possible through VR with their friends and family.
Now, this dream has become a reality with a multitude of amazing free multiplayer VR games available on various platforms.
From intense team-based shooters to engrossing role-playing adventures, there is something for every type of gamer out there.
So get ready, strap in, and let's jump into some awesome social VR gaming!
Here Are Your Top 14 FREE Multiplayer VR Games That You Can Play Right NOW For FREE!
14. Warriors of Titus
Warriors of Titus is a fully-featured first-person shooter MOBA-style game where your goal is to take down all of the opposing team's towers while defending your towers against their advances.
You can play solo or battle against your friends in multiplayer mode, as it supports cross-play between all VR and non-VR headsets.
With in-game voice chatting, the game also features a variety of locomotion options, which is great because you'll need to be moving a lot.
So gather your friends, strap on your headsets and start the WAR.
13. Epic Roller-Coaster
Epic Roller-Coaster VR is exactly what it sounds like; an adrenaline-pumping virtual reality roller coaster experience.
From Dinosaur age to Sci-fi city, you'll experience the loops and heights in places you can't even imagine.
The game features 3 different modes: A Classic mode to enjoy with your family, a Shooter mode is the ideal mix of two unexpected universes that comes with the slow-motion feature, and the Race mode where you can challenge your friend for the best scores.
All this fun with the Price Tag of FREE…unbelievable right? But it's true, so what's the wait for? get your heart racing in slow motion with Epic Roller-Coaster VR now!
I hope you don't experience motion sickness, but even if you do, we have your back!
12. Oasis VR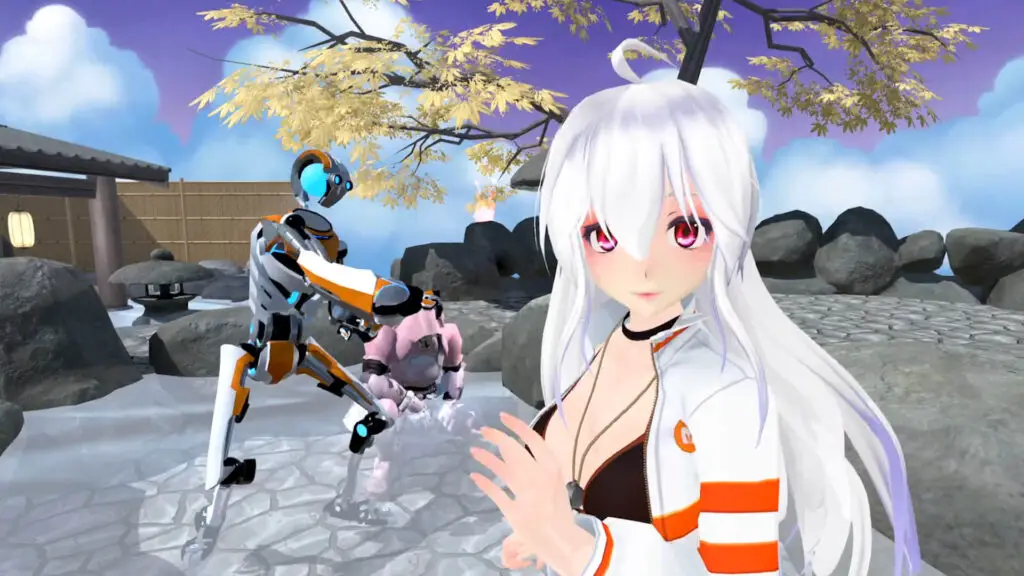 Oasis VR is a fantastic online community where you can meet people from all over the world!
You can go clubbing, play poker, watch movies, or invite your friends to a party at your house.
There are n number of avatars to choose from, you can be anyone you want, from Lolita to Godzilla just think of it.
And the best feature is that Oasis uses full-space 3D audio chat, so you can experience realistic social scenes with your own movements and expressions.
So what's the wait for? Make new friends, create your own world, and socialize!
11. War Thunder
War Thunder VR lets you experience the excitement and adrenaline of a real-life battle as if you were actually there. It's not just about fighting; it's also about feeling the ferocity of conflict and the rush of being on the front lines.
The game's realistic graphics, intuitive controls, and a variety of battle modes; let players suffer the thrill of tank combat without ever leaving their living room.
You can compete against your friends from all over the world thanks to the game's cross-platform play capabilities.
So get ready to travel to new locations, navigate new maps, and compete to become the undisputed war hero!
10. Protonwar
You are invited to dive into an action-packed first-person shooter. However, only if you are not easily influenced, as bloodshed cannot be prevented.
In Protonwar, you have to battle real opponents online, not just computerised bots. This is why you never know what to expect on the battlefield from another player.
The game features different game modes, arenas, and a large number of acrobatic stunts such as double jumps, sliding movements, and wall running.
The gameplay is engaging and intuitive, the graphics are excellent And the best part is that it supports cross-play so that friends with and without VR devices can play together.
9. VRChat
Have you ever imagined a world where anything is possible? Well time to stop wondering and start living.
VRChat is a place where you can Chat, Play, Hangout, Create and Share with your friends; in simple words, you can do anything that you could imagine of.
Together, bounce into many dazzling situations and meet novel characters consistently, watch movies on the moon and envision an existence where the sky is the limit.
Feeling dynamic? Feeling progressively inventive? Whatever your mood is, they have something for you.
8. PokerStars VR
PokerStars VR is the perfect board game for players who are looking for a competitive experience.
The beautiful 3D graphics make you feel like you're right in the middle of a casino.
The game also features a variety of different environments, including a beach, space station, or medieval castle, so you can always find a way to keep the game fresh.
Whether you're looking for a relaxing evening with friends or intense competition, PokerStars VR is the perfect way to enjoy a game of poker with friends and family.
7. Echo VR
Echo VR is a zero-gravity experience from Ready At Dawn. Players lift and float through a virtual arena in groups of 3.
It's a mix of Rocket League, Frisbee, and basketball condensed into one insanely good package. For the amazing price tag of FREE.
You get hours and hours of content as well as a great hangout for you and your friends. Play the game casually or competitively, the choice is yours!
So if you're looking for an Amazing FREE VR Game that is even better than Paid VR Games then Echo VR is that GEM.
6. Vertical Shift
A VR Esport unlike any other; Vertical Shift is one of the best VR games available.
Put on your Zenith Suit and fly through arenas, shoot your grapple hooks pull yourself forward and Glide like Batman or use your Jet Packs and propel forward like you're Iron Man.
With multiple game modes, plenty of cosmetics and available on steam VR as well as oculus quest for the low low price of FREE, Vertical Shift is an absolute must-play for any VR gamer.
5. Rec Room
If you're looking for a gaming experience that's more social than competitive, then Rec Room VR is a great option.
Rec Room is an ever-popular social hangout place where you can play paintball, laser tag or charades with up to 8 players from around the world.
It's the perfect place to have fun with friends in VR, whether you're looking for some competitive fun or just want to mess around.
The game also features cross-play so all your friends can play together and best of all it's FREE!
And that's why we have placed Rec Room at the #5 position in the list of Best Free Multiplayer VR Games.
4. Cards & Tankards
Cards & Tankards is VR's first social collectable card game.
Collect over 160 cards, battle against your friends or make new friends from all around the world and enjoy the immersive atmosphere of the game from the comfort of your home!
It's a lighthearted and fun VR game that's perfect if you're looking to relax and have a good time with your friends and family as it also features cross-platform play.
The game is simple but also very deep and complex. With its charming visuals and fun gameplay, Cards & Tankards VR is sure to bar-hop its way into your heart.
3. Gorilla Tag
Every now and then a VR game comes along that defies expectations. Gorilla Tag is one such game.
A VR game that couldn't be simpler: you play tag with your friends on different maps.
Players slip into the pixelated fur of a gorilla and chase each other. Here they have to use their arms like real monkeys.
Running, climbing, and jumping: this is only possible through targeted physical exertion. A mode of locomotion that is easy to learn but difficult to master.
It's a great way to get your heart racing and have a ton-lots of fun with your buddies.
So if you're looking for the best FREE & fun VR game to play with your buddies then Gorilla Tag is one for you.
2. We Were Here
We Were Here is one of the best co-op multiplayer games, with a terrific storyline which will have you guys on the edge of your seat.
With only a walkie-talkie to communicate while being separated from your partner inside an abandoned castle and lost in a frozen wasteland, can you two manage to survive and escape in time?
As you solve puzzles and explore fascinating environments together, your bond and communication skills will be put to the test.
With an immersive atmosphere and original puzzle design, this is an excellent title to tackle with a friend and that is why it's among the best FREE multiplayer VR games.
1. DCS World Steam Edition
Feel the simulation and soar peacefully in the beautiful skies, or grab your friend and have intense air combat in that same beautiful sky.
Digital Combat Simulator (DCS) World is a free-to-play digital battlefield game and simulation environment where you can feel every explosion, cloud, fog and fire…It's the most authentic and realistic simulation ever.
Not only you can enjoy multiplayer mode with friends you can even fly together in the same aircraft for multi-crew missions!
And guess what? You get to fly the TF-51 Mustang and Su-25T attack jet and trust me, the flying experience is just breathtaking!
Read Next:
How To Play Roblox VR On PCVR In 3 Steps In <3 MIN [2022]
So there you have it, the Best FREE Multiplayer VR Games [2023]!
These are just some examples of several great free multiplayer virtual reality games currently available on the market today; from tabletop madness to comedic simulations!
Try one or try them all; if you're looking for intense competition or fun entertainment these are among some of the best free multiplayer VR games available today.
The beauty of these free multiplayer VR games is that they are constantly evolving…
So grab your headset and get ready for an unforgettable experience that only virtual reality can provide as you explore some of the best free VR multiplayer games
And, if you're looking for even more great VR content, be sure to check out our other articles and YouTube Channel.
Until Then Stay Strong VR ARMY!
Check out Other "Top X's ":
20 Scariest & Best VR HORROR Games To Chill Your Spines
Top 25 Best FREE Oculus Quest 2 Games You NEED To Play
Read Next:
Top 18 Best Kids Oculus Quest 2 Games – VR Games Kids Love