In Death: Unchained: The Biggest Update Is Coming To Oculus Quest – Season 2
In Death: Unchained For The Oculus Quest Has Received A Major Update, Which Introduces New Content And A Brand-New Season Format.
In Death: Unchained, the amazing archery game for Oculus Quest, upgrades to 1.3.0 and brings a ton of content including new maps and skins. These will contain their own ranking list, let you earn Legend Points and give you access to special skins.
In Death: Unchained is one of those VR games that have accomplished to stay on the top bestsellers since they arrived on Oculus Quest. And if some players put it aside after finishing it, the new update will perhaps encourage them to dive back into this medieval fantasy world.
Superbright studio presents this new update as the most important ever developed. Among the plethora of new additions, the Siege of Heaven mode gets two new maps and benefits from a graphic overhaul with new volumetric fog effects.
***The new update is only available for the Oculus Quest and Quest 2 and not for In Death for the PC.***
"In Death: Unchained Gets A Big Update"
If you are finding Scariest Oculus Quest Horror Games then Check it out Top 9 Scariest Oculus Quest Horror Games  
What's In The In Death: Unchained Season 2?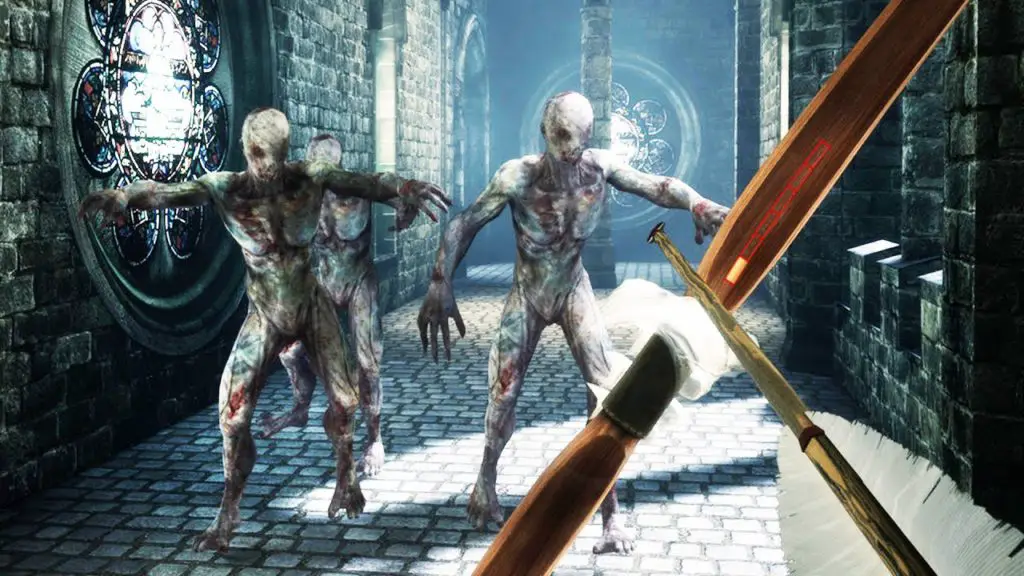 The new update/season provides the "Siege of Heaven" mode with new maps and the graphics should look much better in this mode because they have been completely revised.
But the biggest change is incorporating a format of quarterly seasons with leaderboard resets between them. Scores are converted into Legend Points and rewards players with weapon and shield skins. The successes and the progression remain however well preserved.
The developers intend to revitalize In Death: Unchained by granting new challenges to players and on a more recurring basis.
The second season has officially started and if you own the game for Oculus Quest or Quest 2, the download should be carried out automatically the next time you start it. You can find the game on the Oculus store by clicking here.
This will be the opportunity to discover two new maps, new graphics improvements as well as new achievements.
A Word From The CEO
"We hope the seasonal format will help keep the game fresh. It allows us to make balance adjustments while the game remains fair. The original legends of the game will continue to be rewarded while new players have their chance at stardom, "said Superbrights CEO, Wojtek Podgorski.
It's a game that I really enjoyed. Technically, first of all, the graphics are really good, especially for an Oculus quest version. It's nice to see a game that has a great artistic direction and that gives itself the means to implement it.
The sound actively participates in the atmosphere, the tracking allows us to have real sensations of archery. Everything is in place to make a very good Oculus quest game.
It is simply a great experience for anyone who enjoys the rogue-lite style. In virtual reality, it is a kind of game that is not well represented.
More Information About In Death: Unchained
In Death: Unchained
Motivated by traditional Roguelike dungeon crawlers, In Death pays homage to this relentless genre preferred by core players. Without save factors, each procedurally created run utilizes a random seed to create the map with a randomized opponent as well as loot spawn points.
Game progression is driven by a success system that continues across each run and scales the difficulty degree of the game as you master the controls and combat elements of In Death.
The game presents an ingenious, fresh movement system tailored for VR leisure and also perfectly coupled with your battling stance. Change instantly from combat arrows to a magic teleport arrow to browse anywhere you can shoot.
In Death pushes the borders of aesthetics and graphical performance of Virtual Reality. So If you love action-horror VR games then In death is a must-play.
Some Notable Features…