How To Play Roblox In VR On Oculus Quest 1 & 2 On MAC Using 5 Steps - Under 7 MINs
UPDATED! Full Guide On How To Play Roblox VR On Oculus Quest 1 & 2 On MAC In Under 7 Min Max...
This is the quickest, easiest, and the full guide on How To Play Roblox in VR on the Oculus Quest 1 & 2 using Oculus Link on Mac.
So why we are using Oculus Link and not Sideloading feature of the oculus quest? Because we need to keep connected to the computer because the Roblox application is needed to be opened in the background just like Steam VR.
Setting up Roblox VR is super easy and it only takes about 5 to 7 minutes max. And 1 thing I can guarantee that Playing Roblox in VR is freaking incredible and extremely amusing. So without wasting your time let me show you the Super Easy Guide on How To Play Roblox in VR (Mac). 
So if you guys are ready then make sure to share this post with your friends and let's get started. 
Running oculus link feature on Mac is a little bit tough, As it contains more steps to follow, and only *Certain Mac* PCs are supported because of the GPUs as of now. And the MacBook Air is not supported because it uses integrated graphics and not a graphics card.
Here's How You Can Play Roblox VR On Quest (Apple MAC)
Yes, that's it. That's all you need to do to play Roblox in VR on Oculus Quest 1 & 2 (MAC)!
*Requirements For Playing Roblox VR On MAC*
Step 1: Install Windows 10 on Mac using Bootcamp Assistant
In order to use SteamVR and Oculus Link feature you need to install windows 10 using bootcamp assistant. Please see the above embeded video. The video explains each step in detail. The bootcamp assistant will act as a windows 10 pc on your Mac. 
Don't worry it won't overwrite your MacOS and it is very safe to use.
STEP 2: Enable VR Mode In Roblox
STEP 3: Setup Oculus Link
Oculus Link enables Quest 1 & 2 owners to play Roblox VR games with a VR-ready PC to use their Quest as a Rift.
Using Oculus Link for Roblox VR is incredibly easy. First off you have to make sure you have a Compatible Cable and that your Quest is updated to the most recent firmware
But There's a significant question: How to use Oculus link with Oculus quest on Mac?
So, I thought why not make the Best and Ultimate illustrated guide on 
How to use Oculus Link
 that will tell 
everything about Oculus link and how to use it
 and left no space for confusion. 
This guide will help you Step by Step on How to use the Oculus link, how to play Roblox VR on the Oculus Quest with the help of the Oculus link on your Mac.
You can connect your 
Oculus link with the quest
 in just 5 easy to follow steps, which is so easy that it will take you only 5-10 minutes or less to set up Oculus link.
***UPDATE: May 15th, 2020: Now you can use your Charging cable that is included with the Oculus quest as an Oculus link cable… 
Click here
 to jump to that section.
Step 4: Connect Your Oculus Quest Headset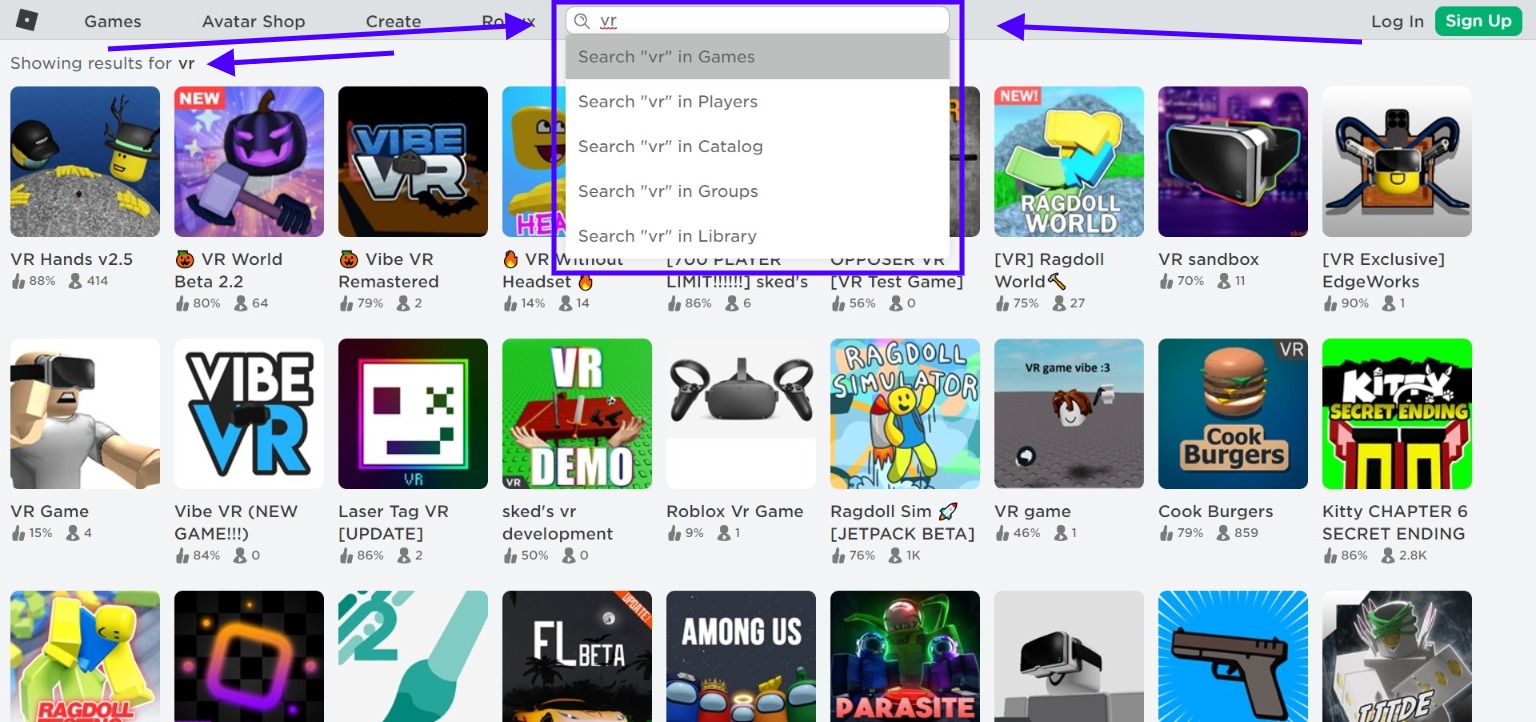 Now, after connect your Oculus Quest headset to your Mac using the Oculus Link cable or charger cable, Open Roblox website and search VR in the Search bar (On your Computer not on Oculus Quest)
After that, you can see a lot of games that will appear on your Computer screen.
Step 5: Select Your Desired Game And Play Roblox in VR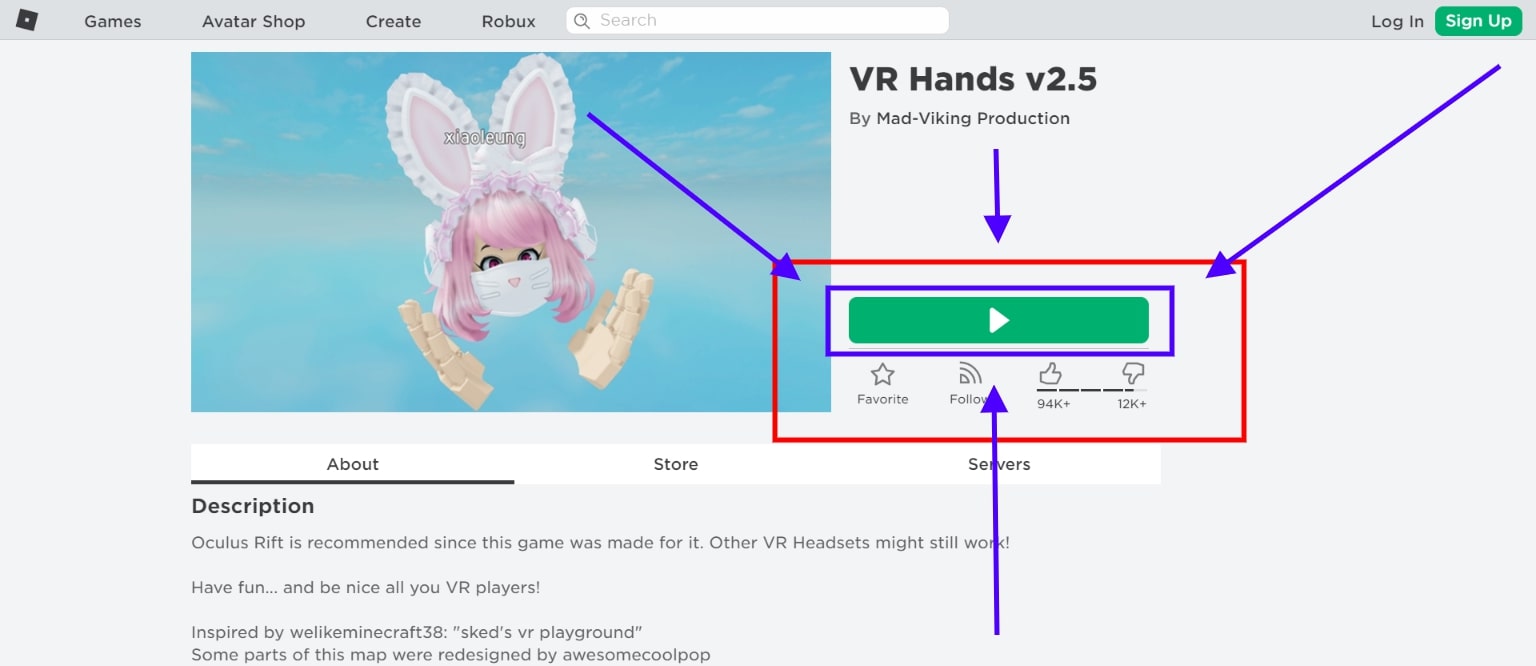 Select any game from that list and open that Game Page by clicking on your preferred game. On that Game page, you can see a Big Green "PLAY BUTTON" *DON'T CLICK ON THAT NOW!*. Just Keep that Screen Open on your computer
You'll see an "ENABLE OCULUS LINK" POP UP on your Oculus Quest, wear your headset and enable it.
And Select the "Virtual Desktop" button on the bar at the bottom of your Oculus quest.
After that, on your Oculus quest, you can see the same screen that is on your Computer
Voila! Just click on the GREEN PLAY BUTTON from your oculus quest and your Roblox VR is ready to go.
So, if your Mac's processor is supported then it'll work and keep 1 thing in mind that, you can play Roblox and Minecraft in VR on Mac using the Oculus link but You will not be able to play graphic intensive games like boneworks or Asgards' wrath on Mac.
And if any problem appears you can always contact me on [email protected]
BTW please comment and if you did thanks for commenting and reading our VR content. And if you find this article of great help then please share it with your friends and family. This will really mean a lot to us at VRMarvelites.com
Keep Reading and Sharing!