How To Play Skyrim VR On Oculus Quest - Wired Method And Wireless Method!
In This Guide: How To Play Skyrim VR On Oculus Quest By Two Methods. Both Of Them Takes Maximum 10 Min To Set Up And Let You Enjoy Skyrim In VR On Your Quest As Soon As Possible
The Elder Scrolls V: Skyrim VR is an Open World Action VR game by Bethesda Game Studios. In this game, you can play any kind of character you can envision, and feel the experience of The Elder Scrolls more than ever.
The Elder Scrolls V: Skyrim VR reimagines the beyond belief open-world fantasy epic games, pushing the interactivity and innovation of Virtual Reality as far as possible and set models for some other VR games.
That is the excellence of this game, you truly "Feel" what you do in VR and that's what you become I have no different words to depict this game since this game is an Absolute Masterpiece and this game has come to all of the VR platforms Rift / S, Index, and even on PSVR but not on oculus quest because of its hardware limitations.
But there are two methods that let you play Skyrim VR on Oculus Quest. These methods are the most popular ones and I think works best for playing Skyrim VR if you have proper PC specifications.
There are two different ways to play to Elder Scrolls V: Skyrim VR on the oculus quest and both do require a gaming pc unfortunately if you don't have access to a gaming pc then neither of these will work for you
** Make sure that you have Steam and Steam VR installed on your PC because both the methods require a PC to run Skyrim VR on Oculus Quest ***
How To Play Skyrim VR On Oculus Quest
The Two Methods That Will Access You To Play Skyrim VR On Oculus Quest Is :
Using ALVR or VRridge to play Skyrim VR is absolutely fine but they won't provide the same quality and low latency as these two methods provide. I have given a link to the tutorials for both of the software, check it out if you want to.
Method 1 : OCULUS LINK - The Wired Method But More Stable Gameplay
Let's talk about the easiest way to Play Skyrim VR on Oculus Quest and that is to use the Oculus Link. Oculus Link allows the quest to connect to a VR capable PC using a supported USB C cable and use quest as a PCVR headset.
Using Oculus Link for steam VR is incredibly easy. First off you have to make sure you have a Compatible Cable and that your Quest is updated to the most recent firmware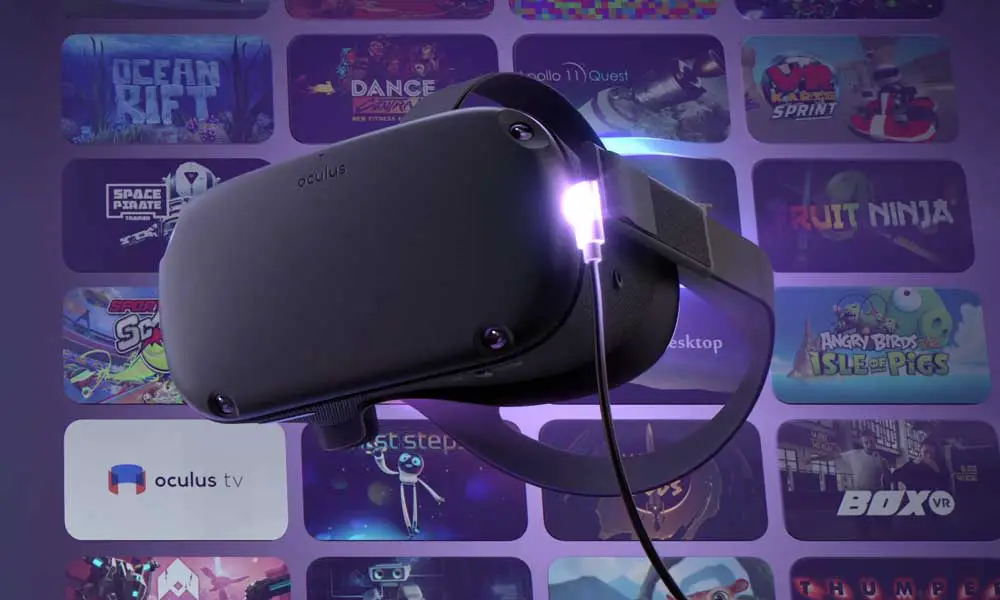 But There's a significant question: How to use Oculus link with Oculus quest? and How to Use Oculus Link with Steam?
So, I thought why not make the Best and Ultimate illustrated guide on How to use Oculus Link that will tell everything about Oculus link and how to use it and left no space for confusion. 
This guide will help you Step by Step on How to use the Oculus link, how to play Skyrim VR on the Oculus Quest with the help of the Oculus link.
You can connect your 
Oculus link with the quest
 in just 4 easy to follow steps, which is so easy that it will take you only 5-10 minutes or less to set up Oculus link.
***UPDATE: May 15th, 2020: Now you can use your Charging cable that is included with the Oculus quest as an Oculus link cable…
Click here
 to jump to that section.
Method 2: VIRTUAL DESKTOP - The Wireless Method But Stable Gameplay Depends On Certain Factors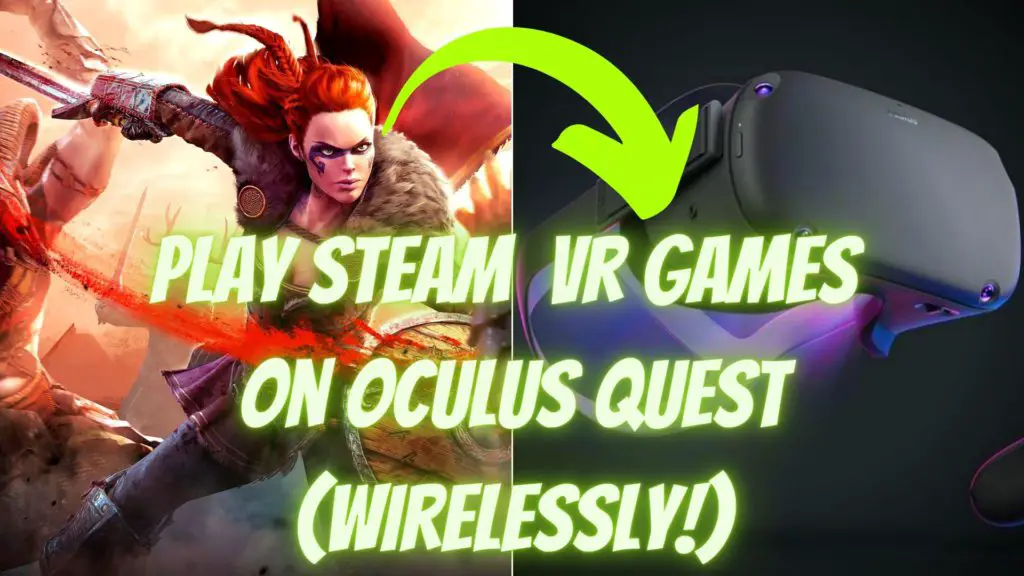 *Virtual Desktop Requirements*
5 GHz WiFi Network
Connect your PC via Ethernet and not on WiFi, this enables faster data transfer without any Latency issues
Try to play as close to your router as possible 
Minimum PC Requirements: 

Processor: Core i5-7500 / Ryzen 5 1600
Memory: 12 GB RAM
Graphics: GTX 1060 / RX 580 – 6GB VRAM


You'll also need to purchase and download the desired VR game that you wanted to play from Steam
How To Play Skyrim VR on Oculus Quest
How to Play The Elder Scrolls V: Skyrim VR on your Oculus Quest via Link or Virtual Desktop: (the process is same for both of them)
Buy Skyrim VR on Steam
Open Steam VR on your Quest via Link or Virtual Desktop
In the Steam VR, Search for Skyrim VR directly or via going to your Steam Library
Click on the Skyrim VR game and launch it
Voila! Now you can play Skyrim VR on your Oculus Quest.
*Continue Reading to Decide whether you should use Oculus Link or Virtual Desktop to Play Steam VR Games on Oculus Quest
Virtual Desktop V/S Oculus Link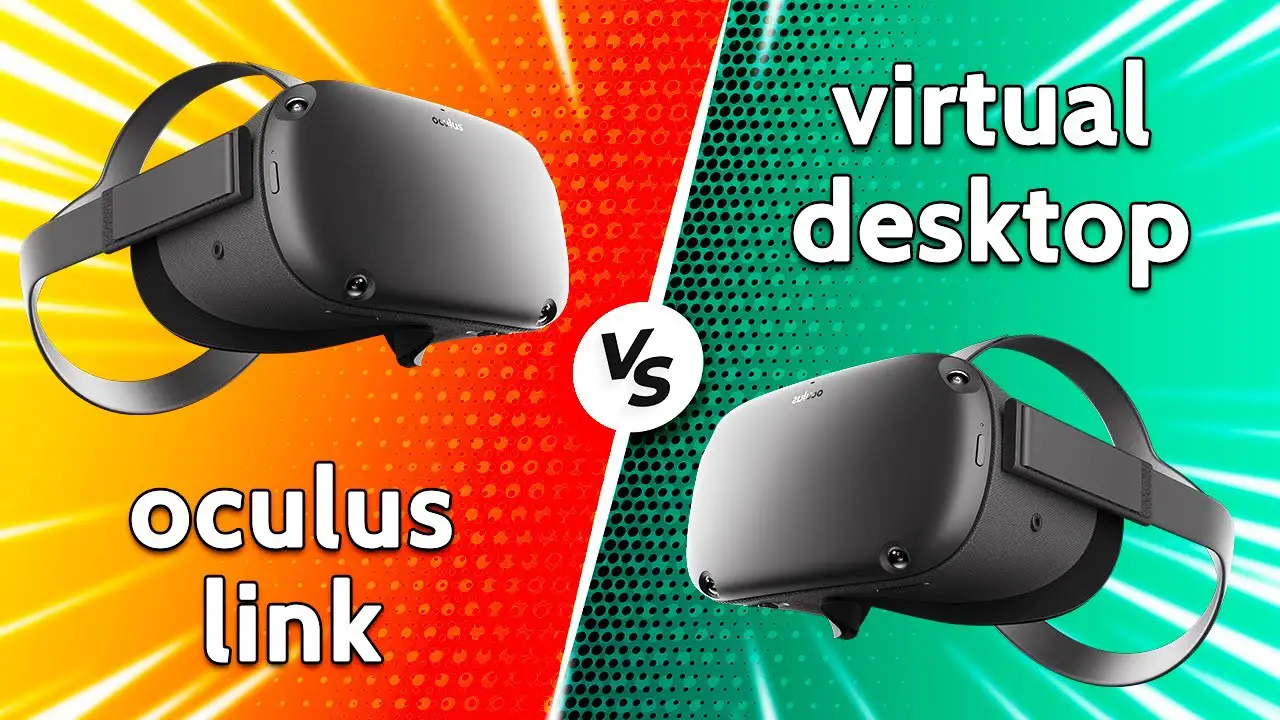 The one question I get asked a lot is: Are there any differences in quality between using an Oculus Link cable and Virtual Desktop? Does either platform have an advantage over the other from a technical and visual standpoint? Obviously one is Wireless and the other one is Wired.
Does having an Oculus Link cable reduce the latency by a noticeable amount and how do the images compare visually? All of your Burning Questions are answered down below.
For those brand-new to playing PCVR or Steam VR games on the Oculus Quest, there are a couple of items you'll need. One of the most important things is a VR-ready COMPUTER that satisfies the specs required for SteamVR game that you're going to play on your Oculus Quest
So The first thing I tested was the latency and I honestly didn't notice any perceivable latency between Oculus Link and Virtual Desktop from a latency standpoint. The head tracking was quick and responsive in both and the Hand tracking worked flawlessly.
Now let's talk about the Graphics and Image Quality on Oculus Link and Virtual Desktop. As you can see in the video embedded above, you can clearly see that the more muted colors on the left are actually of Oculus Link while the more Vibrant, Rich colors and deeper blacks are of Virtual Desktop
And let me clarify one thing that Oculus Link is still in beta which means that there is a good possibility that the final release of Oculus Link will look identical if not better to what we're getting while using Virtual Desktop on the Oculus Quest
Coming to the Ease of Use: Virtual Desktop wins at the moment because the Oculus link requires 1-2 restarts before it starts working properly.
And one thing that the Oculus Link does WIN is the ease of setup. Setting up Oculus link is as simple as plugging and playing. While Virtual desktop requires some set-up time and side loading.
As far as price goes Virtual Desktop is $20, while the link cable is $79. Yes, you can get an off-brand cable but the best experience for me has always been with the official cable. 
Also as per update on May 15th, 2020: Now you can use your Charging cable that is included with the Oculus quest as an Oculus link cable. So this means that you can enjoy Skyrim VR using Oculus Link Feature but without paying for the Link Cable as you can use your Quest Charging Cable as Link Cable. Basically it's FREE!
Conclusion: What Should You Choose?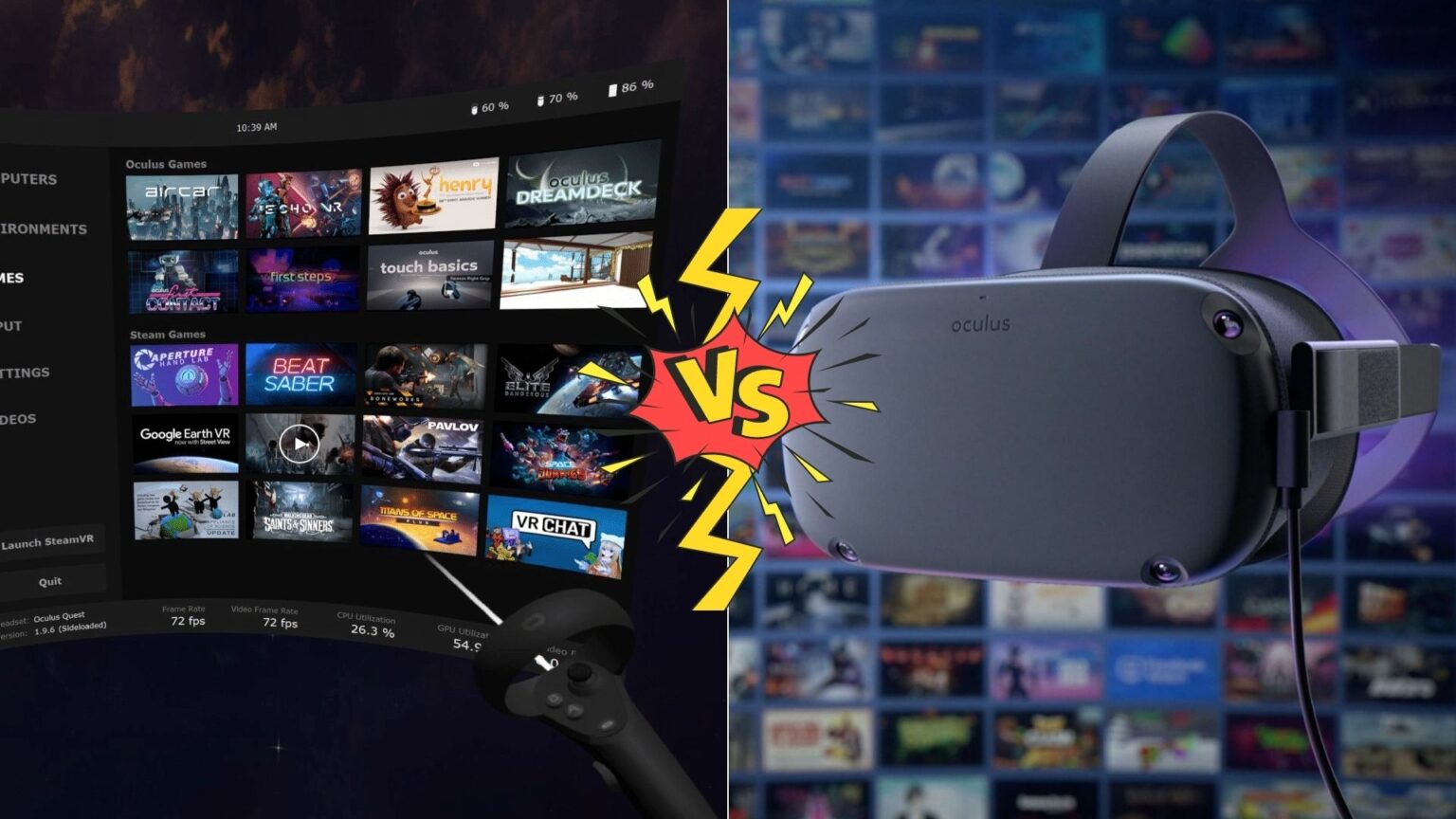 Your experience using Virtual Desktop to stream PCVR games on your Quest varies hugely depending on the game itself, your computer configuration, your router, and the physical format of your area.
Something as simple as a wall in between your Quest and your router might create chaos with the wifi signal from time to time, indicating you may experience stutters.
You can depend on Oculus Link to give you a strong experience with no latency till the end. It's nearly just as good as playing on any kind of other PC Virtual Reality headset. Virtual Desktop, on the other hand, continues to be excellent from a technical standpoint, however, your experience will certainly depend on the speed of your internet connection.
If you have Amazing WiFi speed and there's no distraction to block your connection between your Quest and WiFi, then you should definitely go for Virtual Desktop.
But If your WiFi doesn't provide constant connection or there is some blockage, then you should you go for Oculus Link Cable for smooth VR gameplay without latency but make sure you have enough PC configuration to play Steam VR games directly on you Quest via Oculus Link.