Dance With The Dead This Halloween in Synth Riders!
Swooping Into All Major VR Platforms Is A Free Update To Synth Riders, Just In Time For Halloween.
Synth Riders VR just announced their Halloween update for 2022, and let me tell you, it's going to be a spooky good time.
Joining the soundtrack is a new free song by Synthwave-favourites Dance With The Dead, and their intense blend of guitars and Synthwave EDM is perfect to celebrate the spookiest time of the year!
"Synth Riders Halloween Update"
Related:
Top 20 FUN Best VR PARTY Games To Play W/Friends & Family
The Invitation:
New Song: "Riot" by Dance With The Dead
Where: Synthwave Essentials Pack
When: Available from 27 October 10am PT
What This Halloween Update Features?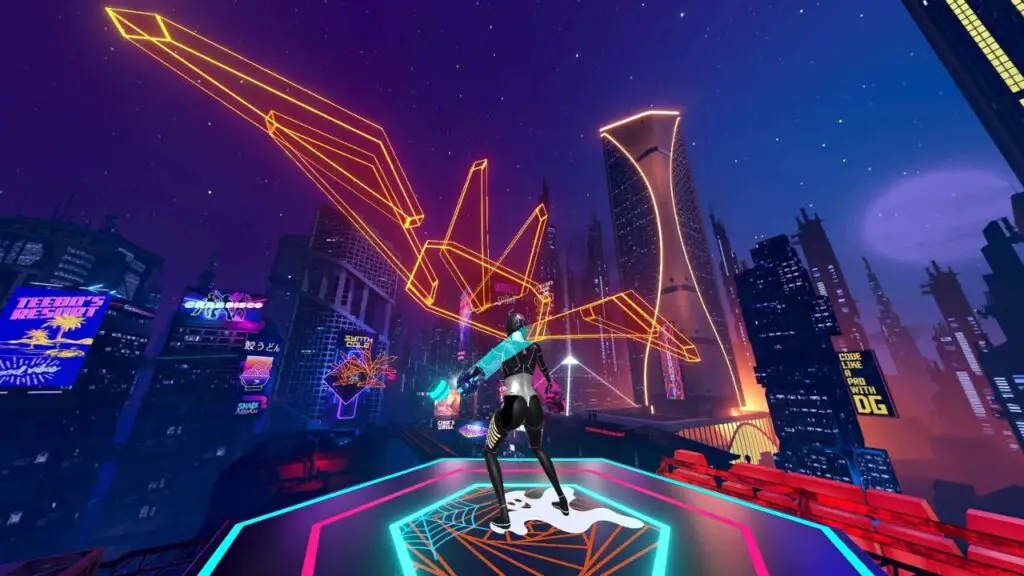 The update features New Halloween/Spooky-themed decals to show your style in Single or Multiplayer (Settings > Color > Decals)
Two weeks of Spooktacular Challenges, where we'll be challenging you daily to play the "spookiest" music from the Synth Riders soundtrack.
On your next visit to Spin City – either in the Multiplayer lobby or to play your next song – look out above! You can visit anytime through the Stage selection on the Song Select screen, or by changing Settings > Visuals > Home Stage.
Suggested:
Top 25 Best Multiplayer VR Games – CO-OP, Team VR Games
Synth Riders VR has always been known for its immersive gameplay and stunning graphics, but this update takes it to a whole new level. So get ready to have the scariest (and best) Halloween gaming experience yet with Synth Riders VR's Halloween update 2022. Happy haunting!
You can them your spooky platform, what you found in Spin City and/or your costume/cosplay for Halloween! Tag @synthridersvr #synthriders on social media.
With the addition of this New FREE song, "Riot" by Dance With The Dead joins the "Synthwave Essentials" collection, increasing your library to 58 included songs!
Meta Quest owners who haven't yet played the game can try it out for free in the demo available on App Lab, featuring 5 songs with all modifiers.
Follow Synth Riders on Twitter, Facebook, and Instagram, and join their Discord community for more news and events.
More Information About Synth Riders
Synth Riders VR
Synth Riders coming from Kluge Interactive and Retrowave VR is a combination of dancing and guitar hero, but your energy is crucial. 
In synth riders, you are on a rail, and you have to hit the colours to the corresponding hand as well as just simple hit markers.
There are held notes of which you have to follow the trail to continue earning points and maintaining your combo. Obstacles have to be avoided; otherwise, you will lose your combination and risk not completing the song. 
I like how the markers and maps enable you to get your groove on as they do have a pattern that promotes you to dance. Synth riders is a great fun VR title that is also a workout game allowing you to burn off that fat. 
There is also a beat map editor available for you to create your own tracks if you want to, but also on side quest, you can add custom songs as well.
 If you're not familiar with side loading and side quest and want to try this game for yourself, it's effortless to get it all set up.
So I've linked a couple of tutorials on how to start sideloading, or you can read the ultimate guide on sidequest. It takes maybe five to ten minutes max to get it all ready.
Some Notable Features…
Prevent Motion Sickness:
9 Ultimate Tips on How to Prevent Motion Sickness in VR Forever!