All Oculus Quest 2 Hand Tracking Games and Apps supported & Confirmed
All 100% Confirmed and Supported Oculus Quest Hand Tracking Games and Apps that you can play Right Now! (Updated 2021)
Oculus Quest 2 hand tracking is here and it's pretty cool but also pretty limited for now. 
The Oculus Quest has received several new features and announcements in recent months, but hand tracking coming to the quest is maybe the most significant, biggest and exciting one.
Introduced by Facebook at the end of 2019, hand tracking is a feature totally exclusive to the Oculus Quest and Oculus Quest 2 virtual reality headsets.
So let's go over everything that you can currently use with your hands and everything that we know that's confirmed to be in the works and they may be coming sooner than you think.
"All Oculus Quest Hand Tracking Games and Apps"
100% CONFIRMED All Oculus Quest Hand Tracking Games and Apps List
As for stuff that's been 100% confirmed to support Oculus Quest Hand Tracking Games and Apps are :
1. The Curious Tale Of The Stolen Pets
On the list for Oculus Quest Hand Tracking Games, first of all, we have, The curious tale of the stolen pets.
The curious tale of the stolen pets is an adventurous puzzle and exploration game where you need to find all the pets that have been hidden inside tiny worlds and It is a purely family-friendly fun
There are five tiny worlds, each with a unique theme to find all the hidden pets. The design and animation are exceptional, and it is visually gorgeous, and everything in the tiny worlds is brimming with charm.
Some Notable Features…
2. Elixir
Elixir will perhaps be the first experience that will make you discover the joys of hand tracking. Why? Well quite simply because it is completely free!
In Elixir, you are a sorcerer's apprentice in the middle of a magic laboratory. Immerse your hands in a cauldron, above the flames or on an electric arc and observe the different reactions.
Suggested:
Top 25 Best Free Oculus Quest Games 2021
3. Richie's Plank Experience
Richie's Plank Experience is certainly the VR application responsible for most video crashes!
Indeed, it is the 80th floor of a building it will take courage in both hands and cross a plank in a vacuum. Now compatible with hand tracking, it is even easier to give it a try to your friends. Note that the superhero bonus modes only work with controllers.
4. Titans of Space Plus
A game called Titans of space plus is an educational app that brings you on a tour of the solar system said to support hand tracking capability
Become an astronaut and explore the universe. Upload VR gave them 5/5 by and wrote  "This project belongs on every headset and comes with the highest recommendation I've ever given VR software."
It's a must-play if you have an Oculus Quest. Here's the store link.
Games Like Space Titan Plus:
Top 11 Best Oculus Quest EDUCATIONAL Games For All Ages
5. Waltz of the Wizards
The waltz of the wizard is the perfect fit for hand tracking. If you've always dreamed of having a host of magical powers, Waltz of the Wizard may well spoil you with his 12 spells. Levitate objects around you or turn them into a frog. Throw fireballs or wield electricity like a Sith Lord.
Waltz of the Wizard is definitely the VR experience that uses hand tracking the most.
The whole game is played using virtual hand-based interactions currently simulated by the oculus touch controllers but removing the controller's altogether will make an already great game that much better.
I believe this game will be the showpiece that you want to use to introduce your friends and family to the wonder of hand-tracking VR gameplay.
6. The Line
Set on a model of São Paulo from the 1940s, The Line tells the story of two small figurines. Both are accustomed to performing a routine by following each on their own side of the tracks, one of them will suddenly take a little more freedom…
The Line has won numerous awards around the world, including one at the Venice International Film Festival and another at the Emmy Awards.
Suggested:
Oculus Air Link: How To Play PCVR Games on Quest 2 WIRELESSLY
7. Vacation Simulator
In this spiritual sequel to Job Simulator, you'll take to the beaches, forests and snow-capped mountains. In each location, there will be tons of activities to do. 
Play Beach Ball, build a sandcastle, make burgers and hotdogs to accumulate maximum points. You can even customize your avatar.
8. Paper Birds
Paper Birds is a genre blend that combines both a VR animated film and an interactive experience. 
You will follow the story of Toto, a child passionate about music having to brave the dark forces to bring back his sister. Provided with a poignant story and great miniaturized sets.
9. Gloomy Eyes
The waltz of the wizard is the perfect fit for hand tracking. The newly released sandbox spell crafting game with a significant amount of interaction on the same scale of job simulator and now it's been confirmed to use hand tracking.
The waltz of wizard has always been a fantastic showcase of room-scale VR and what makes VR interaction so great.
The whole game is played using virtual hand-based interactions currently simulated by the oculus touch controllers but removing the controller's altogether will make an already great game that much better.
I believe this game will be the showpiece that you want to use to introduce your friends and family to the wonder of hand-tracking VR gameplay.
Suggested:
2 STEP: How To Play PS4 & PS5 On Oculus Quest 1 & 2 And PCVR
10. Big Screen
So, On the Oculus Quest Hand Tracking list,  we have big screen VR. Big screen lets you watch movies and TV shows with friends in many different virtual environments like a living room, a home theatre or a cinema and more.
You can even play your favourite PC video games on a huge virtual screen.
The big screen lets you hang out in social VR chat rooms, watch TV shows, movies and other screen-based content on a shared virtual screen with friends and strangers all over the world on big screens.
The user interface is built around pushing buttons with your index finger so it's only a natural fit for the Oculus quest hand tracking application.
Some Notable Features…
Editor Pick! :
Top 21 Best SideQuest Games to Sideload on Oculus Quest | Sidequest
11. Virtual Desktop
And then another no-brainer is virtual desktop. Virtual desktop is an application that lets you wirelessly control your PC or laptop on a virtual monitor inside VR.
You can browse the web, watch movies or Netflix or even play your steam or other PC games on a giant virtual screen, and for those of us using the side-loaded version, it's a great way to play steam VR and oculus rift games wirelessly.
Suggested Articles Related To Virtual Desktop:
How to Play Steam VR Games on Oculus Quest Wirelessly Using Virtual Desktop
AIR LINK vs VIRTUAL DESKTOP: Which To Choose & Who's Better?
Oculus Link V/S Virtual Desktop – Which One Is Better? And Why?
Hand Tracking on SideQuest Open Up a Plethora Of Games And Apps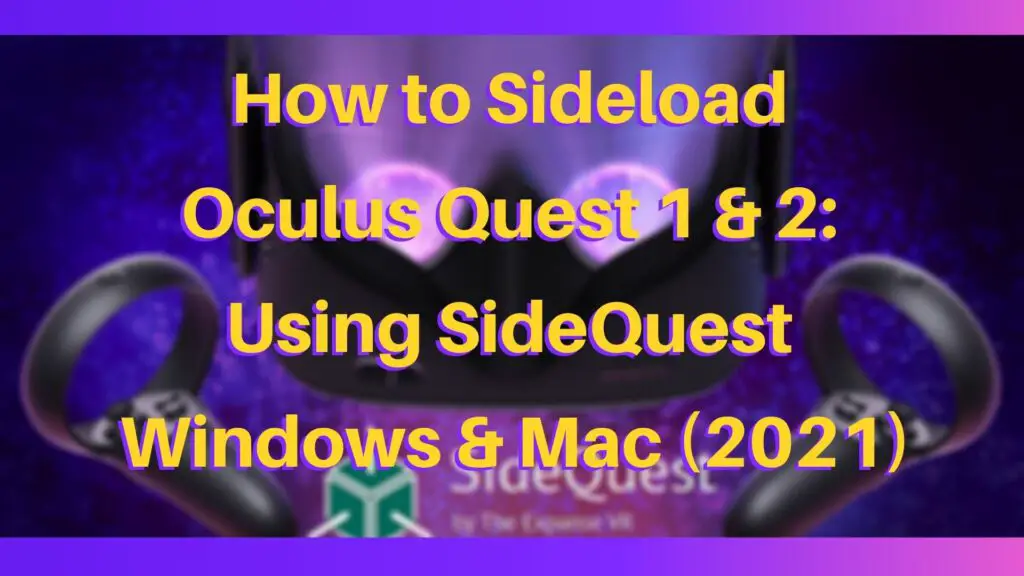 The SideQuest platform now has countless experimental games. Among them, a plethora supports hand tracking technology. In particular, we recommend Hand Physics Lab (link here), a fun application that pushes interactions very far.
In the same genre, there is also MRTK-Quest (link here) with also many objects with which to interact. Equally delirious, Sun Shard (link here) invites you to be a giant in the face of waves of miniature monsters that will have to be exterminated. 
In addition, we encourage you to discover the other applications yourself by going directly to the Hand Tracking category of SideQuest by clicking here.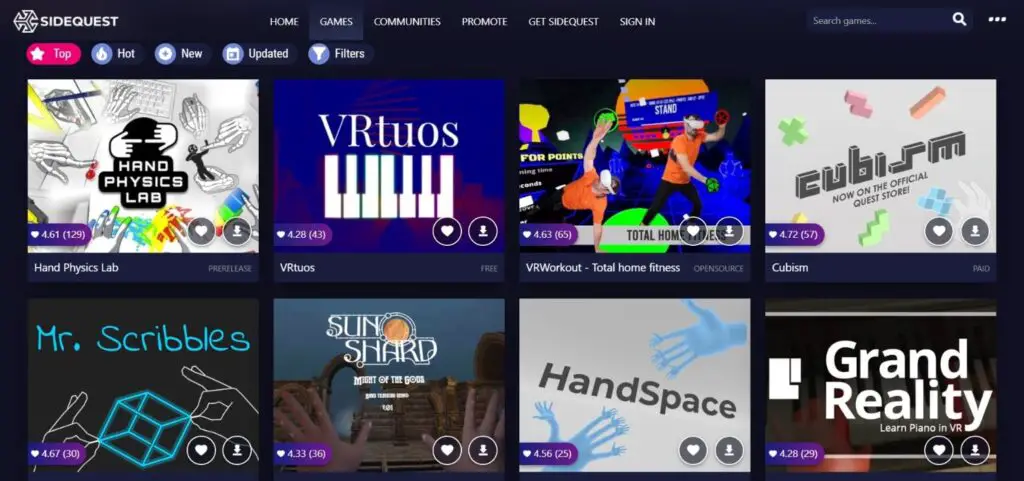 If you're not familiar with side loading and side quest and want to Sideload Sidequest games and apps for yourself, it's effortless to get it all set up.
So I've linked a couple of tutorials on how to start sideloading, or you can read the ultimate guide on sidequest. It takes maybe five to ten minutes max to get it all ready to go. 
Once you've set up the Sidequest properly on you PC, open up the SideQuest application on your PC and Create An Account. Because You must be LOGGED IN for wireless mode to work.
Do You Know How To Use Sidequest Wirelessly?
If no, then this article is for you!
What can you do with Oculus quest hand tracking right now?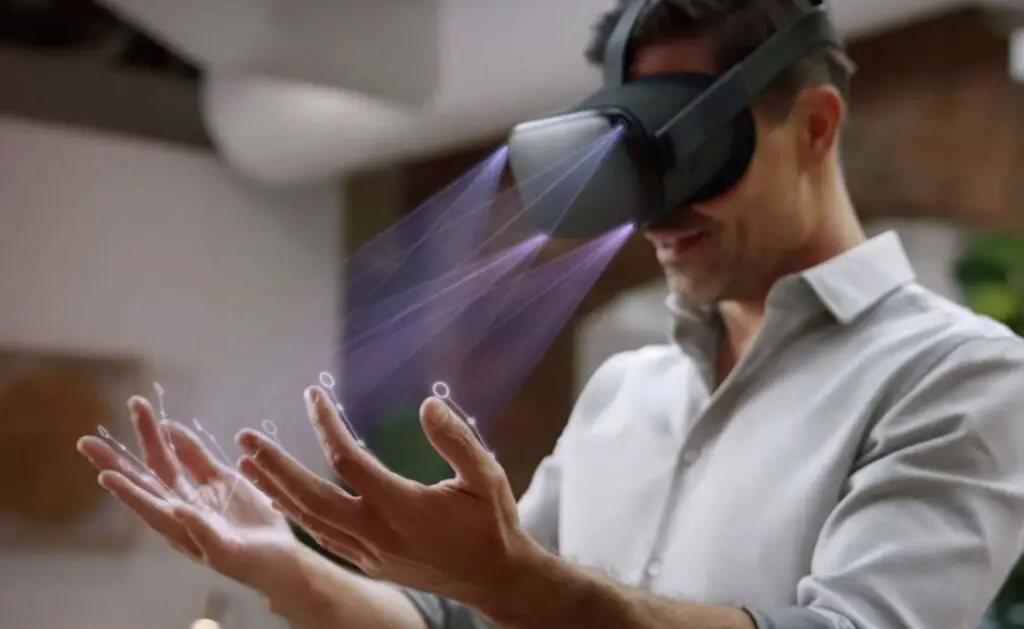 So here's the list of what you can do with oculus quest hand tracking right now:
The whole menu end-user interface is fully supported with hand navigation. This includes home settings, library store and everything else on the headset's main interface.  It also includes the gallery so you can browse and view your screenshots and videos with your hands. 
Then you've got the entire oculus suite of applications supporting hand navigation from day one like the internet browser so you won't need touch controllers to browse the web anymore on the Oculus quest 1 & 2.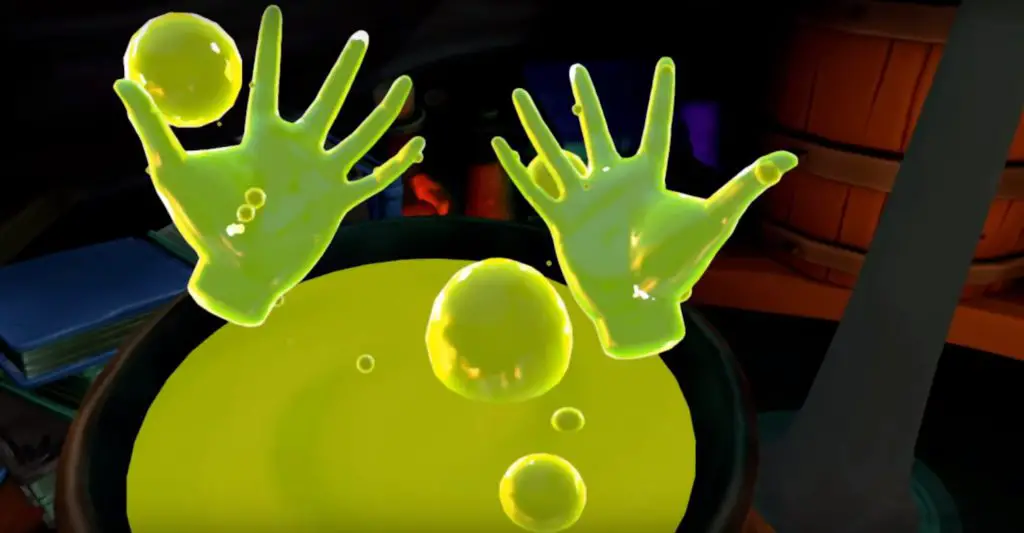 Apps like YouTube, Netflix, Facebook, Twitter, discord or whatever else you want to browse for on the web can all be navigated using hand tracking even before some of these native apps get the feature like Netflix and YouTube.
Then there's Oculus TV which is the hub for all the video content you could ever need including immersive 360 and 180 content.
 The platform supports services like Fandango, ESPN, Showtime, and Fox and now you can watch these services with the oculus quest hand tracking feature
If you are finding Best Multiplayer VR Games on Quest 1 & 2 then I've also made a list on that Check it out Best 25 Oculus quest Multiplayer games – Co-Op, Team quest Games
Suggested:
How To Setup & Use Roblox VR On Oculus Quest: 4 Steps: Under 5 MIN
So that's all the games and apps that support and "will" support Oculus quest hand tracking and that's all we know so far.
So Nine games, the entire suite of oculus first-party apps and the other utility apps, it is great to see the hand tracking integration.
But which one of these are you most excited to try out and what do you hope to see in the next wave of VR games and madness.
Hit me up in the comments below and thanks for visiting and sharing VR Marvelites and make sure to read other awesome VR articles on VR Marvelites. Until then Stay Strong VR Army!
Read Next:
How to Sideload Oculus Quest Using SideQuest : Windows & Mac