How To Get & Add New Custom Songs On Beat Saber For Oculus Quest 2 – 6 Easy Steps
Custom Songs Gives You More Music To Choose From Than The Official Beat Saber Will Ever Offer. So This Is The Full Guide To Adding Custom Songs To Beat Saber On The Oculus Quest 1 & 2 In 10 Minutes Max. (UPDATED)
The Ability to play Custom Beat Saber Songs is a BOON to VR gamers. But Modding and Adding Custom songs on beat saber can be tricky for many VR games because none of us has a techy mind or skills, we're just die-hard VR fans. 
That's why we thought we should make a guide that cuts off bluff and fillers and just talk with points and detailed steps.
Because we want this guide to be understandable by all beginners and a 15-year-old can also understand how to do each step without errors and failing!  
So, You can consider this as an Ultimate, Definitive, and Full Guide To Modding Beat Saber And Adding Custom Songs To Beat Saber on Oculus Quest 1 & 2.
I've also added a wireless method to add custom songs that can help you to select and download multiple songs at once. 
***This Method Works For Both Oculus Quests (1 & 2) And This guide assumes you have Beat Saber installed, but no mods or custom songs.***
Yes, that's it. That's all you need to do to install Custom Beat Saber Songs on your Beat Saber
***Please note that Quest user accounts may conflict with the Mod BMBF required for Custom Songs. If you have set up secondary user accounts, you can turn them off under Settings > Accounts.***
Related:
The TOP 7 Best DANCING GAMES On Oculus Quest 2 [2022]
Which Version Of Beat Saber Does This Guide Apply To?
Almost every new Beat Saber update causes problems with custom songs and modders have to update their mods for the latest version of Beat Saber first.
The current version 1.20.0 (OST5) is currently supported.
If these instructions are no longer up to date: You can check the latest supported Beat Saber version on the BSMG Discord server in the "modding-announcements" channel.
Does The Multiplayer Mode Work If I Want To Use Custom Songs?
No, With Meta Quest 2 you have to decide whether you want to install custom songs or prefer to use the multiplayer mode. Both at the same time is not possible.
A possible alternative is to switch to the PC VR version. There is no conflict between Custom Songs and Multiplayer mode.
What do I need to install Custom Songs on Meta Quest (2)?
To install custom songs on your Meta Quest 2, you need the following:
A Meta Quest (2),
A computer with Windows, macOS or Linux,
The VR game Beat Saber (Oculus Store) and
The sideloading app Sidequest and the custom song mod BMBF.
STEP 1: Setup SideQuest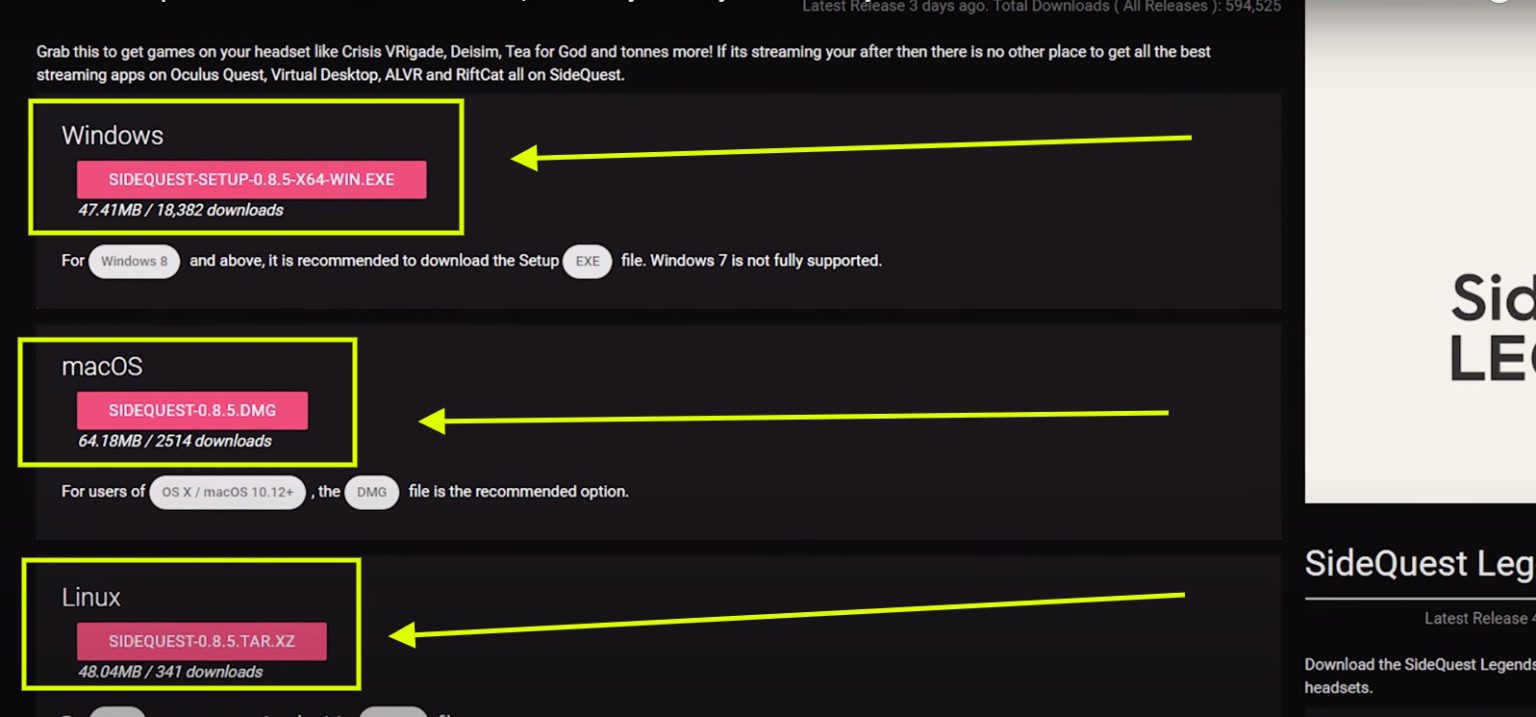 If you're not familiar with side loading and side quest, it's effortless to get it all set up.
So I've linked a couple of tutorials on how to start sideloading, or you can read the ultimate guide on sidequest. It takes maybe five to ten minutes max to get it all ready to go. 
After setting up Sidequest, Make sure that you have connected your Oculus Quest with SideQuest properly.
You can confirm that by seeing at the TOP RIGHT CORNER, a Green Light indicates that you've connected SideQuest with your Quest properly. 
And now you're ready to Sideload the BMBF app that we need to Add Custom Beat Saber Songs to the Oculus Quest 2.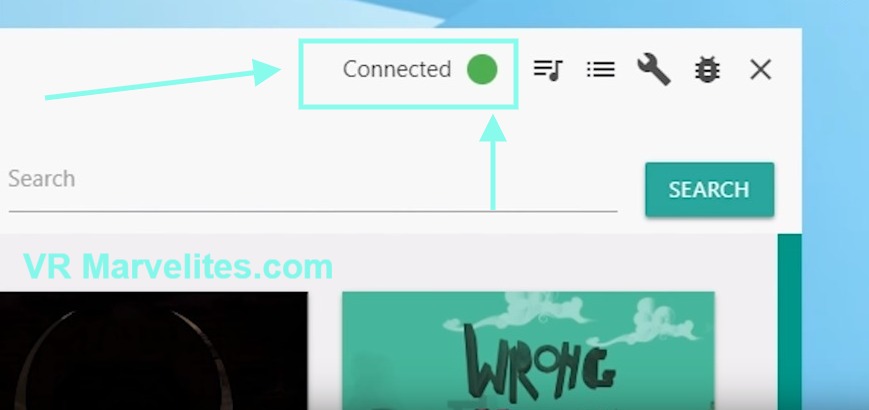 STEP 2: Backup Game Data (OPTIONAL)
Backing up your Beat Saber game data is optional but if you don't want to lose your scores I suggest you don't skip this.
So, here's how to backup Beat Saber Game Data:
The way you back up the Game data is by going to installed apps
Then click the gear icon for Beat Saber
And click > backup game data
STEP 3: Find And Bookmark Custom Songs

Now, go to the BeastSaber website which is an online directory for custom songs. Here you can find and bookmark the songs that you want to load onto your Meta Quest 2 later.
Want to play some of the Best Beat Saber Visually Stunning Custom Songs? Then you must check this list out.
So, Here's How To Get Cuastom Songs On Beat Saber For Oculus Quest: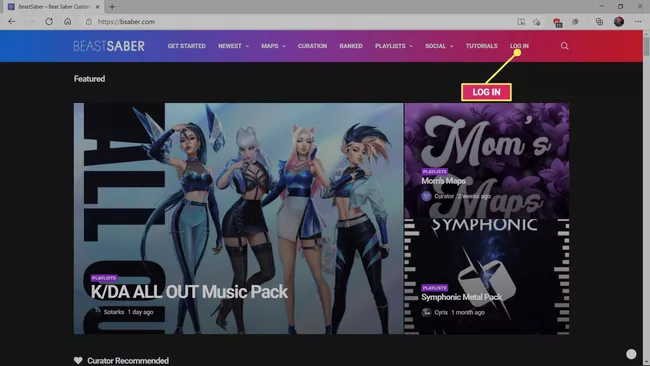 Create a user profile, confirm the registration and login.
Under "Find Maps" look for custom songs that you like.
The songs can be previewed by clicking on the note symbol. If you click on the play icon, you will see a preview of the beatmap.
Now, If you want to import a custom song, you have to bookmark it here. To do this, click on the bookmark symbol. This song is now permanently linked to your user profile.
STEP 4: Install BMBF Via Sidequest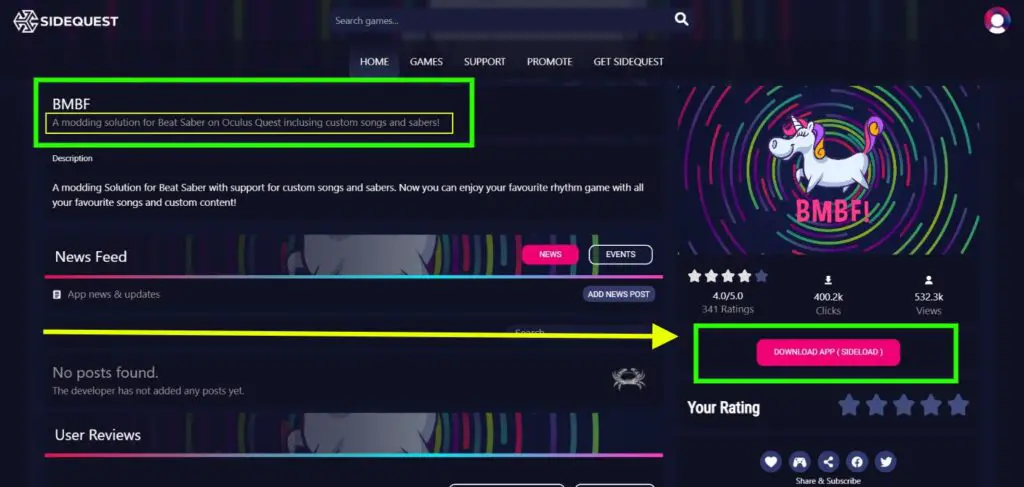 Here's How To Download The BMBF App Via Sidequest:
Connect your Meta Quest 2 to Sidequest if you haven't already.
Search for BMBF in sidequest or Click this link. This is the mod we need to install custom songs.
Click on "Download App (Sideload)" to install BMBF on your Meta Quest 2.
After the successful installation, you can close Sidequest and disconnect your Oculus quest 2 with your PC
You can use sidequest wirelessly too, check this post out if you don't know how to: How To Use SideQuest WIRELESSLY On Oculus Quest 2 -WIN & MAC
Also, you can sideload apps and games onto your Quest without PC. check this post if you want to know how: How To Use SIDEQUEST WITHOUT PC & USB CABLES on Oculus Quest
STEP 5: Setting Up BMBF
BMBF modifies Beat Saber so you can import custom songs into the game.
Now put on your Meta Quest 2 and open the apps menu by selecting the tile icon. Go to the top right tab and select "Unknown Sources".
If you have successfully installed BMBF via Sidequest, the app should appear in the list. Now, launch BMBF to begin the modification process.
Here's How To Modify Beat Saber Using BMBF:
If necessary, grant permissions by selecting "Allow".


Select "Uninstall Beat Saber" in the next window.


When asked if you want to uninstall Beat Saber, select "OK".


Select "Patch Beat Saber" and wait for the process to complete.


Scroll down and select Install Modded Beat Saber.


If a warning pops up, then select "Settings" and enable the option "Trust this source".


Use the arrow at the top left to go back to the installation and select "Install Modded Beat Saber" again.


If you are asked if you want to install this app, select "Install".


If a warning pops up asking you to reset the app, then select "Close" and never "Reset".


Select "Done" and This completes the modification process.
STEP 6: Installing Custom Beat Saber Songs On Your Oculus Quest
1. Restore App Pop Up, Click > Close

2. Download Icon for downloading custom songs

3. "SYNC TO BEAT SABER BUTTON"

STEP 1: Click On Tools To Restore Your Previous Custom Songs (ONLY FOR WHOM WHO PREVIOUSLY DOWNLOADED CUSTOM SONGS)

STEP 2: Click on "Sync To Beat Saber"

STEP 3: Click "Start Beat Saber

Custom Songs Tab in Beat Saber
Now, This is the part that you've been waiting for. Open the BMBF app by going into the "Unknown sources" section. (see step 5).
Here's How To Install Custom Beat Saber Songs Using BMBF On Your Oculus Quest:
Select "SyncSaber" at the top and enter the name of your Beastsaber user profile. Be careful not to make any mistakes when entering.


Then enable the "Bookmarks" under "For Me" and click on the left arrow under "Max Songs" until the infinity symbol appears.


Then select "Queue Downloads" and wait until BMBF has downloaded the songs. Depending on the number, this can take a few minutes. You can see the progress at the bottom right of the window.


When the process is complete, a Sync to Beat Saber button should appear in the top right corner.


Now all you have to do is click on that button and the custom songs will be imported into the game. The songs will not appear in Beat Saber if you don't click on the "SYNC TO Beat Saber" button that is in the Top Right Corner.


Finally, close BMBF by pressing the B button on the right touch controller.
STEP 7: Launch Beat Saber And Enable Custom Songs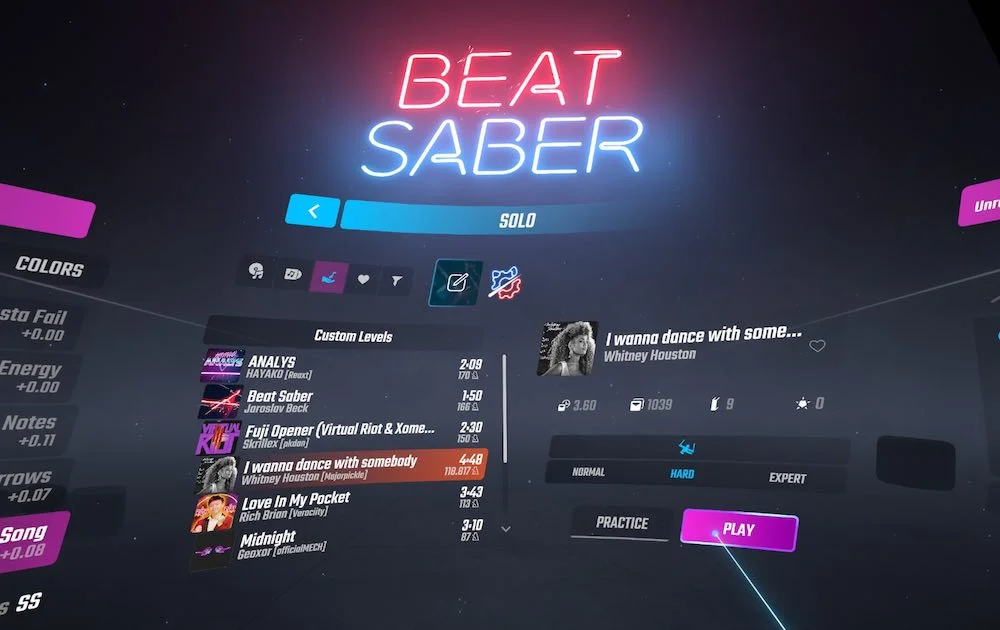 Here's How To Enable Custom Beat Saber Songs On Oculus Quest 2:
Open the Apps menu and select the three dots in Beat Saber.


Go to "Permissions" and grant access to the storage.


Then Start Beat Saber and choose "Update Later". If you choose "Update Now" the latest Beat Saber version will be installed and you will have to start over.


And If prompted to reset the app, select "Open App". If you reset instead, you'll have to start all over again. Both of these prompts may pop up every time you launch the game. Unfortunately, there is nothing you can do about it.


If Beat Saber is running, select the game mode "Solo".


Under "Custom Levels" (hand icon with note) you should find the imported custom songs. You can finally get started.
Adding New Beat Saber Custom Songs
Here's How To Download And Put New Custom Songs Onto Beat Saber:
To add new custom songs, simply go to the BeastSaber website
And bookmark new songs (see step 3).
To load them into the game, repeat step 5 from "Queue Downloads".
Editor Pick:
Top 25 ESSENTIAL Best SideQuest Games To Sideload On Quest
Restoring The Beat Saber Data
If something happens or you are having problems with the modded beat saber and want to restore your Beat Saber data then you can restore your Beat Saber game data.
Here's How To Restore Beat Saber Game Data:
Open sidequest
Then, Go to installed apps and click > the gear icon for Beat Saber
Now, click > restore button (REFER TO THE IMAGE NO. 4). The circular arrows next to the backup timestamps on the left are for restoring.
Editor Pick:
TOP 7 Best ART & CREATIVITY Oculus Quest Games & Apps (2022)
How To Download And Wirelessly Install Custom Beat Saber Songs On Oculus Quest
Here's the link if you want to know How To Download And Wirelessly Install Custom Beat Saber Songs On Oculus Quest
In that post, I've shown you, how you can add custom beat saber songs wirelessly on your Oculus Quest 1 & 2.
That post is a No BS tutorial, so there's no bluff and fillers, only Steps that are well illustrated and super easy to follow using images.
Make sure you've followed all the steps that I've mentioned above. Because it needs BMBF and Modded Beat saber in order for that method to work.
How Do I Uninstall Custom Songs?
If you no longer want to use custom songs and want to play the latest version of Beat Saber, proceed as follows.
Here's How To Uninstall Custom Songs On Beat Saber:
Connect your Meta Quest 2 with Sidequest.
Click on the tile icon ("Currently installed apps") in the sidequest menu.
Find Beat Saber and right-click on the gear icon.
Select "Uninstall App" to uninstall Beat Saber.
Repeat the same step for BMBF.
Now you can reinstall Beat Saber by simply downloading the game.
Why Custom Songs?
Beat Games has released quite a number of free songs and DLCs for Beat Saber.
That's not enough for big Beat Saber fans: they want a larger selection of songs and genres. This is where Custom Songs come into play.
Custom Songs means levels of unlicensed music. The unofficial content is uploaded to special websites and imported into the game using mods.
There are currently more than 65,000 custom songs (as of August 2020) available for download, covering pretty much every genre and many international hits.
PC VR glasses and Meta Quest 1 & 2 are supported. Playstation VR users are left out.
Where Can I Learn More About Beat Saber Modding?
If you want to learn more about the possibilities of Beat Saber modding, I recommend the following resources:
If you have problems with the installation of custom songs, there are the following contact points:
The Beat Saber Modding Group (BSMG) Discord server in the #pc-help and #quest-help channels or
Darkunis Discord server in the #bmbf-help channel.
You can follow the current development status of the Beat Saber modding on the BMSG Discord server in the channel #modding-announcements.
If a new Beat Saber update is released, you can check here whether the Custom Songs mods have already been updated and made compatible.
Read Nex:
Forget PS5 & Xbox Series X: Why Quest 2 Is Better?
So there you have it… That's How You Can Mod & Install Custom Songs On Beat Saber For Oculus Quest 2
If you're looking for more ways to amp up your Beat Saber experience, be sure to check out our other guides and subscribe to our YouTube channel.
And if you have any suggestions or problems while modding or adding custom songs in Beat Saber then make sure to comment below. We'll reply as fast as lightning. Until then, STAY STRONG VR ARMY!
You can also check out our PCVR Beat Saber Custom Songs Installation guide
Here are some more How-To VR Guides:
Suggested:
Top 13 Best Fitness VR Games On Oculus Quest 2 for a Mix of Fun and Burn