Doom 3 In VR – Guide To Install And Play Doom 3 On Your Oculus Quest (Step By Step & No Confusion)
In This Guide: How To Setup The Doom 3 Quest Mod, Creating The "Base" Folder And Copying The Game Files To Play Doom 3 VR On Your Quest Within 10 Min Max!
Dr Beef has made it clear to us that he is a specialist importing legendary games to virtual reality, and now it is Doom 3's turn.
And thanks to this developer we have been able to enjoy titles like Quake 1 and 2, Half-Life or Original Doom, in VR on our Oculus Quest.
In this way, we can remember the good times that these classics gave us, feel them in the first person, and enjoy them without cables anywhere, thanks to VR and Oculus Quest.
Step 4 and Step 5 is tricky, so we added dedicated videos explaining those steps. Because We want to make sure that Doom 3 In VR runs perfectly on your Oculus Quest 1 & 2 without any errors
Other than that, installing it on your Quest is quite simple and we will tell you how to do it. So Are You Ready To Raise Some Hell?
Here's How to Install and Play Doom 3 in VR on Oculus Quest 1 & 2
Essential Read:
Top 25 Best Free Oculus Quest 2 Games | Quest Free Games
Requirements:
Obviously have an Oculus Quest 1 or 2.
A PC with Sidequest installed. If you have never installed it, I leave you a perfectly explained guide

here

.
Have a copy of the original game. Beware, it only works with the normal version, not with the BFG edition.
If you're just stepping into VR Then these games might help:
Top 15 Best BEGINNER Oculus Quest 2 Games To PLAY FIRS
Step 1: Buy And Install DOOM 3 On Your PC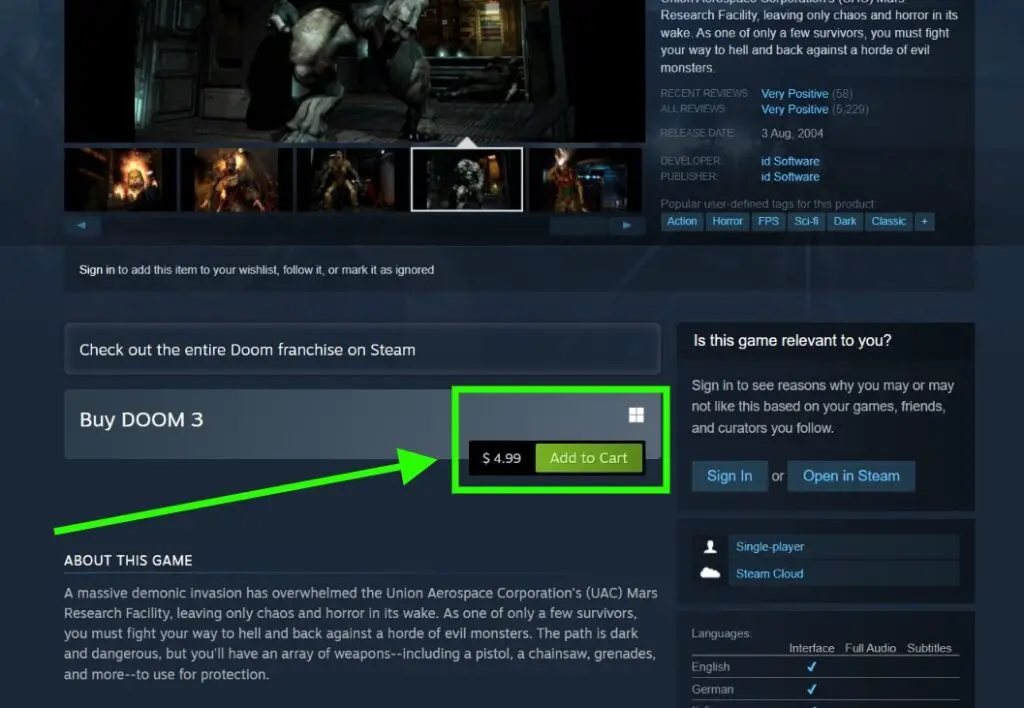 In order to play Doom 3 In VR using the VR mod, first, we need to buy and install the original copy of Doom 3, available for purchase either on Steam or at any key store you trust.
Beware, it only works with the normal version, not with the BFG edition.
If you Love DOOM, Then you'll love these games for sure cause here are the Top 15 Amazing Best ACTION Games For Oculus Quest 2
Want more Scary games like DOOM 3 on the oculus quest 2? Then this list is just for you: Top 10 SCARIEST And Best Oculus Quest 2 HORROR GAMES (2022)
Step 2: Setup SideQuest To Install Doom3Quest Mod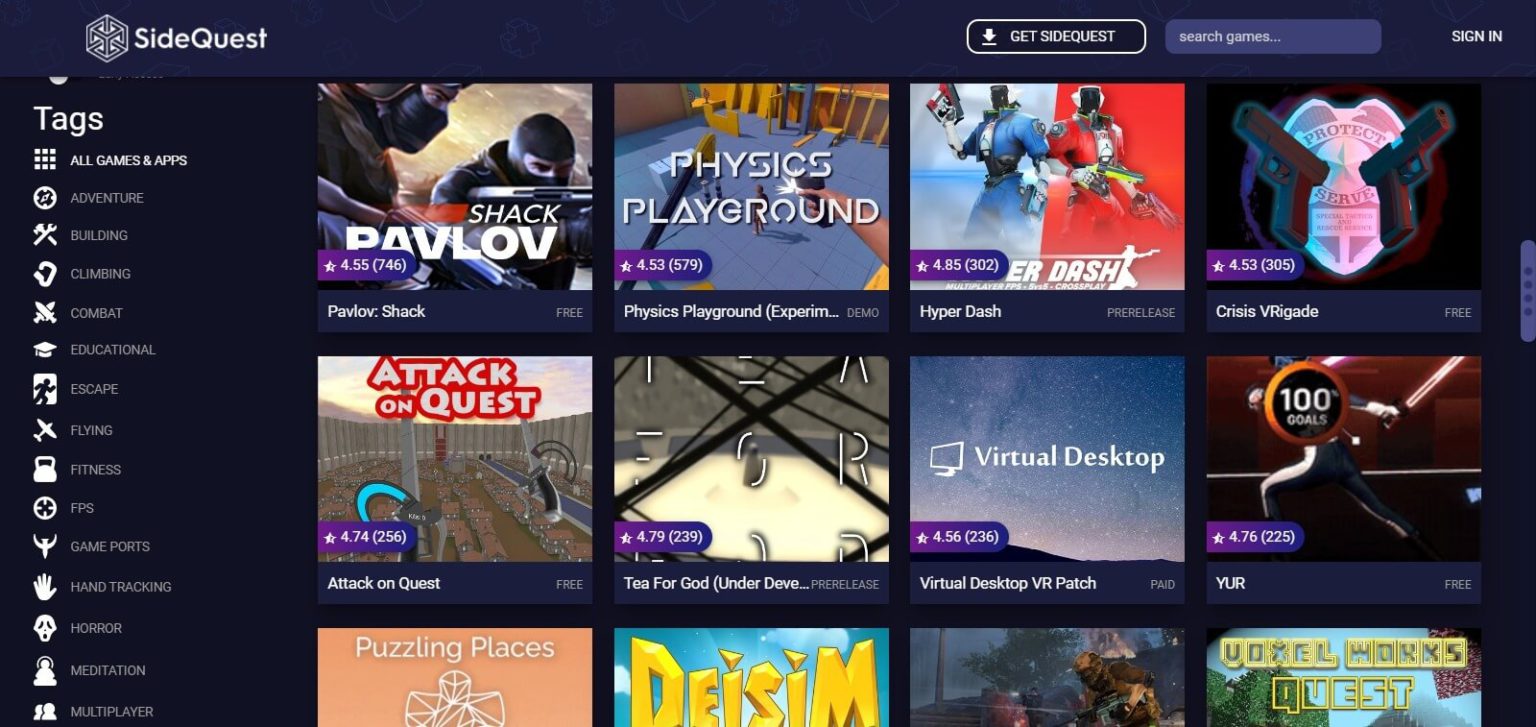 If you're not familiar with side loading and side quest and want to try Doom 3 in VR for yourself, it's effortless to get it all set up.
So I've linked a couple of tutorials on how to start sideloading. It takes maybe five to ten minutes max to get it all set up and running.
Here's the link: How to Sideload Oculus Quest Using SideQuest: Windows & Mac
Want More SideQuest Games, then Here are Top 25 Best And Essential SideQuest Games to Sideload on Oculus Quest 
For Minecraft Fans:
How To Play MINECRAFT VR In 2022 On The Oculus Quest 2
Step 3: Download Doom3Quest Through SideQuest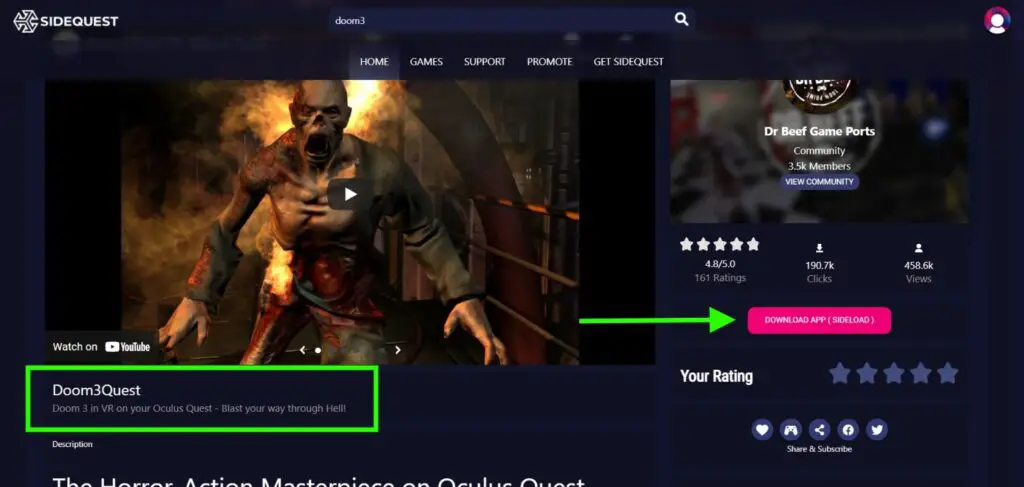 After Setting up Sidequest, ensure that your quest is still connected and that you have a green light in the top right-hand corner of sidequest. Please refer to this guide.
Now Here's the Link to Download Doom3Quest Mod. Click "Install Latest Or Download App" while your quest is still connected to sidequest.
This step will install Doom3Quest Mod on your Oculus Quest without any errors.
Step 4: Creating The "BASE" Folder On Your Oculus Quest
Run the mod on your Oculus Quest, you will find it in the Unknown Sources section. The game will not run, but this will create a folder on our headset where we will then upload the game files.
Now, locate the folder on your PC where you have installed the game, by default the path should be the following:
« C:/Program Files (x86)/Steam /steamApps/common/Doom3/ »
and then open the folder called "BASE".
Now, open the Quest or Quest 2 Drive that will appear on your PC while you are connected with sidequest and find the Doom3Quest folder and open the folder named "BASE".
Step 5: Copying The Game Files And Playing Doom 3 In VR On Quest
Now from the BASE folder of the PC game that we had opened, select all the files that end with the .pk4 extension.
Drag or copy & paste all the selected files to your Oculus Quest's Doom3Quest folder (please refer to the video above)
When they have finished copying, we can unplug our Oculus Quest from the PC and start Doom 3 VR game from the Unknown sources section.
For Roblox Fans:
How To Play Roblox VR On The Oculus Quest 2
Doom3Quest: Oculus Quest 1 & 2 Controls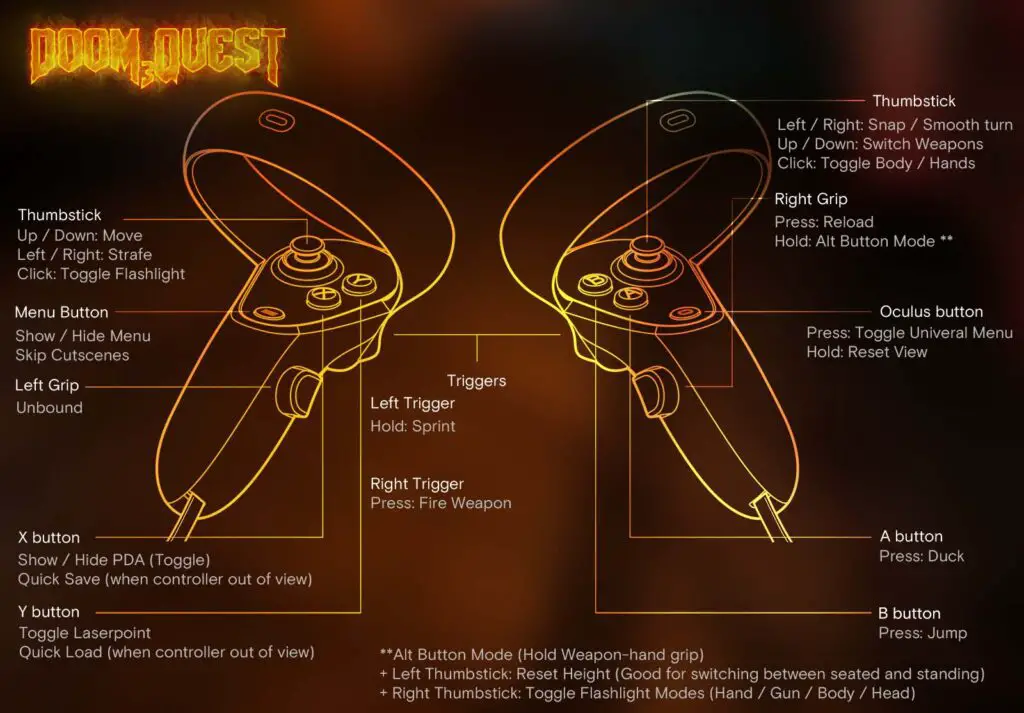 Read Oculus Quest 2 Tricks That Meta Doesn't Teach:
8 Oculus Quest 2 Tricks That Everyone Should Know
Here are some more AAA games that you can play in VR:
How to Play Skyrim VR On Oculus Quest 2
How to Play GTA 5 in VR On Oculus Quest 2
How to Play Alien Isolation In VR On Oculus Quest 2
If you dive a bit through the community of this game you will be able to add more modifications such as HD textures and they will also work with this Dr Beef mod.
Although we only recommend putting them with Oculus Quest 2, since the first version of the Oculus Quest will surely have performance problems.
If you have any questions, you can put them down here in the comments. I hope you enjoy this classic on your Oculus Quest and we'll be on the lookout for new ones.
Until Then STAY STRONG VR ARMY!
If you want more Best Oculus Quest Games Lists then here are some of our List:
Forget PS5 & Xbox Series X: Why Quest 2 Is Better?
TOP 20 Best Oculus Quest 2 SHOOTING Games – VR Shooter Games
Top 15 Best EDUCATIONAL Oculus Quest 2 Games For All Ages
Top 13 Best FITNESS And WORKOUT Games On Oculus Quest 2
SIDEQUEST ULTIMATE GUIDE – Is It SAFE And LEGAL & Much More
TOP 10 Oculus Quest 2 Apps To Hang Out With Your Friends
TOP 7 Best ART & CREATIVITY Oculus Quest Games & Apps (2022)
Power Up Your Oculus Quest!:
How To Use SIDEQUEST WITHOUT PC & USB CABLES on Oculus Quest
Power Up Your Oculus Quest!:
How to Play Steam VR Games on Oculus Quest Wirelessly Using Virtual Desktop