How to Mod Beat Saber (v1.20) Using Mod Assistant In Just 5 Easy To Follow Steps [FREE – 2023]
The Comprehensive & Complete Guide That Shows You How To Mod Beat Saber To Install Custom Songs, Avatars Etc In Just 5 Steps Which Takes Only 5-7 Min Max.
Hey VR Army! In this post, I'm gonna show you How To Mod Beat Saber for Version 1.20.
Modding beat saber has never been easier. Whether you're a beginner, intermediate or advanced modder, this is the Ultimate Guide on How To Mod Beat Saber v1.20.
By Modding Beat Saber you can add custom beat saber songs, platforms, etc that are not officially available and It only takes 5-7 minutes to get it all set up
Also at the end of the post, I have added some solutions in case you encounter some problems while modding Beat Saber.
Here's How To ADD CUSTOM SONGS In Beat Saber In under 3 MINs! [2 METHODS]
And If You're A Meta Quest User then here's How to Add Custom Beat Saber Songs On Oculus Quest 1 & 2: 5 Steps
Step 1: Uninstalling/Reinstalling Beat Saber (Optional)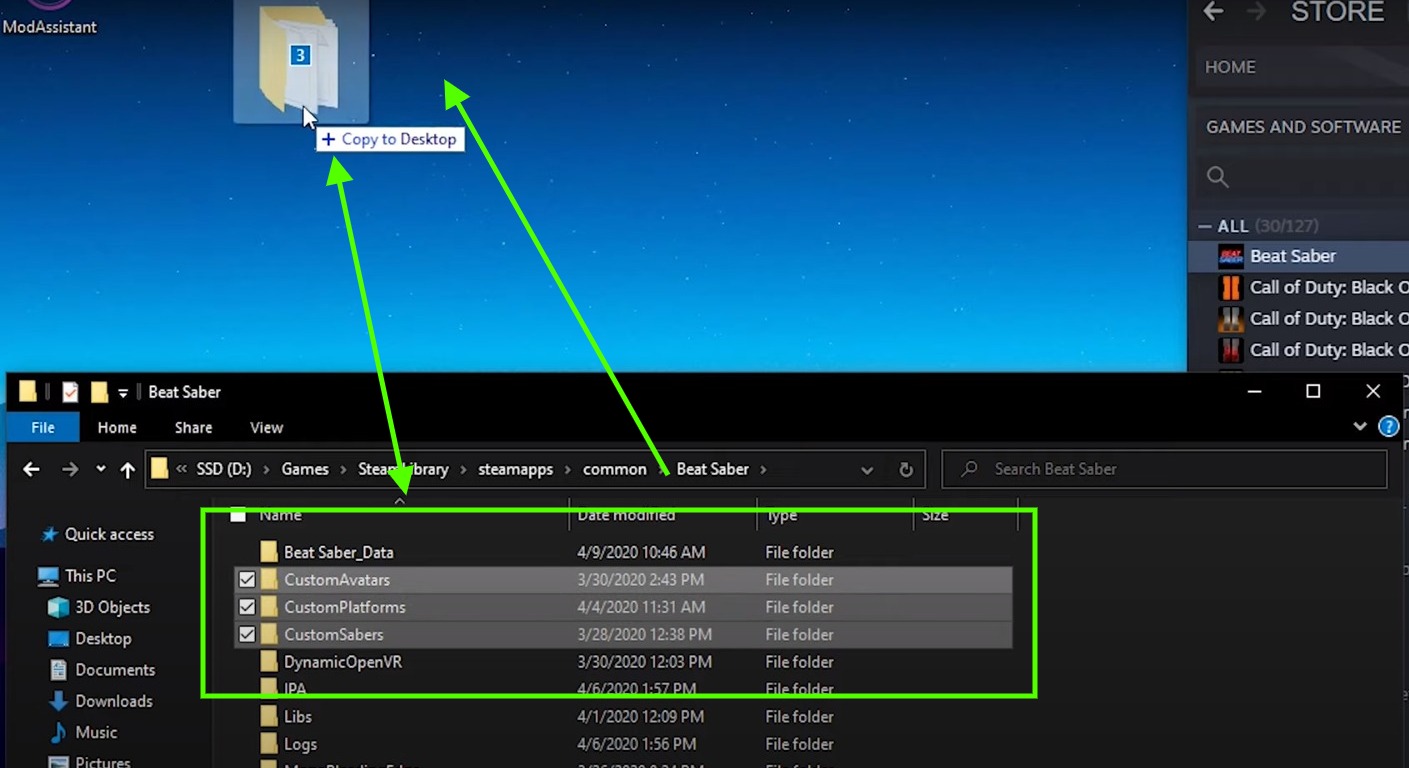 Before we start installing some mods on the Beat saber, there are a couple of things that we need to take care of. 
This is an optional step but one that I highly recommend because some people experience issues when they try to mod beat saber without Uninstalling or Reinstalling Beat Saber. 
Taking this step will ensure that the previous version of Beat Saber is not interfering with the Mod Installation.
If you have any of the custom avatars, custom platforms, etc make sure to save them somewhere on your PC because you don't want to delete that. 
Now, I want you to delete beat saber and get rid of all those files that were from the previous version
And ensuring nothing messes up when modding Beat Saber on version 1.20. 
After deleting all of the files, open up your recycling bin and fully delete beat saber from your hard drive.
Now, simply reinstall it and when you're reinstalling, make sure you note where you're installing your game.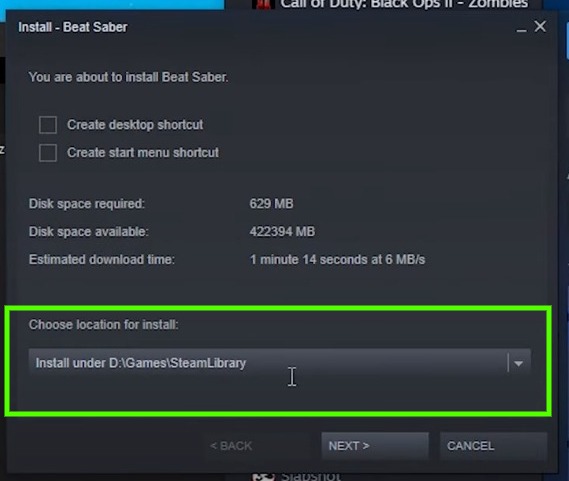 Like in which drive and folder you're installing beat saber (refer to the image above) because we're going to need this later for Modding beat saber.
STEP 2: Run Beat Saber Once Before Downloading Mod Assistant
Once your Beat Saber is downloaded, instantly hit the play button in order to get all that data. After confirming the Health warning, play a level and simply press quit and get out of Beat Saber.
STEP 3: Downloading Mod Assistant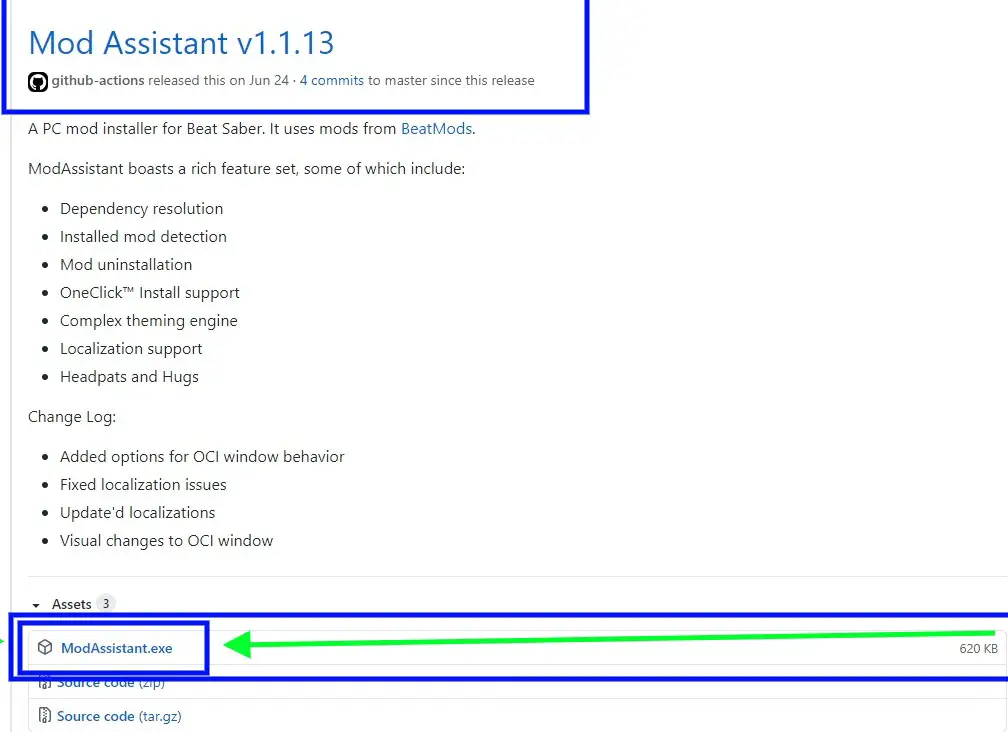 Now to Mod Beat Saber, we're going to be using a Modding program called Mod Assistant
Click the link and it'll take you to a GitHub page, where you can scroll down and see the "Mod Assistant.exe" and simply download the program. 
Sometimes when downloading mod assistant it'll say: "This is a program that we've never seen or this file will harm your computer".
Just press keep downloading as it is not a harmful software and it won't harm your PC.
STEP 4: Setting Up Mod Assistant
Now, Double click on the Mod Assistant.exe file.
Make sure you're in the intro tab in the top left. And Do note that mods break after every update because mods are made by real people in their own free time. So please be patient as not all mods will work the first day or the first couple of days after an update.
Press I agree and you'll get a pop-up in the bottom right corner that says: "You can now use the mods tab"
i. Configuring Beat Saber File Directory in Mod Assistant
Head to the options tab on the left-hand side. As I told you, in the beginning, make sure to note where you downloaded Beat Saber, now put that directory into this install folder location.
If you're using Steam or Oculus, the default or common locations where this is going to be downloaded is
For Steam: C:Program Files (x86)SteamsteamappscommonBeat Saber
For Oculus: C:Program FilesOculusSoftwareSoftwarehyperbolic-magnetism-beat-saber
But if it's not in that directory, you've probably downloaded it to a custom folder or another drive. After you've found your Beat Saber installation folder, you can click on > Open folder to choose Beat Saber from your directory into this install folder location.
STEP 5: Downloading The Mods
When you get on the "Mods Tab", there's gonna be some mods that are already pre-checked for you and some that you can manually discard.
The ones that are in the dark box that is already checked for you, are the mods that needs to be downloaded for the mod assistant to work perfectly and some of the other ones with the grey box are the ones that you can uncheck yourself.
But Mods like mapping extensions or ChatCore extensions you won't necessarily need unless you're going to be playing a map or level with mapping extensions. 
Now, select all of the Mods that you want and press the install or update button on the bottom.
It'll say, installing whatever mods you selected and when it's done it'll say: The installed version of the mod that you have near their mod name column.
Let's say in a week later all these mods get updated by the devs then the installed mod version will be in red and will have a greater latest version that needs to be updated.
In general, you should keep your mods updated always to the latest version. 
Voila! Enjoy Your Modded Beat Saber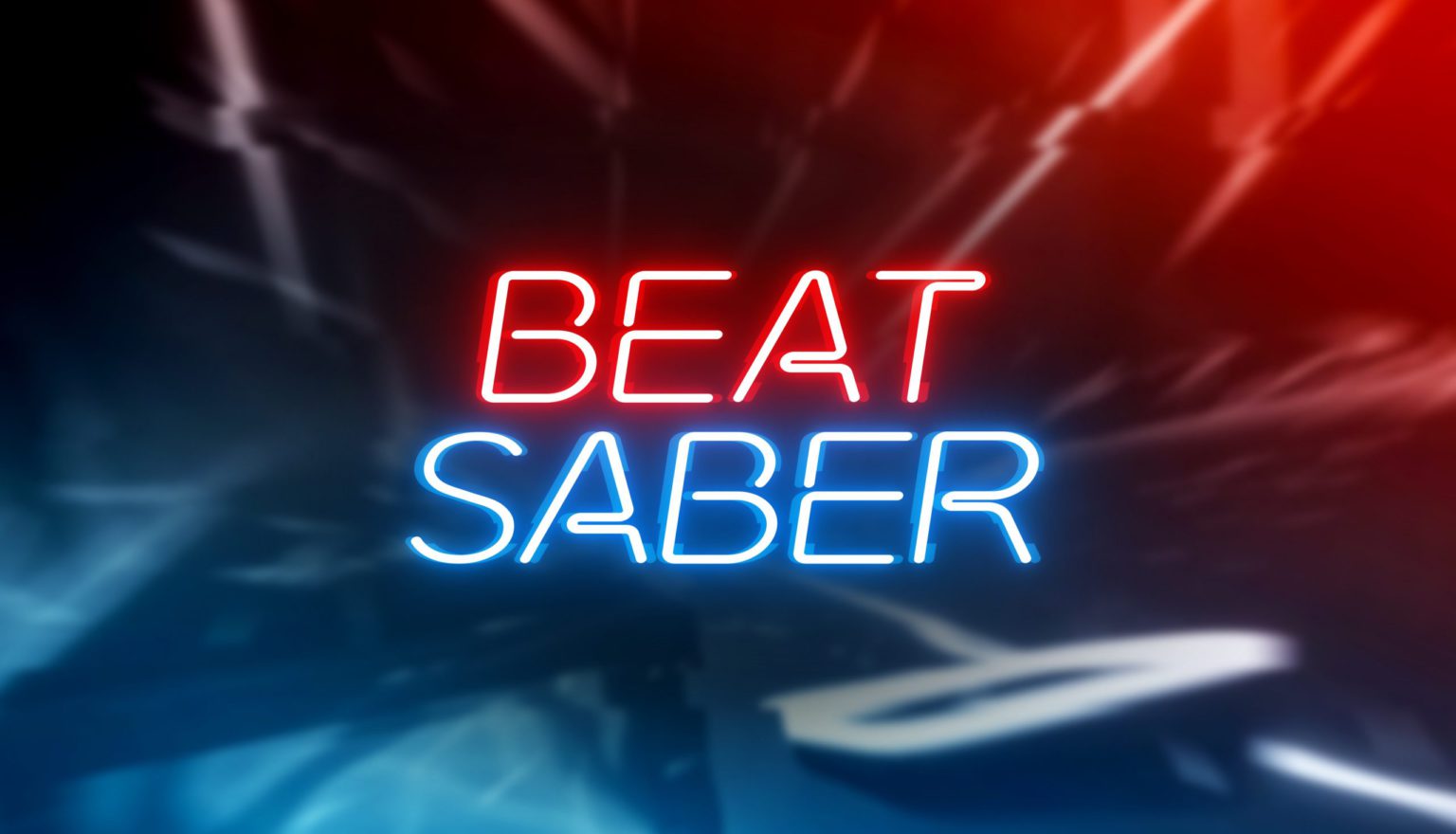 Voila! Enjoy your Modded Beat Saber. (Check if you have Modded Beat Saber Perfectly or Not. Read Below) 
Of course, you can go through all of the mods, and on the right-hand side it has a nice description which you can tap on and it'll copy text to the clipboard.
So if you open a notepad and paste the copied description, it'll tell you the exact description of what each mod does or what the mod that you selected can do.
You can read all the information regarding each mod and then you can figure out what mod does and what mods you want to download. Note that the more mods you download the laggier your game could become because mods aren't 100% supported by Beat Saber.
The mods just add another layer of customization in Beat Saber, so just be careful with what mods you download because sometimes they will mess up and cause lag.
Ensuring Beat Saber Is Properly Modded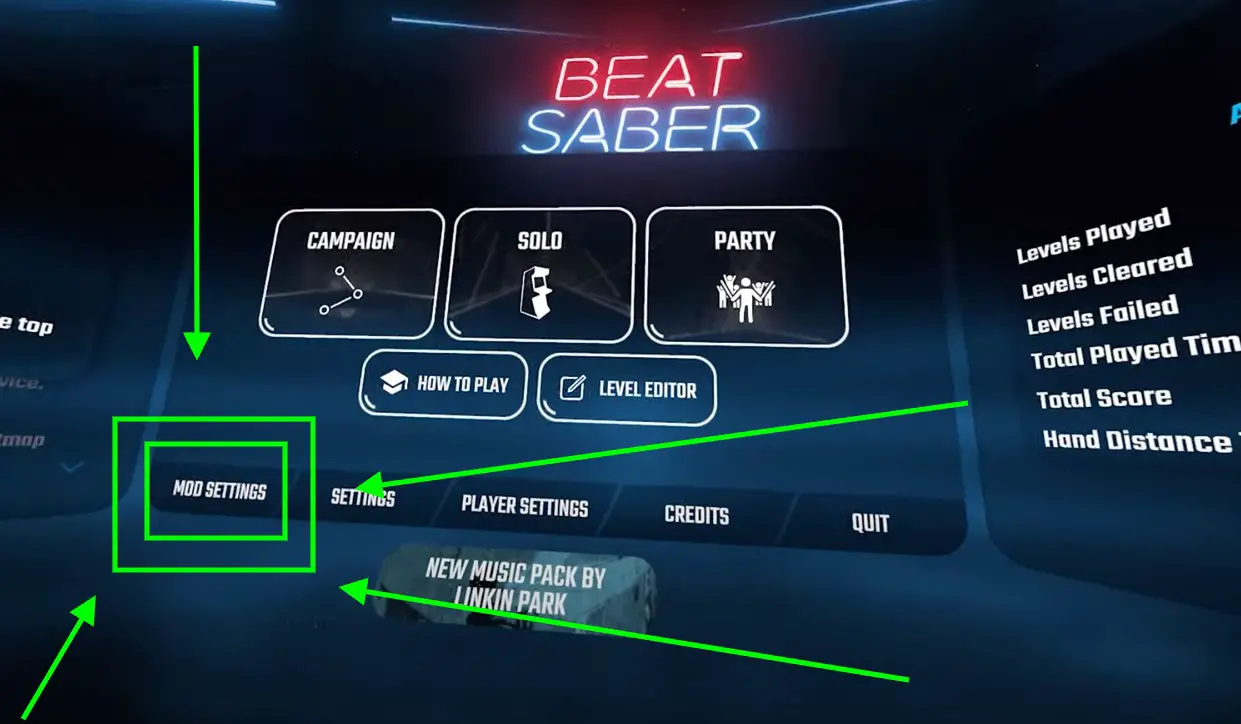 Now, when we open up Beat Saber we should have all of those mods that we have downloaded in the game. A really good sign straight off the bat that the mods have injected properly is that can see that we have a "Mod Settings" tab in the bottom left corner.
Modded Beat Saber Is Not Working – What To Do?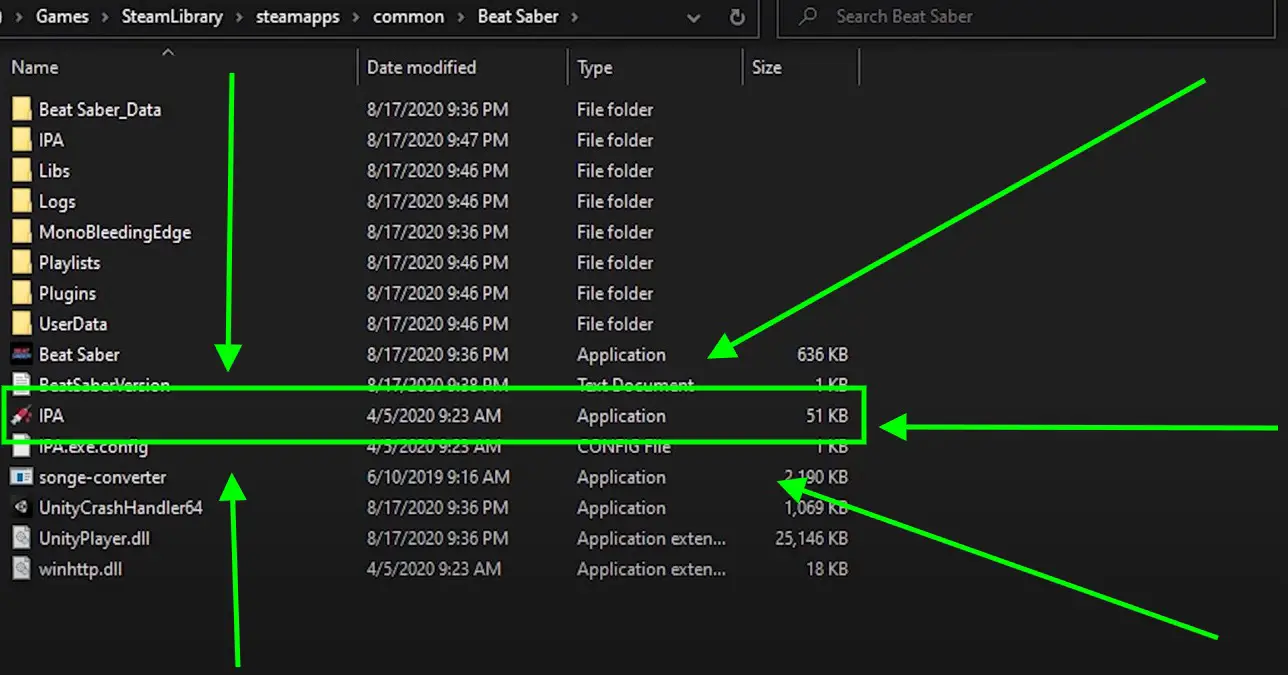 For some reason, if your mods weren't in game when you first loaded it up after installing them, simply go ahead and press the "install or update" button in the Mod Assistant again 
Because sometimes it takes two times to inject all the mods. So if it doesn't show up the first time try again as it happened to me a couple of times in the past. 
If you still don't see mods in your game, you can run the program called "IPA" inside your Beat Saber folder and that'll inject all of the Mods for you. 
And lastly, for all those previous modders, if this is your second time modding, feel free to drag all of your custom levels back as well as all of your custom folders such as custom avatars, sabers platforms, etc in the Beat Saber Folder.
Suggested:
ALL Charlie Puth Beat Saber Custom Songs W/LINKS
And that's it! Now can enjoy custom beat saber songs, maps, and other customization that are available through this Mod. Thanks and Kudos to all the developers who made this mod in their free time that made our lives a little bit easier.
Comment below if you have any questions or facing any difficulties with Modding Beat Saber, I'll reply as fast as lightning. Until then Stay Strong VR Army 
Read Next:
Top 8 Best Beat Saber Visually Stunning Custom Songs W/LINKS