How To Remotely Format Oculus Quest 1 & 2 Even If Your Quest Is Stolen?
Delete Your Confidential Information In Case You Lose Your Oculus Quest (Remotely)
Imagine this terrible scenario, someone has stolen your beloved Oculus Quest or you forgot it somewhere.
Until a few months ago, that would have been an expensive setback, but since Meta decided to merge the Oculus accounts and its social network, things have gotten a little trickier.
This, which to many of us seemed like abuse, could now, be an advantage. In fact, thanks to this controversial measure, it is possible to remotely erase our Oculus Quest to preserve them from spying eyes.
Hiding Facebook messages and/or our "friends" list should be a priority, if we have lost our Oculus Quest and even more so if your Quest has been stolen.
So Here's How To Remotely Format A Stolen Quest 1 & 2?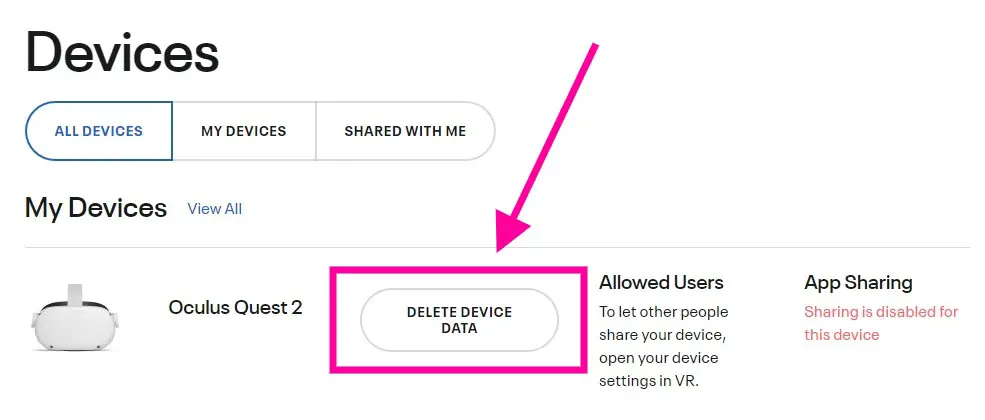 First, log in with your Facebook/Oculus account associated with your Oculus Quest 1 or 2.
After that, go to the following website: www.secure.oculus.com/my/devices either from the phone or from the PC.
Now, look for the Oculus Quest headset of which you want to delete data, from the list of devices and press

"Delete Device Data"

.
Some form of verification may be required.
Once this is done, the request will be processed and the headset will be factory reset.
You may think that it doesn't make much sense to leave the thief's Quests clean, but considering that he could have access to your personal data, this is the best alternative.
Read More Oculus Quest Tricks:
8 Oculus Quest 2 Tricks That Everyone Should Know
So that's how you can Remotely Format Your Oculus Quest 1 & 2.
The next time Quests' connect to the network they will be reformatted to their original state and will be removed from your My Devices tab, and will no longer be linked to your account.
Remember that this is a measure that has no turning back. It also makes us see the need to keep our passwords, especially Facebook's, updated and safe.
Hopefully, you never have to use this tutorial. Have any of you had your Quest stolen? (My goodness, what a delicate question)
Read How To Take Screenshot:
How To Take SCREENSHOT On The Oculus Quest 2? (2 METHODS)