SideQuest – How To, Games & Much more (2021) | The Ultimate Guide
I wanted to write this article on SideQuest for a long time and because Sideloading is such a huge topic and an important one.
By Sideloading oculus quest you can open up unlimited possibilities, and new adventures that are not available officially through the oculus store. 
So, what's the best and easy way to Sideload oculus quest? Answer: SideQuest. Sidequest is easy to install and it is the easiest method to sideload games and apps onto your quest.
I've explained What is sideloading? and What is SideQuest? in detail, later in this article.  
Also, I've tried to answer all of the burning questions that are not answered anywhere regarding SideQuest and sideloading and I've kept it short 'n' simple and easy to digest.
That's why I thought why not make the Best and Biggest guide on SideQuest and sideloading as a whole for all my supportive VR Army. This is the ultimate and definitive guide about SideQuest and sideloading in general.
What is SideQuest Oculus Quest
Sideloading apps and games on the Oculus Quest using SideQuest is the easiest method to sideload oculus quest. SideQuest serves as a platform for sideloading games and apps for Oculus quest which is legal and safe.
 SideQuest works with Windows, Linux and Mac. Also, there is a massive library of games and apps that you can Sideload oculus quest with. And after reading this article you'll know step by step how to sideload apps and games and everything about Sidequest.
Check out : Top 7 Best Games to Sideload Oculus Quest
What is Sideloading Oculus Quest?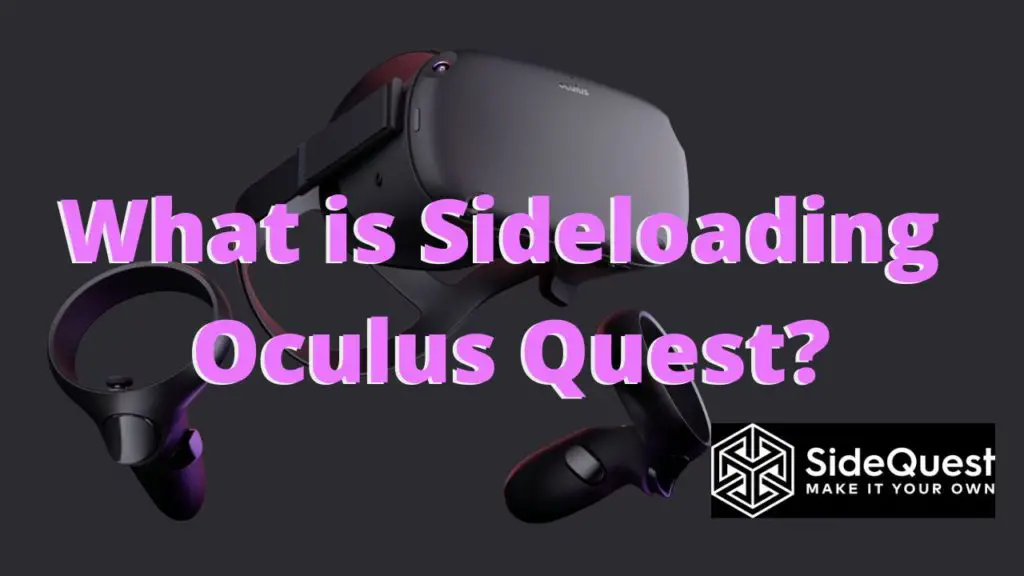 Sideloading means that you actually install apps without utilizing the Oculus Store: You download APK files from the internet, move them to the Oculus Quest, install them, and play those games without accessing the Oculus store. In other words, The Oculus Quest is an Android gadget at its centre so that you can put APK files onto it.
Sideloading is a way to play many more games that just wouldn't be accessible through the Oculus store.
Sideloading oculus quest is the ideal method for opening the maximum capacity and unlimited conceivable outcomes of your Oculus Quest, and it enables clients to introduce free games and mods for existing games from the Oculus Store. 
But first, you have to download "SideQuest" in order to download these awesome games and apps.
Essential Read:
Best VR Multiplayer Games To Play with Friends and Family​ | 10+ Genres
Is SideQuest safe – for Sideloading?
Don't worry. It's 100% safe to use SideQuest to sideload oculus quest games and apps. But Sideloading itself has one risk which is: you need to be careful when downloading unofficial APK files from unknown sources. 
Unofficial APK files mean downloading apps from external websites rather than downloading games and apps directly from SideQuest.
Essential Read:
Top 25 Best FREE Oculus quest Games (2021)
Here's how you can Install SideQuest on Oculus Quest (Windows & Mac)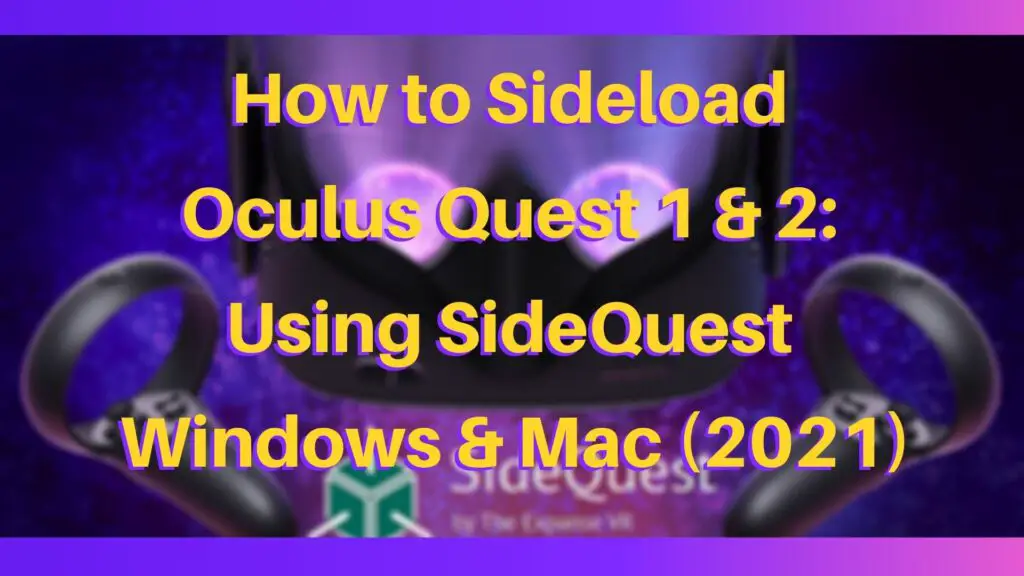 Enable Oculus Developer Account
Download and Install ADB Drivers
Activate Developer Mode
Connect Quest to the PC
Download and Install SideQuest
If you're not technically minded, don't take tension because the method that I've shown is super simple and it works with Windows, Linux and Mac.
***I ensure you that, You don't have to watch any other YouTube video or read any article because this is the best Illustrated guide on How to Sideload Oculus quest with SideQuest available on the Internet. 
Also, I have attached all the helpful images and additional data that will guide you step by step on How to sideload oculus quest with SideQuest. I hope you like it! ***
Here's the link to Setup Sidequest on Windows
Here's the link to Setup Sidequest on Apple MAC
If have successfully installed SideQuest then here the leading Top 21 best sideload oculus quest games that I found connecting with Furthermore after you have played these games, you can check the more FREE Oculus Quest Games
Is SideQuest Legal ?
Yes, it's 100% legal and safe to download and sideload games and apps through SideQuest on your oculus quest because all of these games and apps are uploaded by the original developers of the games/apps. Means there's no piracy, confusion and risk to download the official app provided directly by the developers through Sidequest.
Are SideQuest Games Free?
Yes, all the SideQuest games are Free to play. "SideQuest" will always be free for users and developers." – SideQuest
Here are Some of the Best Games to Sideload on Oclus Quest using SideQuest
Physics Playground
Physics Playground is a game made in Unity that is entirely driven by Rigidbody Physics. The gameplay is similar to Boneworks VR, i.e., the whole gameplay/game is based on physics concepts only. Objects have a simulated feeling of weight and maintain collision with other objects even when grabbed.
You have two guns and a bat to use on dummy models/ enemies. Just by pressing the "spawn enemy" button, you enter the arena, and an enemy will come after you. Kill the enemies, and they will drop loot, and then another one spawns. Means, Spawn> Kill > Loot > Repeat. 
Also There's a limited amount of ammo for your guns, and you can only get shot twice before you die. Everyone can play this game, whether you have/are a kid or you just you want to have fun. It's an endless game, and you will feel entertained even after 2-3 hours of gameplay and  you will have a blast playing the game. Best part? It's free!
Climbey VR
Climbey is a VR-just climbing game in which the objective is to move to the endpoint as quickly as possible, maintaining a strategic distance from barriers and making an effort not to fall en route. 
Climbey VR feels like a much-needed refresher in the VR library. It is an easygoing and fun experience that is similarly as enjoyable to play alone or as playing with friends and family. 
And also, this game is suitable for those who have never been inside a VR headset since It's a straightforward, most polished, fun, replayable, challenging, and remunerating game, which makes this game addictive.
The controls are utterly physics-based, means climbing, and hopping is easy to understand, however difficult to ace.
Climbey highlights 15 basic intro levels and Hundreds of levels to explore, and you can even make your very own levels with the level editor with full workshop support so you can create and share levels to the VR community. 
You can enjoy an Online multiplayer with up to 10 individuals, and this makes the enjoyment at an entire another level. It's a phenomenal VR game, and I think you'll welcome it.
Crisis VRigade
If you are looking for a duck and cover shooting game in VR like time crisis (the excellent arcade game) well, fortunately now, we do with crisis VRigade. 
In Crisis VRigade, hardhearted burglars are causing an uproar, and it's dependent upon you to slaughter them. The game mechanics are fantastic, natural, and basic. The grip catches reload your guns, and the trigger buttons shoot bullets.
 This game is all about choosing when to duck and when to rise so you can take out the villains.
Each once in for a short time, you'll have the option to take shots at a powerup and get a better gun with limited ammunition. This game is very challenging. The ongoing interaction is direct and easygoing. 
However, you will be slaughtered a ton, and I believe that adds to the enjoyment of the game since you can in a split second retry. 
The challenges are the thing that takes me back to play over and over, and in case you're feeling truly insane, you can also try playing with hard difficulty.
Check the FULL List of 21 Best Sideoad Games! (Click Me)
Essential Read:
Best VR Multiplayer Games To Play with Friends and Family​ | 10+ Genres
It's a bit disappointing that things beyond some of these developers control have prevented them from publishing their games and apps on the Oculus store but at least thanks to SideQuest we have an easy and convenient way to install and enjoy these apps by sideloading them.
So there you have it. That's the most comprehensive and complete guide on the SideQuest and sideloading oculus quest. I hope you liked the post and if you did then please share this article with your loved ones and comment below that you care about our VR army! 
Feel free to support the developers of SideQuest so they can continue to add more games and features to improve the application in the future.
If you love VR Shooters, Multiplayer VR games from 10+ genres (this list is massive),  Action VR games, FREE VR Games (Everybody loves FREE Stuff!!) or Simulator VR games. We have made list on Best VR Games also..