VAL Is Back With "The Winter Games" | 30+ Titles To Participate In And $15,000 Prize Pool
The Virtual Athletics League Is Running A VR Fitness And Esports Event Dubbed "The Winter Games". Featuring Collaborations With Studios, Influencers, And Industry Partners, The Month-Long Event Promises Tournaments, Giveaways, And Plenty Of Action.
"The Winter Games" seeks to build off of the success of VAL's VR Fitness Summit, which last summer became the single largest collaboration between VR studios specializing in active VR games and apps.
The previous summit had strong representations from a variety of genres from both VR esports and VR fitness. Similarly to the VR Fitness Summit, the Winter Games will be held online and organized through platforms such as discord, Reddit, YouTube and Twitch.
Finals and other tournament type events will be broadcast. There will also be a series of speakers and panels. Participants are able to take part in the festivities from the comfort of their own home.
VAL's "The Winter Games"
Overview Of The Event
"The Winter Games"
From 19 February 2021 through 20 March 2021, the Virtual Athletics League (VAL) will partner with some of the largest studios and most critically acclaimed titles in the Virtual Reality (VR) space, in order to host a month of esports tournaments and giveaways. 
With 30+ titles participating, and a total prize pool valued over $15,000, the company has described the format of the games as an Olympic-style series of tournaments.
"$15,000 Prize Pool"
Ping-pong simulator Eleven Table Tennis will hold a tournament with the event's largest prize pool at $2,250. The Eleven Table Tennis Community is one of the most active and passionate in VR. 
Exercise enthusiasts can look forward to simulated bike rides and full body workouts in VZfit. They can also anticipate brain and performance training with REAKT. Traditional sports games will also be represented by games such as Walkabout Mini Golf. 
Participants will also battle zombies, fight with swords, and battle their way to victory.
The Winter Games will be open to competitors of any and all skill levels, with exciting giveaways and competitions for casual gamers, along with more traditional esports contests for the competitive crowd.
How To Register And More Information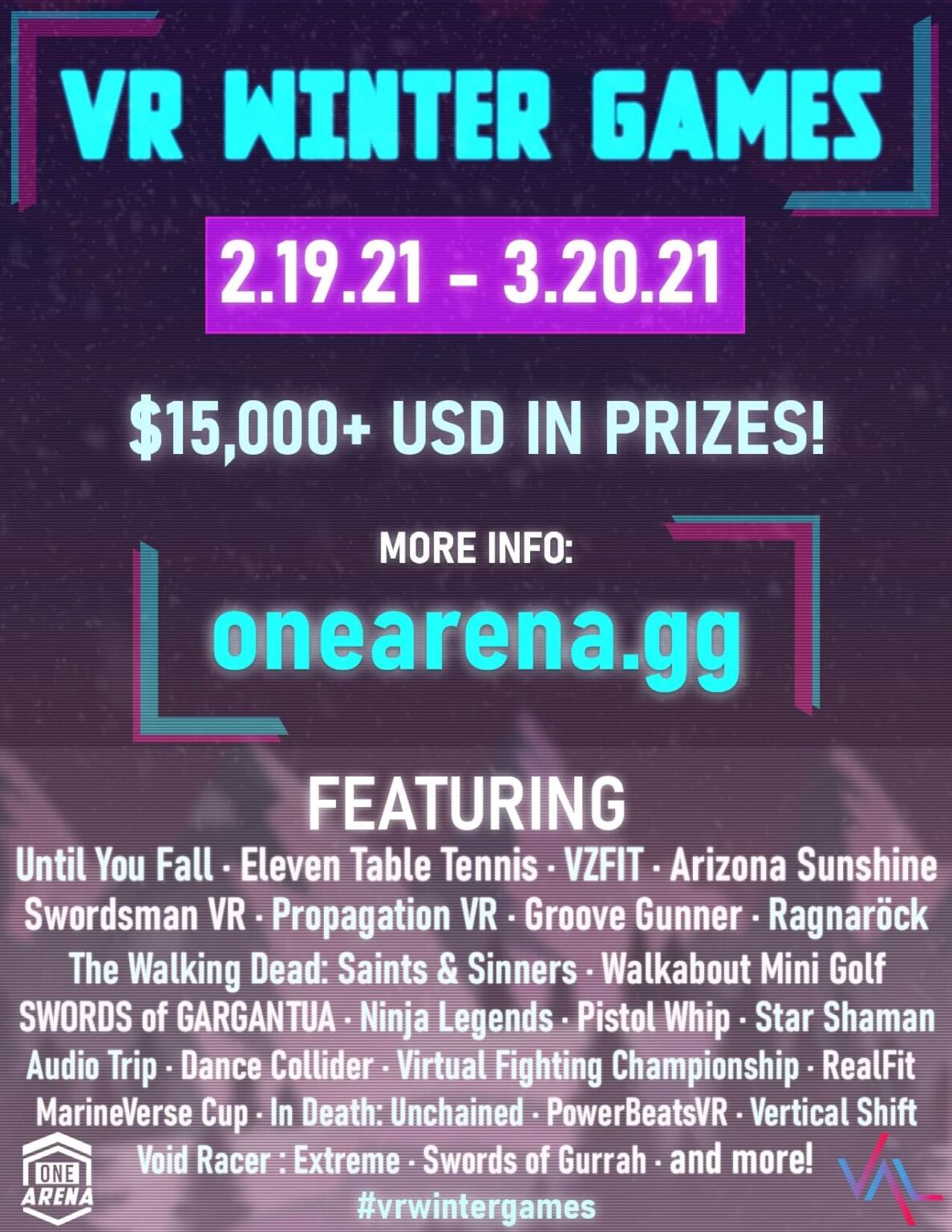 Further information such as all-tournament dates, competitions and contest details can be found at:
OneArena.gg/WinterGames
Registration will be handled through VAL's main website at www.valvr.com
The Launch Of One Arena
The event will also be the beta launch for VAL's new steam key retailing platform One Arena. Some titles (but not all) participating in the Winter Games will be launch titles. 
For every purchase made during the Winter Games, 10% of each game sale will be donated to Extra Life. The goal of One Arena is to build a more sustainable platform to support VR esports and fitness developers. 
There will be discounts on some games at launch. There will be a closing celebration to honour the winners and conclude the festivities on March 20th.
What Are The VR Games That You Can Participate In?
The full list of participating titles is below:
What Is Virtual Athletics League? The Virtual Athletics League was founded on the idea that VR esports is a revolution. It takes the best elements of esports: digital worlds, and combines them with the real physicality and athleticism from traditional sports. 
VR esports is a unique, spectacular result from the fusion of these two sources. With every new VR esports tournament and game, history is setting the foundations for a new worldwide phenomenon.
Here are all the Links
VALVR
https://www.facebook.com/valvresports
https://www.twitch.tv/valvr_esports
One Arena 
https://www.facebook.com/OneArena-116027049801846
Suggested:
Top 13 Best VR Fitness Games for a Mix of Fun and Burn