The Ultimate VR Shooting Experience With These 11 Oculus Quest 2 Gun Accessories
Looking For The Best GUN Accessories For Oculus Quest 2 To Enhance Your VR Experience? Look No Further! These 11 Products Are Perfect For Any Shooter Out There And Will Help You Improve Your Accuracy, Stability, And Comfort While Shooting In VR.
The Oculus Quest 2 is a revolutionary VR Headset that allows players to completely immerse themselves in the VR world.
And when it comes to Quest 2 and shooting games, there's no denying that having the right accessories can elevate your gaming experience to a whole new level!
As a result, we've compiled a list of the Top 11 Best Gun Accessories For Oculus Quest 2 that won't just immerse you in the game but will also make you the undisputed champion!
So, Let's take a look at why and how these 11 products will enhance & help you dominate VR shooting games!
Editor's Pick: Best BATTERY PACKS For Oculus QUEST 2: BUDGET & NEED [2022]
The 11 Oculus Quest 2 Gun Accessories That Are Worth Every Penny:
Magnetic VR Rifle Gunstock – Quest 1 & 2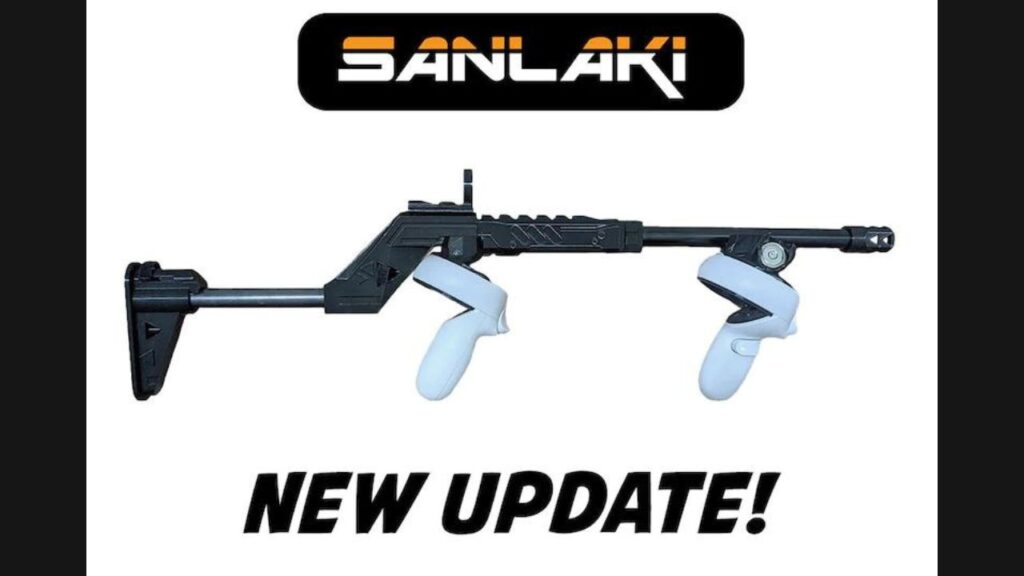 Sanlaki's Magnetic rifle gunstock for Quest 2 is THE BEST thing you can buy if you have a craze for VR shooting games.
It is comfortable to use and not only, it gives you a real shooting experience, but because of its Sturdy and durable design, your aim accuracy also improves.
The magnetic attachment system allows you to quickly attach it to your quest 2 controllers.
This makes it simple and easy to use, providing an incredibly immersive gaming experience!
For Whom This Product Is For?
I am very sure that VR shooting game lovers will love this accessory and are going to have a great shooting experience.
QUICK TIP: If you want to hear every footstep of your enemies then do invest in some quality Earphones.
Some Notable Features…
HelloReal Quest 2 VR Pistol Gunstock
You'll have a lot more fun with an excellent VR shooter if you use a genuine VR gun instead of the standard Quest 2 controllers.
The HelloReal Quest 2 VR Pistol Gunstock is an excellent accessory for those looking to take their VR shooting games to the next level.
It's made of lightweight, durable plastic and has two adjustable handles for better stability and grip while playing.
So, whether you want to shoot robotic enemies in space or hide behind cover during intense firefights, this gun will help you bring out your inner hero regardless of the game you're playing!
For Whom This Product Is For?
A gun-shaped VR controller will give you a realistic feel of holding a gun and I'm damn sure you'll fall in love with shooting even more if you use the HelloReal Quest 2 VR Pistol Gunstock.
And That's why it comes under must-have Best Controller Accessories for your oculus quest 2
Some Notable Features…
ProxiMat – Safety Mat
Safety Mat is a must-have VR accessory, especially for your kids and you'll not find a better one than ProxiMat.
This mat is made from anti-fatigue memory foam so it's soft and comfortable to use.
Plus, it has buttons in the front and at the centre of the mat so that you can play freely and fiercely in the designated area without worrying about bumping into things.
And the best thing is that the surface of the mat is non-porous which makes it super easy to clean.
For Whom This Product Is For?
A Safety mat is the best thing you can buy and if you got kids playing VR because we all get lost in the VR and that can cause accidents to happen.
So if you want to have a safe VR journey then you should definitely invest in a good quality safety mat that is – ProxiMat
Some Notable Features…
bHaptics Haptic Suit
VR is better with Haptics! The bHaptics Haptic Suit is a revolutionary addition to VR, especially when it comes to shooting games.
With haptic feedback located throughout the body, you can feel every bullet, explosion, and punch as if you were right in the middle of the action.
The best part is that it is lightweight, and the modular system is made up of four separate parts (vest, arm sleeves, leggings, and gloves), allowing you to use your entire body to better anticipate enemy movements.
For Whom This Product Is For?
If you want to know what immersion means then you have to buy The bHaptics Haptic Suit. You'll legitimately feel like IronMan as you take on bullets and fight for VICTORY!
Feel the rush of blood through your body and experience the VR Shooting Games like never before!
That's why it is one of the Best GUN Accessories For Oculus Quest 2 but yeah, this realism comes with a price 🙂
Some Notable Features…
Logitech G PRO Gaming Headset
From cooperating with your teammates to listening to every movement your opponent makes, as a VR shooter player you know how important SOUND is.
So you definitely gotta invest in the BEST HEADPHONES in the market which means the Logitech G PRO Gaming headset.
The Logitech G PRO Gaming Headset offers premium audio quality and a comfortable fit so that you can stay immersed in your games from start to finish without worrying about distractions or fatigue.
The headset's driver-free design eliminates latency issues while the microphone captures crisp sound for communication with teammates or opponents.
For Whom This Product Is For?
So if you want the ultimate gaming experience that means you need to have quality headphones to completely immerse into the game.
And Logitech G PRO Gaming Headset is among the best VR headphones in the market, super comfortable, and has the finest sound quality.
Some Notable Features…
Logitech G333
When it comes to "The Best" earbuds for VR then it's hard to find a better option than Logitech G333 VR Gaming earbuds.
Trust me they got all you need, they were specially built for VR so that you can get completely immersed in the game.
Compact, almost feather-weight, and absolutely comfortable to use. They have 5.8mm and 9.2mm drivers in each bud so that you get a FINE audio quality.
You'll get three different bud sizes to fit your ears, and with that comes velcro straps so that you can easily attach the cables to your Quest 2 straps.
And it even supports low-latency performance! I already told you "Trust Me They Got All You Need".
For Whom This Product Is For?
So if you wanna immerse yourself even more I mean completely into the VR world then you gotta buy these Logitech G333 VR Gaming earbuds.
They are lightweight, offer fabulous audio quality, and support low latency too!
Some Notable Features…
AMVR Touch Controller Grip Cover
The AMVR Touch Controller Grip Cover is an essential accessory if you want to get serious about VR shooting games on the Oculus Quest 2.
These covers provide an ergonomic grip that helps reduce hand fatigue during long gaming sessions.
It also prevents sweat buildup and increases surface area for better control when throwing grenades or reloading weapons.
And in addition to being comfortable and providing the grippiest grip, these covers have adjustable straps that can be easily adjusted to fit your hand size!
For Whom This Product Is For?
This product is for everyone literally EVERYONE because no one wants their controllers to slip off their hand due to sweat while enjoying the best part of the game.
So if you want to immerse yourself fully in the game without losing the controllers then you gotta invest in the best grip covers aka AMVR Touch Controller Grip Cover.
Some Notable Features…
KIWI design Facial Interface
If you're looking for the best facial interface for your quest 2, then you've probably heard about the KIWI design facial interface.
They are extremely comfortable to wear, as they are made of high-quality PU leather with a sponge inside that will not slip during those intense shootouts!
The revised nose piece, which comes with an added glass spacer and two extra pieces of sweat-proof face pad, solves the problem of light leaking from the nose area.
Simply purchase this, and the majority of your issues will be gone, and you will be fully immersed in the VR world.
For Whom This Product Is For?
As I previously stated, the KIWI design facial interface answers all of your problems at once, as you will receive a Premium face cushion pad, an updated nose guard, a glasses spacer, and a lens protector.
So what's the wait for, go grab your KIWI's facial interface right now!
Some Notable Features…
Destek Capsule Battery Pack: The "ANYWHERE" Battery
The most compatible Powerbank that you'll find (it's in the name guys), it literally can fit anywhere, in your pocket too. Isn't it amazing? and trust me it has almost no weight.
But irrespective of its size this Capsule Battery Pack gives you an extended playtime of about 2.5 hours.
And guess what, the most awesome feature about this product is that it charges AUTOMATICALLY! means you just have to plug it in, no need to turn it on/off.
For Whom This Product Is For?
So if you are looking for a handy power bank that charges automatically but also doesn't add any extra weight to your headset and gives you a little additional playtime then Destek Capsule Battery Pack is the one made for you.
Some Notable Features…
Rebuff Reality VR Power 2: For HARCORE VR GAMERS
The Rebuff Reality VR Power 2 Battery Pack is an absolute must-have for VR gamers who want to extend their game time without sacrificing performance.
A powerful of 10,000mAh battery; means you can easily game for around 8 hours and stream for straight 10 hours!
And the Top-notch counterbalance enhances your shooting experience by making it super comfortable to wear.
You can also power other accessories while playing as it comes with three USB-C ports and with its digitally optimized battery power, the battery life of Oculus quest 2 also increases significantly!
For Whom This Product Is For?
Amazing Counter-balance + Digitally Battery Optimizer + 8 HOURS Of PURE VR FUN…
Rebuff Reality's VR Power 2 for Oculus Quest 2 gives you all you need.
Some Notable Features…
Oculus Quest 2 Elite Strap
When it comes to shooting games, comfort is key! and when it comes to comfort The Oculus Quest 2 Elite Strap is the best in the market.
This head strap also comes with a battery pack version that doubles the playtime while evenly distributing the weight of the headset, making shooting much more comfortable.
And when you combine the headset's battery with the elite strap, you'll have about 6 hours of juice for total mayhem.
It also has extra padding around your ears for added support, making it even easier to stay focused on the task at hand – whether it's dodging enemy fire or aiming down sights at a target.
For Whom This Product Is For?
Why Oculus Quest 2 Elite Strap is our recommended product? Because it hits two birds with one stone.
By buying a single product you can instantly double your Quest 2's playtime while making it heavenly comfortable.
So if you want to increase your playtime while ensuring comfort then the Oculus Quest 2 Elite Strap is for you.
(It comes in two variants one without a Carrying Case and one with a carrying case, you can check out both from the links below)
Some Notable Features…
Use Your Quest For More:
TOP 7 Best ART & CREATIVITY Oculus Quest Games & Apps (2022)
So there you have it, Our picks of the Best GUN ACCESSORIES For The Oculus Quest 2 That Can Transform Your VR Shooting Experience.
VR gaming is becoming increasingly popular as a result of the incredible graphics, realistic sound effects, and immersive environments available with today's VR headsets.
However, if you want to truly boost your gaming experience, you'll need some accessories.
Whether you want more power or more comfort while playing shooting games on your Quest 2, these accessories are sure to improve your experience!
Comment below your fav accessory and do subscribe to our Youtube channel.
Until Then Stay Strong VR Army!
Top 15 Best Oculus Quest ARCADE GAMES You Should Try In 2022
Top 15 Best Oculus Quest Puzzle Games 2022 | Best VR Puzzle games
ALL Attack On Titan Beat Saber Custom Songs W/LINKS [FREE]
Editor Pick:
13 Best 2 PLAYER Oculus Quest Games To Play – CO-OP VR Games