How To Use SideQuest On Oculus Quest 1 & 2 Using Mobile – Without PC (WIRELESSLY)
UPDATED! Full Guide To Installing Games, Apps And Using SideQuest Wirelessly Using Android Device – Oculus Quest 1 & 2 (2022 Guide)
The beta version of the popular SideQuest app is now available for Android devices. So today I'm going to be showing you the Easiest, Fastest, and Safest method on sideloading oculus quest with Sidequest Wirelessly Using Android Device.
The arrival of SideQuest on Android is great news in terms of ease of use. Oculus Quest is a device designed primarily to be used as a standalone, without depending on a PC.
With this application for mobile devices, we won't need a PC to be able to enjoy all the good things that the SideQuest offers us for our Meta Quest.
After reading this article, you'll know step by step how to sideload apps and games onto your oculus quest using an application called side quest. 
If you're not technically minded, don't take tension because this method is super simple and it works with every Android Device and you also don't need a PC.
Here's our Other Sidequest Guides:
How to Sideload Oculus Quest 1 & 2 Using SideQuest: Windows
[MAC] How To Sideload Oculus Quest 2 With Sidequest On MAC
How To Use SideQuest WIRELESSLY On Oculus Quest 2 -WIN & MAC
Suggested:
Top 25 Best Free Oculus Quest 2 Games
Here's How To Use Sidequest On Oculus Quest 1 & 2 Without PC – Sidequest Android Tutorial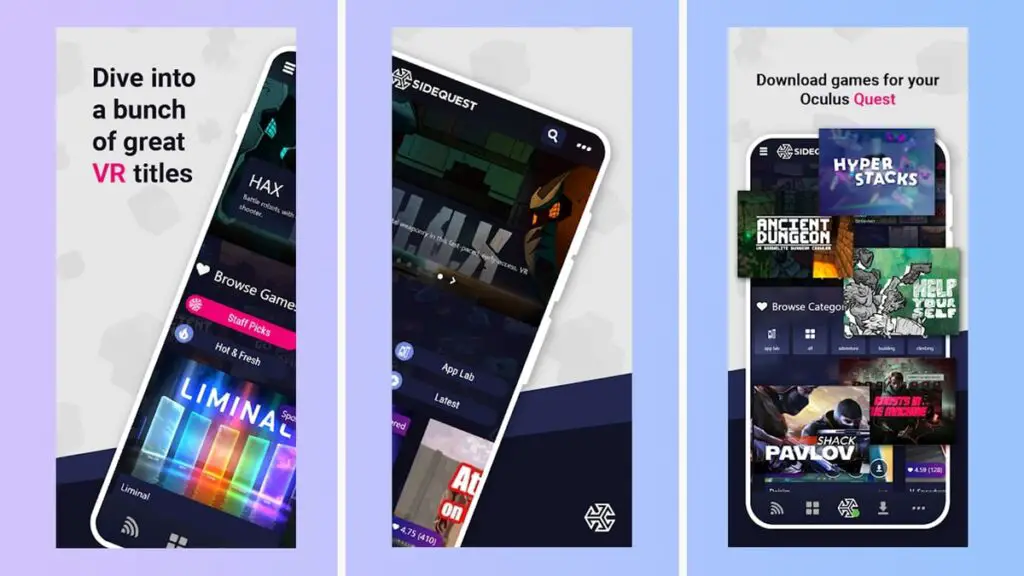 Your Oculus Quest will need to be in developer mode. If you haven't done it yet, you can follow the steps in the SideQuest guide.

Download the SideQuest Beta application from Google Play, Here's the link.

Turn ON and connect our Oculus Quest to the phone by a USB cable and accept the permissions that it will ask you to be able to access the data, both on the phone and on the Quest itself.

If everything goes well, a green dot will appear in the Android application in the SideQuest logo, indicating that everything is ready.

That's it! Now, you can sideload any application or game through Sidequest on your Oculus Quest 1 & 2
Here's our Recommended 21 Essential Sidequest Games that you need to play
And If you're just stepping into VR Then these games might help: Top 15 Best BEGINNER Oculus Quest 2 Games To PLAY FIRST
For Roblox Fans:
How To Play Roblox VR On The Oculus Quest 2
There you have it. That's how you sideload oculus quest 1 & 2 with sidequest witohut PC in just 5 easy and simple steps.
SideQuest is an app that has grown into a tremendous community of developers and gamers alike.
Growing in such a way that even one of the founders of Oculus, Palmer Luckey, together with other investors, invested a figure of 650,000 dollars into Sidequest
And Thanks to side quest we have an easy and convenient way to install and enjoy these apps by sideloading them.
Feel free to support the developers of sidequest so they can continue to add more games and features to improve the application in the future.
If you find this guide helpful and useful, then make sure to share this article with your friends and family and let me know you care. 
And also let me know what is your favorite app or game that you've sideloaded on oculus quest, we'd love to know in the comments because the comments section of VR Marvelites is always open for the VR Army!
Read Oculus Quest 2 Tricks That Meta Doesn't Teach:
8 Oculus Quest 2 Tricks That Everyone Should Know
Why Sideloading And Why Use SideQuest to Sideload Oculus Quest?
By sideloading, you can open up new and unlimited conceivable outcomes to enjoy VR in Oculus Quest. So to sideload oculus quest you have to download "Side Quest" in order to sideload games or apps safely.
Sideloading applications is the ideal method for opening the maximum capacity of your Oculus Quest 1 & 2. There is a massive library of games and apps that you can Sideload your Oculus quest with.
What Is SideQuest?
Sideloading apps and games on the Oculus Quest using SideQuest is the easiest method to sideload the oculus quest. SideQuest serves as a platform for small developers who could not pass the publication filters of the official Oculus store.
It should be clarified that the content offered in sidequest is legal and Oculus doesn't mind using it.
SideQuest works with Windows, Linux, Mac and Now with Android.
Also, there is a massive library of games and apps that you can Sideload oculus quest with.
If you want to read more about sidequest: Is it legal or not? Is it Safe?
I've tried to answer all of the burning questions that are not answered anywhere regarding SideQuest and sideloading and I've kept it short 'n' simple and easy to digest.
So check out our Ultimate Sidequest Guide
Power Up Your Quest 2 with Oculus Link:
How to Use Oculus Link With Steam
If you want more Best Oculus Quest 1 & 2 Games Lists then here are some of our List, Until then STAY STRONG VR ARMY!
Top 25 Best Oculus quest Multiplayer games – Co-Op , Team quest Games
Top 21 Best SideQuest Games to Sideload on Oculus Quest
Top 10 Best Oculus quest Horror Games | Scariest VR games on Quest
Top 15 Best Oculus Quest Puzzle Games 2022 | Best VR Puzzle games
Top 10 Best Oculus quest Rhythm Games | Games like Beat Saber
Learn About PSVR 2:
Playstation VR 2: Release & Everything You Need To Know 2022