The Walking Dead: Saints & Sinners – Chapter 2: Retribution – Announced!
Finally One Of The News We Have Been Waiting For – The New Chapter Of The Walking Dead: Saints & Sinners Has Been Announced
The sequel to one of the most beloved VR games of all time, The Walking Dead by Skydance Interactive, has been officially announced on the Oculus blog, for the second anniversary of TWD: SaS
"The Walking Dead: Saints & Sinners – Chapter 2: Retribution" is not intended to be a classic successor or a DLC but it's an independent title that continues the storyline from Part 1.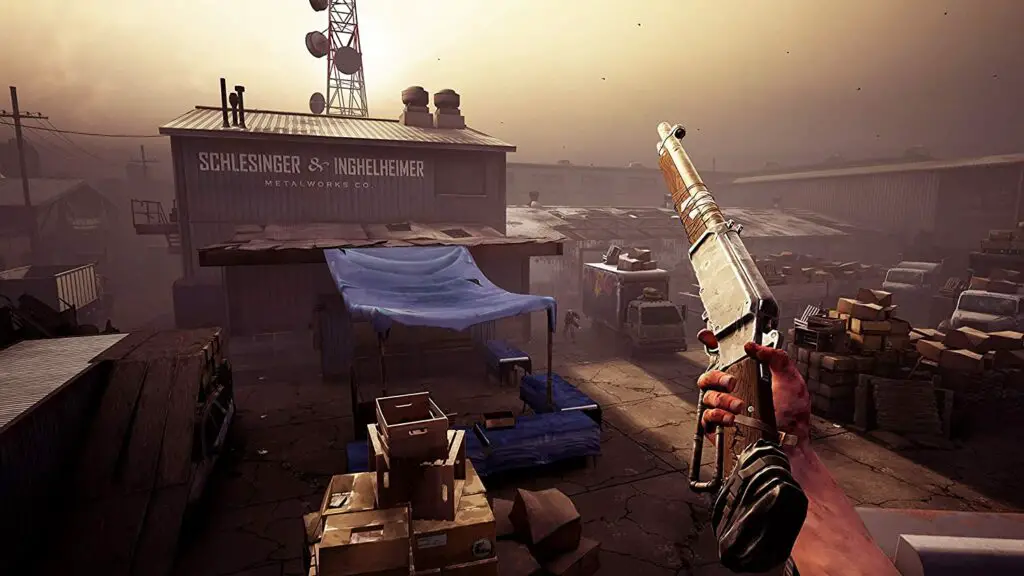 What's The Release Date?
The Oculus blog refers to a release of the game in 2022, we look forward to more news in the coming months!
Lists Featuring The Walking Dead: SaS:
Top 15 Best Oculus Quest Shooting games to play in 2022
"Horrible" Adventure Announced
Players once again slip into the role of the "tourist" who embarks on a "horrific" adventure in New Orleans, according to the press release.
On the way "through the French Quarter and beyond" the main character meets new characters. In addition, many fateful decisions have to be made again.
The adventure is aimed at gamers who want to go straight to a new chapter in tourist history.
Just Like The Walking Dead, Here are 15 more awesome adventures that you can experience on the Oculus quest
Lists Featuring The Walking Dead: SaS:
Top 15 Best Action Games On Oculus Quest 2
Can Retribution build on the success of Saints & Sinners?
Part 1 of the calm but thrilling fight for survival is one of the most popular VR games out there. As recently as October, Skydance reported $50 million in cross-platform sales.
Here's what we say about The Walking Dead: Saints And Sinners:
Part 1 was released for Meta Quest 2, PlayStation VR and PC headsets and was given some updates after the release. This included a Horde mode and new "Aftershocks" missions.
While you are waiting for The Walking Dead's New Chapter Check out the Top 25 Oculus Quest 2 Games or Here are the Best Horror Games on the oculus quest 2
We are genuinely hyped up for this sequel, are you too? Let us know your excitement in the comments section…
Until Then Stay Strong VR Army.
Learn About PSVR 2:
Playstation VR 2: Release & Everything You Need To Know 2022
More Information About The Walking Dead Saints And Sinners:
The Walking Dead: Saint and Sinners
Imagine what would happen if you took a half-season of the walking dead tv show mashed it together with Deus ex and drizzled it with the best aspects of a modern VR game and iconic post-apocalyptic terror what you might end up is the walking dead saints and sinners, and it absolutely nails it.
The walking dead gives you the freedom to do whatever you want. You get to define who you are through your own decisions in a setting that's is meticulously detailed and open-ended. 
This calibre of storytelling reaches a height that VR games have otherwise yet to achieve. Saints & Sinners is not a zombie game, it's a game about people in a zombie apocalypse.
Since you actually have to swing and with your real-world arms, saints and sinners become the perfect storm for adrenaline junkies.
The atmospheric world tells exciting stories, the crafting system is motivating and the environment and characters feel alive.
Every element clearly has a level of thought and care behind it, swirling survival horror and role-playing staples together with nuance.
Just Like TWD: SaS there are more AAA VR games that are available but can't be played on Quest 2. But for that, we have 3 Solutions for you.
Here are some more AAA games that you can play in VR:
How to Play Skyrim VR On Oculus Quest 2
How to Play GTA 5 in VR On Oculus Quest 2
How to Play Alien Isolation In VR On Oculus Quest 2
Some Remarkable reasons to BUY this Game