It's Synth Riders With a Twist – Free "Spiral Mode" Update Coming to Synth Riders on All Platforms This Thursday
"Spiral Mode" puts a new twist on familiar gameplay
Fans of Synth Riders are in for a treat this Halloween with the mind-bending "Spiral Mode" coming to the game on Thursday, October 28th.
The update debuts with a new stage and a new song, all available for free to players on Oculus Quest, PlayStation VR, Steam, and Viveport.
"New Mode And A New Song"
Related:
Top 11 Amazing Best VR Party Games – Must-Play Party VR Games
What's In This New FREE Update
What's The New "Spiral Mode"
"Spiral Mode" puts a new twist on familiar gameplay, as the playfield spirals around the special new cylindrical stage.
Guide walls and arrows lead the player through twists and turns, as they lean their whole body from side to side to follow the line of play.
The new mode aims to give players an adrenaline rush as they unlock three intensities, each with more powerful turns and challenges to match.
"Spiral Mode" is available for use in every song and difficulty, with most modifiers and in all areas – including Multiplayer.
The New Halloween Themed Song "GO!"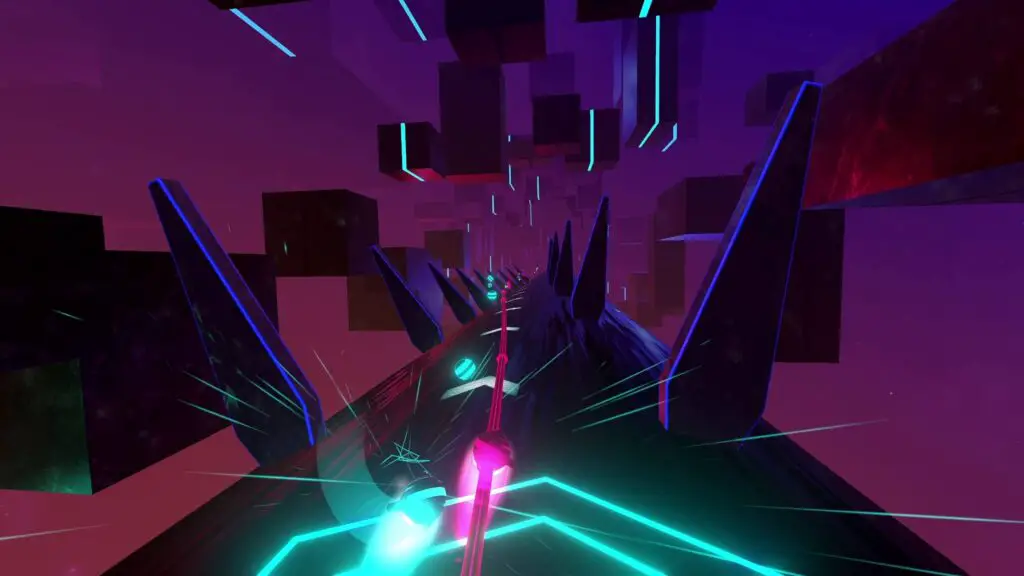 Kluge Interactive celebrates this new release with an addition of a new, free song "Go!" by the incredible synthwave duo, Dance With The Dead.
Just in time for Halloween, this killer blend of synth and guitar will get players ready to turn their Synth Riders world upside down.
With the addition of "Go!", Synth Riders' music selection now features 55 free songs.
An additional 30 tracks are available as DLC, including hits from Muse, The Offspring, and Caravan Palace.
Suggested:
Top 13 Best VR Fitness Games for a Mix of Fun and Burn
Like Always: A Word From The Creative Director:
"I'm excited to enhance our players' experience even more with this twist on our gameplay, it's not like anything we've seen in a VR rhythm game before! Personally, I love playing Spiral Mode because the mechanic gives me a feeling of challenge and speed that reminds me so much of skating – one of my favorite hobbies! I hope that Spiral Mode will find many fans among Synth Riders players."

~Abraham Aguero – Creative Director Kluge Interactive
Suggested:
Top 25 Best Multiplayer VR Games – CO-OP, Team VR Games
"Spiral Mode" continues a long tradition of regular, free updates from the development team that excite players and give them new, fresh ways to enjoy the game.
Since its release on Steam more than three years ago, Synth Riders has tripled the number of available songs, introduced 360° of freedom in "Spin Mode", and launched 10-player Multiplayer with Power-Ups.
The new "Spiral Mode", a new stage, and a new song by Dance With The Dead are coming on October 28th as a free update for all Synth Riders players on Oculus Quest, PlayStation VR, Steam, and Viveport.
Follow Synth Riders on Twitter, Facebook, and Instagram, and join their Discord community for more news and events.
More Information About Synth Riders
Synth Riders VR
Synth Riders coming from Kluge Interactive and Retrowave VR is a combination of dancing and guitar hero, but your energy is crucial. 
In synth riders, you are on a rail, and you have to hit the colours to the corresponding hand as well as just simple hit markers.
There are held notes of which you have to follow the trail to continue earning points and maintaining your combo. Obstacles have to be avoided; otherwise, you will lose your combination and risk not completing the song. 
I like how the markers and maps enable you to get your groove on as they do have a pattern that promotes you to dance. Synth riders is a great fun VR title that is also a workout game allowing you to burn off that fat. 
There is also a beat map editor available for you to create your own tracks if you want to, but also on side quest, you can add custom songs as well.
 If you're not familiar with side loading and side quest and want to try this game for yourself, it's effortless to get it all set up.
So I've linked a couple of tutorials on how to start sideloading, or you can read the ultimate guide on sidequest. It takes maybe five to ten minutes max to get it all ready.
Some Notable Features…
Prevent Motion Sickness:
9 Ultimate Tips on How to Prevent Motion Sickness in VR Forever!