Best Controller Grips For Oculus Quest 2 That Will Provide An Unforgettable Experience – 2022 (W/Links)
Say Goodbye To Cramped Hands And Dropped Controllers – These Controller Grips For Oculus Quest 2 Grips Have Got You Covered.
The Oculus Quest is an awesome device, allowing us to immerse ourselves in stunning virtual worlds. But what's the point of exploring these digital realms if our controllers aren't comfortable?
That's where The Best Controller Grips for Oculus Quest 2 come in, to keep your gaming session comfortable and (most importantly) drop-free.
These grips replace the original straps and allow you to open your hands safely while providing maximum comfort.
Trust us, once you try them out, you'll never go back to the regular straps again. In case our top picks are sold out, we've also included some alternative grip covers from different brands for you to consider.
The time has come to arm yourself with the ultimate VR accessory, and take gaming in virtual reality to the next level.
Editor's Pick: Best BATTERY PACKS For Oculus QUEST 2: BUDGET & NEED [2022]
Table Of Contents:
Here's Our Recommended Product:
Controller Grips For Quest 1 & 2 From VR Cover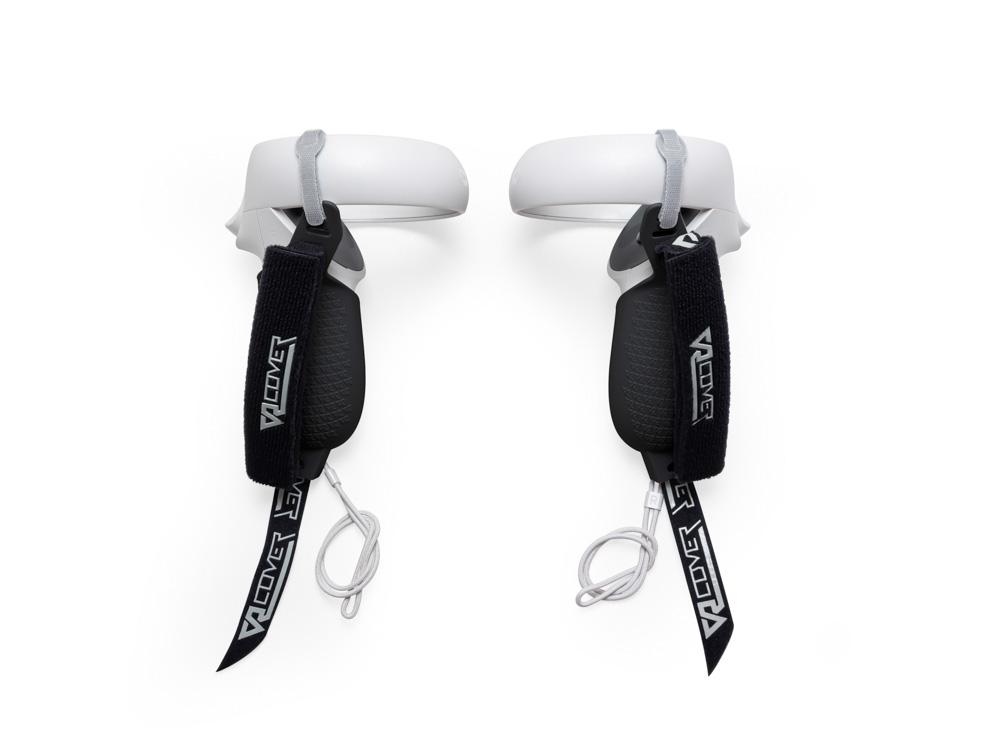 As a VR gamer, it's no secret that our hands get tired from constantly holding onto our controllers and That's why I was excited to try VR Cover's Oculus Quest 2 controller grips – and I'm happy to report that they definitely lived up to the hype.
VR COVER offers a great solution for any VR gamer looking to improve their grip and comfort. Their Oculus Quest 2 Controller Grips are made with a durable silicone material that not only improves your grip while gaming, but also helps to prevent slipping and drops.
And the convenient Velcro straps make it easy to attach and detach them as needed.
Plus, the materials used are sweat-resistant and easy to clean, making them a practical option for long VR sessions. VR COVER's controller grips also feature an ergonomic design that allows for comfortable use over extended periods of time, reducing any discomfort or strain on the wrists.
Additionally, they are affordable and come in a variety of colours to fit anyone's personal style.
So Whether you're a casual VR gamer or a hardcore enthusiast, VR COVER's Oculus Quest 2 Controller Grips are worth checking out.
VR Cover continues to deliver innovative solutions for VR enthusiasts, making them a go-to brand in the industry.
What sounds like a small upgrade, however, changes the feel of the game significantly and you don't want to do without this comfort any longer. Here's the link to VR Cover's Controllers Grips.
Best Alternatives:
Controller Grips From AMVR & Kiwi Design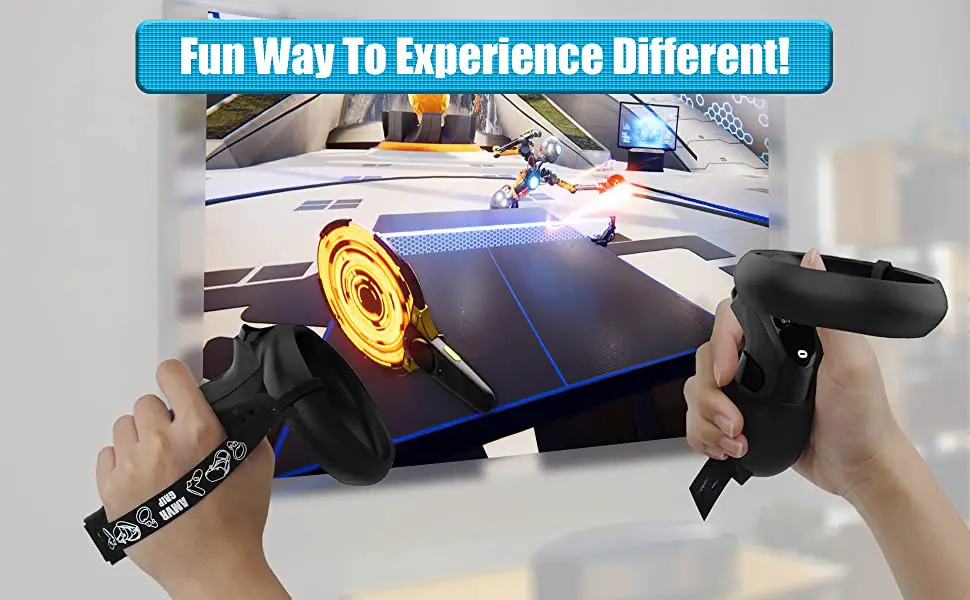 For the alternative, we warmly recommend Grip Covers from AMVR and Kiwi Design, which are widely approved. Note that for a better experience, attach the grip securely to the Oculus Touch ring and not between the keys.
There are also grip versions with the addition of silicone protection.
Here is the link for the AMVR Grip Cover for Oculus Quest 1 & 2
Here is the link for the Kiwi Design Oculus Touch Grips for Oculus Quest 1 & 2
AMVR Touch Controller Grip Cover
Controllers slipping off your hand while playing is the worst thing that can happen to you and to avoid this from happening you need to invest in quality grip covers.
If you ask me controller grip covers fall under the must-have quest 2 accessories and AMVR Touch Controller Grip Covers are the best in the market.
Made up of HIGH-quality TPU plastic, a textured body that not only looks attractive but also makes it super comfortable to hold so that you have a nice grip on the controllers.
By keeping the OG OFF-WHITE controllers clean and providing you with the grippiest grip, if by any chance your controllers fall down The AMVR Touch Controller Grip Cover also reduces the damage.
That's why it's one of the Best Controller Accessories for quest 2
For Whom This Product Is For?
This product is for everyone, even for your kids because no one wants their controllers to slip off their hand due to sweat while enjoying the best part of the game.
So if you want your oculus quest 2 controllers safe and want to immerse yourself fully without losing the controllers then you gotta invest in the best grip covers aka AMVR Touch Controller Grip Cover.
AMVR Touch Controller Grip Cover
Some Notable Features…
Read Next:
Best Oculus Quest Headphones/Earphones – From Cheap To High
So, if you're like me and love spending hours exploring virtual worlds, then you'll definitely want to check out our top picks for the best controller grips for Oculus Quest.
Not only will they keep your controllers safe and drop-free, but they'll also provide maximum comfort during those long gaming sessions.
These grips are easy to install and provide a snug fit that will keep your controllers in place – no matter how intense the game gets.
Make sure to share this article with your friends and subscribe to our YouTube channel for more awesome VR content. So what are you waiting for? Arm yourself with the ultimate VR accessory today!
Until Then Stay Strong VR Army!
Suggested:
Top 20 Best Oculus Quest 1 & 2 Shooting Games To Play In 2022