The Meta Quest 2 is one of the best VR headsets, but with the right accessories, it can be even better. So, Here are 9 Best Meta Quest 2 Controller Accessories to take the VR experience to the next level!
Controllers are tortured by us; getting covered in sweat, bumping them into walls (even on TV), throwing them accidentally, and many unexplainable incidents.
If you want to buy each controller separately then it would cost you around, $178 ($89 for each) or $240 ($120 each if you buy VRPark Quest 2 controllers).
That's why controller accessories become a "must-have"; whether you're boxing, shooting or playing baseball in VR on your Quest 2.
To make it easier for you, I have made 9 categories for situations like
Bumping (reducing damage)
Cleaning (keeping it nice and clean)
Enhancing (taking VR to the next level) etc.
Whichever the scenario, we have listed an amazing product for each one of them. And be assured, all of these accessories are 100% Marvelous 😉
3 Best Free VR Games Like Onward On The Meta Quest! (2023)
The BEST CONTROLLER Accessories For Meta Quest 2 That Are Worth Every Penny:
AMVR Touch Controller Grip Cover
Controllers slipping out of your hands while playing is the worst thing that can happen to you. It can damage the VR controllers seriously.
To avoid this, you need to invest in quality grip covers, and AMVR Touch Controller Grip Covers are one of the best in the market.
The ergonomic grip helps reduce hand fatigue during long VR sessions and prevents sweat buildup so that the controllers don't slip away when you're playing active games such as Beat Saber or SUPERHOT VR.
In addition to being comfortable and providing the grippiest grip, these covers have adjustable straps that can be easily adjusted to fit your hand size!
For Whom This Product Is For?
This product is for everyone literally EVERYONE because no one wants their controllers to slip off their hand due to sweat while enjoying the best part of the game, right?
So if you want to immerse yourself fully in the game without losing the controllers then you gotta invest in the best grip covers aka AMVR Touch Controller Grip Cover.
AMVR Touch Controller Grip Cover
Meta QUEST 2 VR GUN – Shoot Like A Boss or Hero (whichever you prefer)
The Meta QUEST 2 VR GUN allows players to take aim and shoot like a pro without having to worry about accuracy or recoil.
Thanks to its ergonomic design, this controller accessory offers realistic motion tracking and vibration feedback to enhance the VR experience while preventing fatigue.
You'll have a lot more fun with an excellent VR shooter if you use a genuine VR gun instead of the standard Quest 2 controllers.
For Whom This Product Is For?
A gun-shaped VR controller will give you a realistic feel of holding a gun and I'm damn sure you'll fall in love with shooting even more if you use these Meta Quest 2 VR Guns.
So, whether you want to shoot robotic enemies in space or hide behind cover during intense firefights, this gun will help you bring out your inner hero regardless of the game you're playing!
Anker Charging Dock – Never Run Out Of Battery
Anker Charging Dock is one of the best Meta Quest 2 Accessories you can have.
A super cool-looking stand that not only charges your Quest 2 headset but also the controllers, and guess what?
You don't have to plug in and turn on/off the switch every time it runs out of battery; just leave it on the stand, and it'll charge automatically!
The best part is that it also comes with rechargeable controller batteries! So say goodbye to the stress of changing the batteries and charging your controllers again and again.
For Whom This Product Is For?
According to me, for anyone who wants to invest their money in the best accessories for their Quest 2 the Anker Charging Dock is for them.
Like you got everything here, it charges your headsets and the controllers automatically, comes with rechargeable batteries and looks freaking cool (like a pink gorilla)
Smatree Meta Quest 2 Charging Dock (Cheaper Alternative)
Pale Blue Earth Rechargeable Batteries – For Uninterrupted Fun
If you don't want to invest a large amount of money on a charging dock then do invest in these rechargeable batteries.
I don't know how many times I've gotten stuck in the game and had my mood spoiled because I forgot to change the controller batteries (its the worst feeling)
So to eliminate the need of buying and changing the batteries again and again, you can buy rechargeable batteries.
Pale Blue Earth batteries come with a set of 4 rechargeable lithium-ion batteries and a four-ended Micro-USB cable for charging them all together.
They charge 5x faster than other conventional batteries; it takes about 2 hours for the batteries to be completely charged. So if you don't want to buy the expensive Anker Charging Dock, this is an amazing alternative to have unlimited and uninterrupted VR Fun.
For Whom This Product Is For?
Pale Blue Batteries last longer, charge at lightning speed, cost less, and significantly reduce waste compared to others. And ya, how can we forget about BUILT-IN LED CHARGING INDICATOR?
You get all you need, your money is saved, time is saved and our mother nature is harmed a little less.
Pale Blue Earth Rechargeable Batteries
AMVR Table Tennis Paddle Grip Handle – Take Table Tennis To A Whole New Level
If you are playing Table Tennis on Quest 2 without the AMVR Table Tennis Paddle Grip Handle, then you really are missing out on the immersion.
With its ergonomic design and lightweight aluminium construction, this handle will greatly reduce muscle fatigue so you can play for longer periods in comfort!
It's super easy to install and remove, and there's no need to worry about the controllers falling out the handle as it has a sturdy build quality that won't let them slip out while playing.
For Whom This Product Is For?
AMVR Table Tennis Paddle has solid built quality, can be installed & removed effortlessly and makes your experience super realistic.
If you are a table tennis fan, just go for it! It's worth all the money.
Here are the 8 Best FREE Sports VR Games to Play On Meta Quest (2023)
AMVR Table Tennis Paddle Grip Handle
Nayoya Weighted Gloves: Transform Your FITNESS VR Experience
Time to burn up some more calories, VR Army! Nayoya Weighted Gloves are the perfect accessories for people who love doing cardio or playing boxing games on their Quest 2.
In order to grow, you need to challenge yourself a little bit every time, and these gloves come in handy for doing so.
Each weighs one pound and is comfortable to wear, as it comes with adjustable Velcro straps.
So, if you think you're a pro, then try these Nayoya Weighted Gloves first; they'll definitely give you a challenge and make you sweat!
For Whom This Product Is For?
For anyone who loves to play VR Fitness games and challenge themselves every time they play, Nayoya Weighted Gloves are a must-have for them.
AMVR Boxing Gloves (Especially For Boxing VR Games)
Meta Quest Fishing Reel Adapter: Transform Your Fishing Experience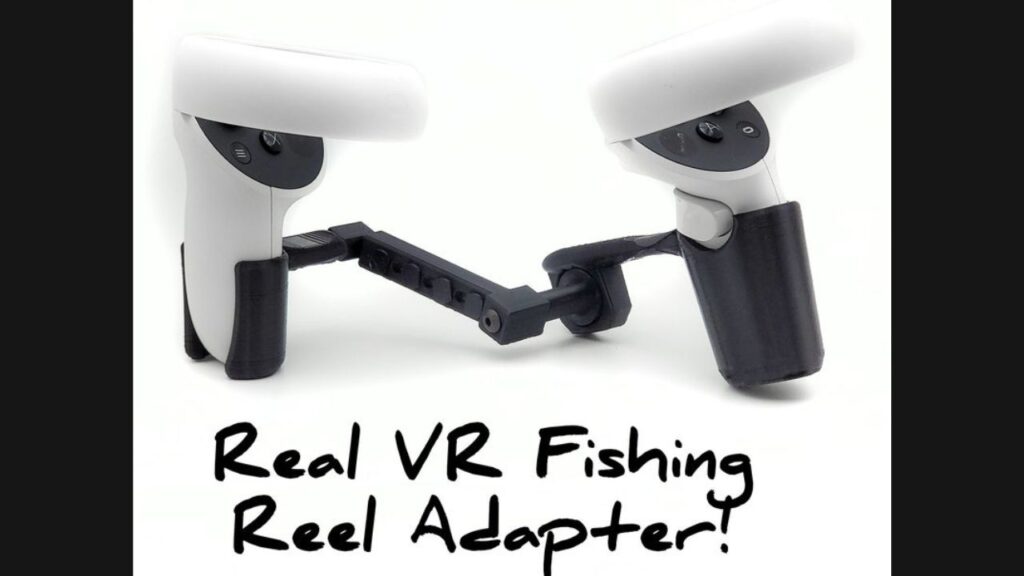 This is the best thing a fishing simulator lover can have because fishing games are already so realistic. How much more fun and realistic would it be if we had the Fishing Reel Adapter with us?
Made of premium PLA pro filament this handcrafted fishing reel adapter comes with a six-inch long extension pole and takes your immersion to the next level.
Everything spins very smoothly thanks to steel screws and steel-sealed bearings. It also features a small rubber pad on the reel to make it pleasant to hold even when playing for extended periods.
For Whom This Product Is For?
DEADEYE VR DRIVR – Transform Your Golfing Experience
Many people love playing golf because, unlike other games, Golf is a tranquil game that keeps you calm and requires you to use your intellect a little.
And if you want to enhance your VR golf sessions and make them more realistic, then you should definitely invest in DEADEYE VR DRIVR.
This golf-stick like accessory easily attaches to the controllers and features adjustable weights for finely tuning your swing speed and power
It is made up of a real iron core; to help you get a nice grip. And to top it off, it also comes with adjustable straps for extra security and stability!
For Whom This Product Is For?
Magnetic VR Rifle Gunstock – Quest 1 and Quest 2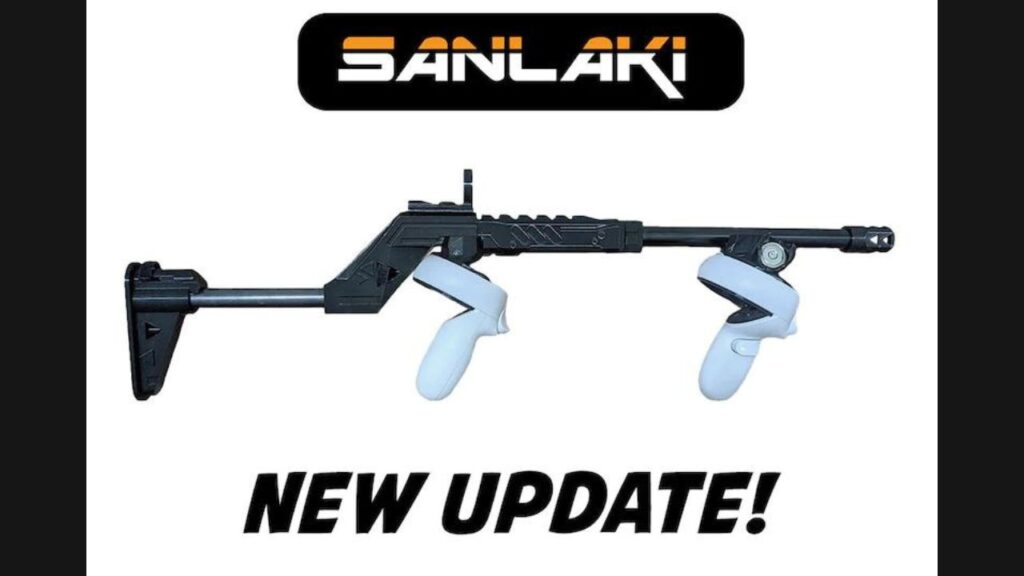 Sanlaki's Magnetic rifle gunstock is THE BEST thing you can buy if you have a craze for VR shooting games.
It is comfortable to use and not only gives you a real shooting experience but because of its sturdy and durable design, your aim accuracy also improves.
The magnetic attachment system allows you to quickly attach it to your Quest controllers making it super simple to use.
QUICK TIP: If you want to hear every footstep of your enemies then invest in some high-quality Earphones that are specially designed for VR & Quest 2.
For Whom This Product Is For?
FREE!:
5 Best Free Sword Fighting VR Games On Meta Quest (2023)
That was our pick on the best Meta Quest 2 controller accessories that you can buy in 2023 to get the most out of your game and make your experience much more comfortable and immersive.
I hope this post was helpful and if it was then do share it with your loved ones and enjoy your VR time.
Until Then Stay Strong VR Army!
Top 15 Best Oculus Quest ARCADE GAMES You Should Try In 2022
15 Best Local Multiplayer Games On Meta Quest To Play
How do you get PINK in Gorilla Tag? (No Mod – 2023)
Editor Pick:
Top 20 Best Educational VR Games & Apps On Meta Quest (2023)