The Top 8 Best Oculus Quest 2 Accessories For KIDS To Enhance Their VR Experience And Safe [2022]
If You're A Parent And A VR Gamer, Then The Oculus Quest Is Probably One Of Your Favourite Pieces Of Technology. But What About Your Kids? Here Are The 8 Best Oculus Quest 2 Accessories For Kids To Keep Your Kids Safe While Having FUN Using The Oculus Quest 2. From Safety Mats To Battery Packs, We've Got You Covered!
Buying the Oculus Quest is just the beginning! You need to make sure that your kids have the best experience while using it, and that can be a little tricky if you don't know what to get them.
If you're like most parents, you want to get your kids the best accessories out there. But with all of the different choices, it can be hard to know which one is right for them.
We've done all of the research for you and found 8 great accessories for your kids that will make their VR gaming experience better than ever!
Not only are they great quality, but they're also affordable. Keep reading to see what we recommend and who knows, maybe you'll find something that you want to get for your own kid!
The Best Kids Accessories For Oculus Quest 2 That Are Worth Every Penny:
ProxiMat – The Best Safety Mat
Your kids love VR but you're worried about them hitting things and hurting themselves and it can also be really frustrating for them when they can't move around as much as they want.
Safety Mat is a must-have VR accessory for your kids and you'll not find a better one than ProxiMat.
With ProxiMat, your kids can safely explore their virtual world without having to worry about bumping into things and getting injured.
It keeps your kids safe by keeping them in the designated play area, and helps them move around more freely.
This safety mat is made from anti-fatigue memory foam so it's soft and comfortable to use. Plus, it has buttons in the front and at the centre of the mat so that your kids are aware of their position.
And the surface of ProxiMat is non-porous which makes it super easy to clean so you don't have to worry about any messes.
For Whom This Product Is For?
If you got kids playing VR at your home then you need to buy a safety mat ASAP because we all get lost in the VR and always forget about the real world and which can cause accidents.
So if you want your kids safe then invest in a good safety mat that is ProxiMat.
Some Notable Features…
Your Kids Loves To Dance? Then Here Are
The TOP 7 Best DANCING GAMES On Oculus Quest 2 [2022]
AMVR Touch Controller Grip Cover
The Oculus quest 2 controllers tend to slip out of your hands while playing, which can be incredibly frustrating for your Kids. Not only is it frustrating, but it can also damage the controllers if they fall on the ground.
If you ask me controller grip covers fall under the must-have quest 2 accessories and That's why we recommend AMVR's Touch Controller Grip Covers.
They are made of high-quality TPU plastic and have a textured body that makes them both comfortable and easy to grip.
These Grip covers fit snugly over the controllers and add extra grip so that your kids can play comfortably.
That's why this is one of the Best Oculus Quest 2 ACCESSORIES FOR KIDS
For Whom This Product Is For?
This product is for everyone literally EVERYONE, not just your kids because no one wants their controllers to slip off their hand due to sweat while enjoying the best part of the game.
So if you want your oculus quest 2 controllers safe and want your kids to immerse themselves fully without losing the controllers then you need to invest in the best grip covers
Some Notable Features…
If you're just stepping into VR Then these games might help:
Top 15 Best BEGINNER Oculus Quest 2 Games To PLAY FIRST
Destek Capsule Battery Pack: The "ANYWHERE" Battery
Kids love playing games on their Oculus Quest 2, but what happens when the battery runs out and they're in the middle of a game? They can't just stop playing and wait for the battery to charge up again.
That's where Destek comes in. This portable battery pack will keep your kids' Oculus Quest 2 running, so they can keep playing without having to worry about running out of power.
Not only does this battery pack give your kids plenty of power, but it's also really lightweight and easy to use. Just plug it into the Oculus Quest and it'll start charging!
Desktek's Battery pack is small enough to fit in any backpack or pocket, so your kids can take it with them wherever they go.
But irrespective of its size this power bank gives you an extended playtime of about 1.5 hours.
For Whom This Product Is For?
So if you are looking for a handy power bank that charges automatically but also doesn't add any extra weight to your headset then Destek Capsule Battery Pack is the one made for you.
Some Notable Features…
Oculus Quest 2 Elite Strap W/Battery: Comfort + Battery
The Oculus Quest 2 comes with a decent head strap but it can be uncomfortable and tight which is no fun for kids.
That's why we recommend The Oculus Quest 2 Elite Strap which is made with comfort in mind.
This comfortable and durable head strap is pretty much designed for everyone and kids are no exception. It comes with a built-in battery that will keep your kids gaming for even longer!
The Elite Strap keeps the headset's weight evenly distributed which in turn makes your kids' Quest 2's experience much more comfortable.
For Whom This Product Is For?
Why Oculus Quest 2 Elite Strap is our recommended product? Because it hits two birds with one stone.
By buying a single product you can instantly double your Quest 2's playtime while making it heavenly comfortable.
That's why this is one of the Best Oculus Quest 2 ACCESSORIES FOR KIDS
(It comes in two variants one without a Carrying Case and one with a carrying case, you can check out both from the links below)
Some Notable Features…
I Bet You'll Love This Post:
TOP 10 BEST RHYTHM & MUSIC Games For Oculus Quest 2 [2022]
Oculus Carrying Case: Protect Your Quest 2
The Oculus Quest 2 is a really great product but a pricey investment, and it's important that you protect it from damage. Dropping it, spilling on it, or leaving it out in the sun can easily damage your device and void the warranty.
The Carrying Case from Oculus is the perfect way to keep your kids' new Oculus Quest 2 safe and sound.
This carrying case is made specifically for the Quest 2, and features a hard outer shell and soft inner lining to protect your device from scratches and bumps and will protect your device from any accidents.
It also includes a built-in screen protector to keep the display in perfect condition.
For Whom This Product Is For?
You don't want to just leave your Oculus Quest 2 lying around unprotected, do you? What if it gets scratched or damaged?
The best way to protect your Oculus Quest is by using an Oculus Carrying Case. Not only will it keep your device safe and sound, but it will also make it easy to take with you wherever you go.
And If you're like most parents, you don't want your kids to be carrying around the headset and controllers all by themselves.
This sturdy case will protect your child's prized possession while also making it easy for them to take their Oculus Quest with them wherever they go.
Some Notable Features…
KIWI Design Facial Interface: Comfort + Cover Nose Space
If you're looking for the best facial interface for your quest 2, then you've probably heard about the KIWI design facial interface.
They are extremely comfortable to wear, as they are made of high-quality PU leather with a sponge inside that will not slip down during a long game session.
The revised nose piece, which comes with an added glass spacer and two extra pieces of sweat-proof face pad, solves the problem of light leaking from the nose area!
Simply purchase this, and the majority of your issues will be gone, and your kids will be fully immersed in the virtual reality world.
For Whom This Product Is For?
The KIWI design facial interface is for those kids who want to fully immerse themselves in the virtual reality environment.
As I previously stated, the KIWI design facial interface answers all of your problems at once, as you will receive a Face cushion pad made of premium grade PU leather, an updated nose guard, a glasses spacer, and a lens protector.
So what's the wait for, go grab your KIWI's facial interface right now!
Some Notable Features…
Do Your Kids Love Art? Then Boost Your Kids' Creativity:
TOP 7 Best ART & CREATIVITY Oculus Quest Games & Apps (2022)
Amavision VR Prescription Lenses: For Kids Who Wear Glasses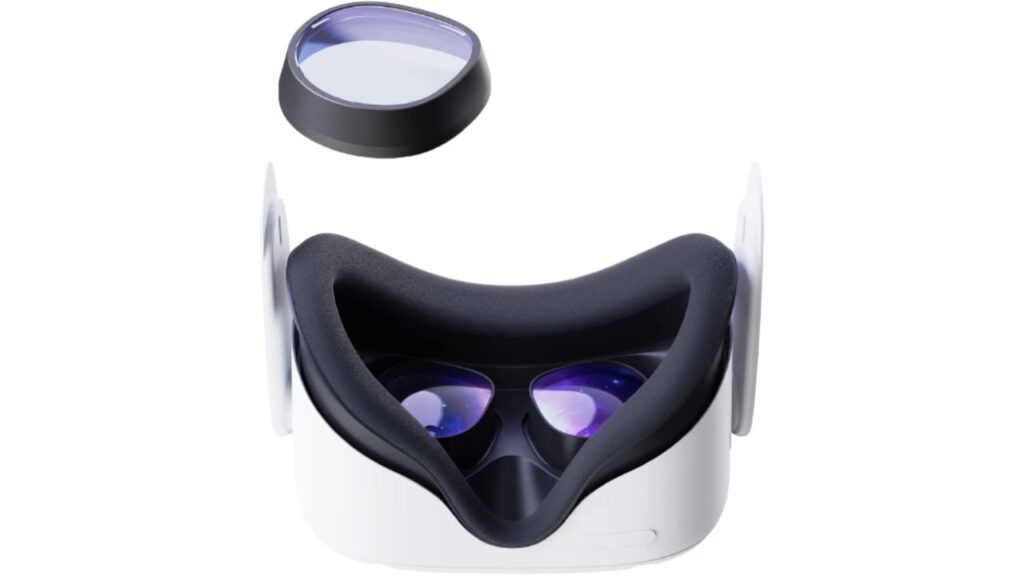 For the kids who wear glasses, it's pretty uncomfortable or even not possible to wear the headset with glasses on, as a result, they get a blurry VR experience.
One solution to this problem is glasses spacers but sometimes it also doesn't help much.
So if glasses spacers don't work for your kids and you're in search of a better alternative for it, Amavision's VR Prescription Lenses are the one you should go for.
These prescription lenses allow your kids to maintain their image quality in VR.
These high-quality lenses are lightweight and have a non-glare coating on them and are super easy to install.
For Whom This Product Is For?
If you're one of those VR enthusiasts and want your kids to experience VR in the best possible way then you should invest in Amavision VR Prescription Lenses to fully immerse them in the virtual universe.
Some Notable Features…
Anker Charging Dock – Never Run Out Of Battery
This super cool-looking charging dock is designed specifically for the Oculus Quest 2 and it can charge both controllers and the headset at the same time.
With this charging dock, you don't have to plug in and turn on/off the switch every time it runs out of battery, just leave it on the stand and it'll charge AUTOMATICALLY, isn't that amazing?
For Whom This Product Is For?
Some Notable Features…
So there you have it – The 8 must-have Oculus Quest 2 KIDS ACCESSORIES to buy in 2023!
Whether you want to keep your kids safe while they explore virtual worlds or make sure that they're comfortable while gaming, these 8 products will definitely help you achieve that goal as well as making sure your children have a fun and enjoyable experience!
So, what are you waiting for? Get your kids the best accessories and give them the ultimate VR gaming experience, they'll love you for it.
If you liked this post, be sure to share it with your friends. We know they'll want to get their hands on these great products too.
Do you have a favourite accessory that we didn't mention? Let us know in the comments below.
We hope that your kids enjoy these products/accessories as much as we do!
Until Then Stay Strong VR ARMY!