The Oculus Quest 2 Accessory NO ONE Is Talking About: ZyberVR 3-in-1 Controller Grips Extension REVIEW
Does This ZyberVR 3-In-1 Oculus Quest 2 Controller Extension Really Transforms The VR Experience & Is This ZyberVR Controller Accessory Really Worth It? Let's find out together in our review!
I have been using, testing and playing with the ZyberVR 3-In-1 Controller Grips Extension for about two weeks and now, I'm ready to do a stunning review about the playing experience, immersion, and mainly answering these 2 questions:
Do You Really Need This? & Is This ZyberVR Controller Accessory Really Worth It?
Make sure to use the "Table Of Contents" to navigate easily through this review and Make sure to share this article with your Oculus Quest 2 buddies!
Now, before starting the review, I want to thank ZyberVR for sending these amazing controller extensions for FREE but this doesn't affect our honest opinion about this product…
And lastly, Don't forget to use our affiliate code: VRMARVELITES to get 20% discount.
This is the Amazon Link (but you won't get the 20% discount): ZyberVR All-in-One Fitness Handles for Oculus Quest 2
Product Overview & Contents:
First, let's start this review with the product overview and contents: The ZyberVR All-in-One Fitness Handles for Oculus Quest 2 comes with:
2 x ZYBER Handles Extension Grips for quest 2,
2 x Quick-lock Buckles,
4 x 1oz Weight Bars,
1 x Shift Linkage Rod(with a nut),
2 x Protective Ropes,
1x User Manual,
And 1 x Storage Bag.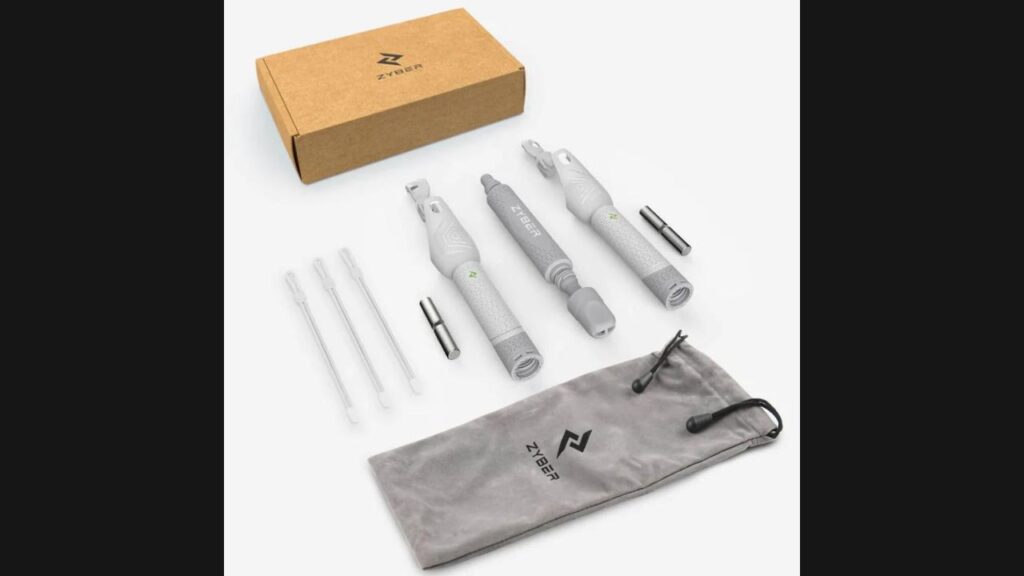 Is Zyber 3-In-1 Controller Grips Extension Worth It?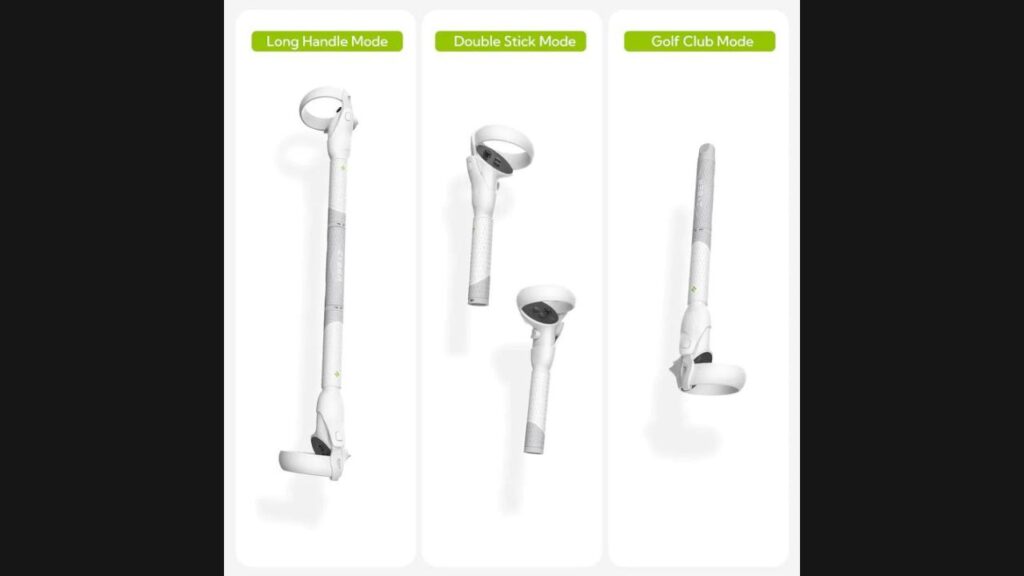 VR is all about the "EXPERIENCE". The experience of holding a gun, the experience of piercing a knife through the Zombie's skull or becoming a Jedi and slicing the beats in half.
It's all about the experience and to ENHANCE that experience, we buy accessories to make us FEEL like We're REALLY inside that Virtual world and this ZyberVR All-in-One Controller Extensions perfectly captures that VR Experience and "ENHANCES" the Immersion.
3-In-1 4-In-1 Controller Extensions
Now, This is not a 3-In-1 product instead it's a 4-in-1 extension as it comes with the possibility of removing and adding weights… You must be thinking Does it really add up? And let me tell you "IT REALLY ADDS UP"
It really feels like we're holding the lightsabers and slicing the beats in half or going to kayaking while sitting at home…
My First-Time Experience
2 specific things that I really enjoyed was playing Beat Saber in ONE SABER MODE and I can guarantee you that you'll feel like a BADASS when you'll conquer the songs with these ZyberVR Controller extensions.
And the 2nd thing is when playing FRUIT NINJA; catching the fruits, disrespecting the bombs and then getting that FRUIT combo is just oddly satisfying…
After playing 30 minutes of fruit ninja, I started speaking Japanese (lol)…
So, to answer the question: Is it worth it? Yes, it definitely is!
DURABILITY & BUILD QUALITY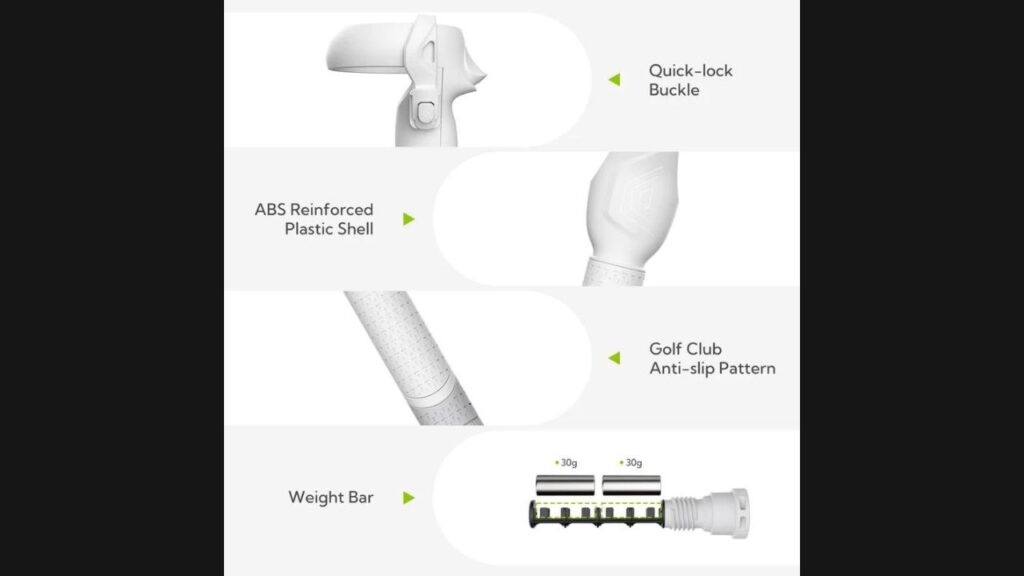 The build quality is simply SOLID… It is made with ABS Reinforced Plastic Shell which is strong and durable and The silicone cover features a non-slip pattern which adds more comfort to this handle extension and is easy to hold and clean.
With the quick-lock patented buckle design, this VR golf club adapter is easy to set up and securely fastened. No more worry about the controller will shake or fall to the ground while playing the game. This adds an extra layer of security.
The Improvements That I Felt After Using This For 2 Weeks
And the moment of truth that y'all were waiting for: What are the improvements that I felt when I started using this Zyber Controller Extension?
So I played 5 games and did intensive gaming with them and even tried playing The Walking Dead: Saints And Sinners because I wanted to devour the zombies with my AXE but as you might have guessed I failed miserably…
BEAT SABER
So the first game that popped up in my mind was Beat Saber… And mainly in Beat Saber I felt the most improvement IN and felt like "I have The Ultimate Weapon" in my hands… (evil laugh)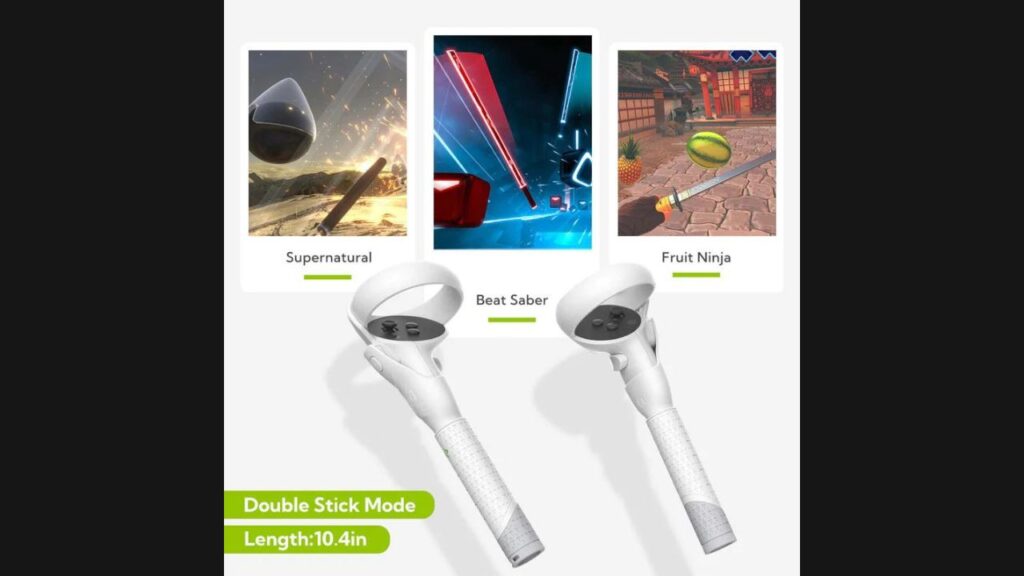 Now in Beat Saber, the first thing that I felt just after playing some songs is that there was NO SHOULDER PAIN.
Like whenever I used to play Beat Saber, after some time, my shoulder starts to ache but with this Quest 2 accessory, I felt nothing in my shoulders…
And yes, I stretch before playing any VR games and especially Beat saber, and I recommend you should too.
The next thing is; There were no "Missing Blocks". When I used to play with the OG Quest 2 controllers, there were times when I swung my sabers but the blocks still gets missed. But This controller extension solved that problem.
And if there are no missed blocks then there's no frustration, leading to a higher high score that I never knew I could achieve…
I talked about the ONE SABER mode previously and the immersion of really holding the SABERS
And I really recommend playing Beat Saber using the added weights, if you're using Beat saber as a Fitness Game and wanna AMP up the intensity…
So that was my experience and just a few improvements that I felt using Zyber 3-in-1 controller extension playing Beat Saber and in general.
Fruit Ninja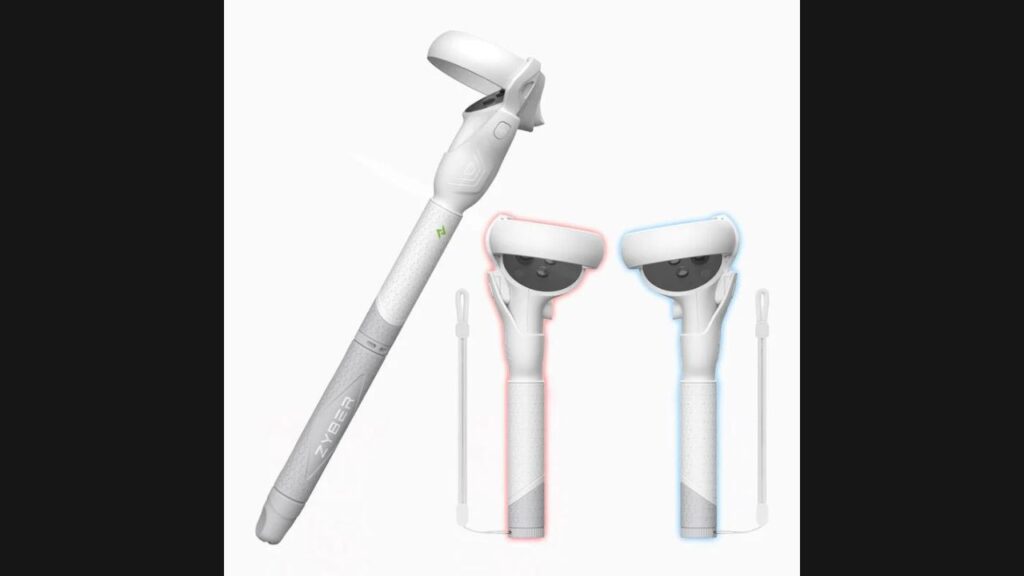 The second game I played was FRUIT NINJA; the same goes for this game too. I really felt like I'm holding a SWORD in my hands.
I played using ONE SWORD as a SAMURAI holding onto his katana; on a Mission to slice every FRUIT in half and creating an honourable high score that no other Samurai can conquer. (Now that's my Vagabond Fanboy speaking)
RACKET NX & Eleven Table Tennis
Racket and Eleven Table tennis are where I tested the Short Handles extensively. All the weights were added to give me a REAL Racket holding experience.
And yes, it delivers on this front too and adds another layer of "REALITY".
Walkabout Mini Golf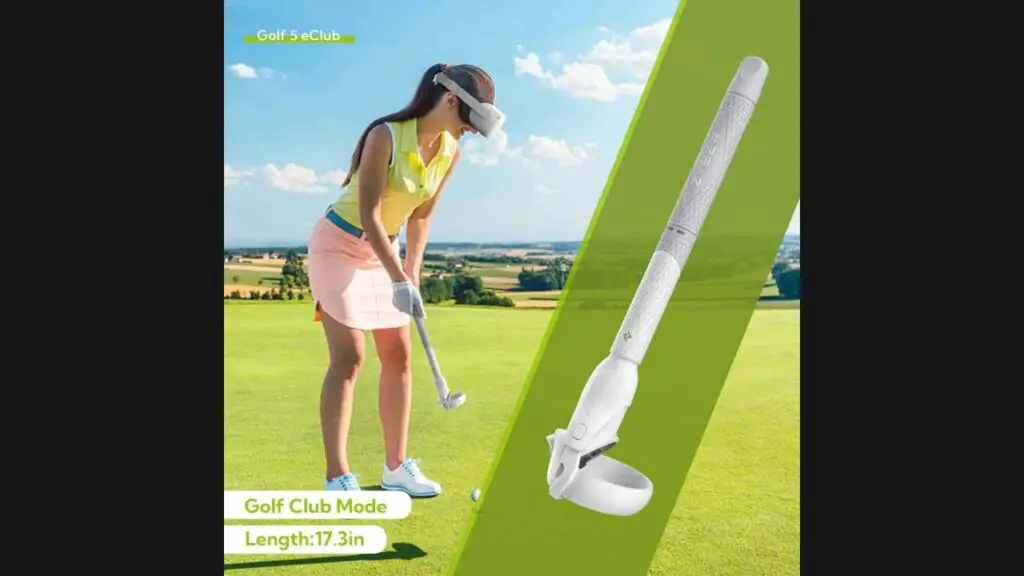 And Finally, I tried and played Walkabout Mini Golf with this and this is where I fell in love with these controller extensions.
Playing Walkabout Mini Golf with these controller extensions is a whole other experience that I can't explain.
Like I said earlier, "It's all about the experience and to ENHANCE that experience, we buy accessories to make us FEEL like We're REALLY inside that Virtual world".
I know a lot of you who are reading this are Golf Lovers, so if you were looking for a solid golf extension for oculus quest 2 then this is the one you were looking for.
[FUN FACT: They are Made with the same silicon material as golf clubs do.]
Can Kids Use This ZyberVR Accessory?
And Yes, answering the final question: All age groups can use this product.
THE VERDICT
RATING: ESSENTIAL; 5/5
So this is "THE VERDICT" time and Is it really worth buying?
—YES! It's totally worth it…
For Whom The ZyberVR 3-In-1 Controller Extensions or Fitness Handles Are For?
If you're looking for an Oculus Quest 2 Accessory that can transform your VR Experience + Fitness Experience then this is the one Accessory that you need to buy!
So do you like our review for the ZyberVR All-In-One Quest 2 Handles? What's your opinion regarding this, we would love to hear your opinions…
And also do check out our other videos, articles and guides that we made on ZyberVR Controller Extensions VR that will be Linked Here!
Until then Stay Strong VR Army!
READ NEXT:
The 8 Best CONTROLLER ACCESSORIES For Your Oculus QUEST 2