Another Synth Riders & OhShape Collab – New Song, Maps & The VR Fitness Summit
Synth Riders and OhShape Developers Collaborate to Bring a New Free Song and a Joint Tournament
A free update for Synth Riders and OhShape introduces a new song "Carry On" by F.O.O.L, mapped and ready to dance in both games. Two of the most popular VR rhythm games of the moment are joining forces again in their second collaboration. 
After the success of the Delight Collab, OhShape and Synth Riders are now launching a new update for all players with the free song "Carry On" composed by F.O.O.L, an electro hit with cyberpunk vibes that will make the players break a sweat with the strong bass.
Recently, both games received major content updates refreshing their gaming experiences. Players can go through shapes in a frozen planet at the speed of sound in OhShape or flow through the music in a 360-degree "Spin Mode" in Synth Riders, surrounded by the futuristic dystopian setting offered by F.O.O.L.
A Full List of New Features Includes:
New Environments
The VR Fitness Summit
New song "Carry On" by F.O.O.L for Both Games
The VR Fitness Summit
This new update is aligned with another collaborative event, the VR Fitness Summit. This weekend, the finalists of a joint OnShape & Synth Riders tournament will compete for the throne, and for that, they will have to mark the highest scores in both games.
More information about the broadcast from that event will be available on @synthridersvr and @ohshape Twitter accounts.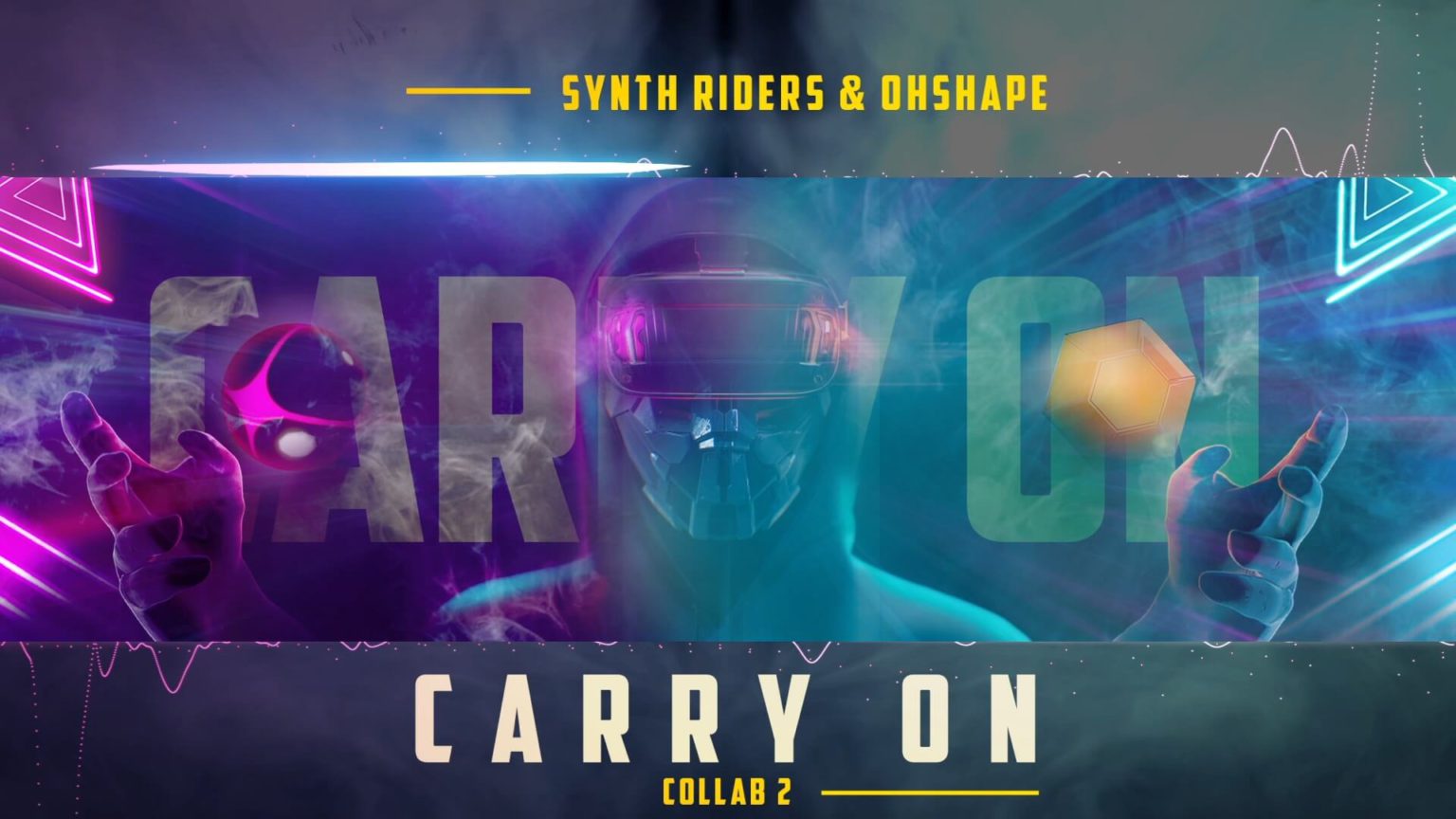 A brand new song "Carry On" is now available in OhShape and Synth Riders on all the platforms, including Steam and Oculus Quest & Rift Cross-buy.
Synth Riders on Steam: https://store.steampowered.com/app/885000/Synth_Riders/
Synth Riders on Oculus Quest: https://www.oculus.com/experiences/quest/2436558143118760/
OnShape on Steam: https://store.steampowered.com/app/1098100/OhShape/
OnShape on Oculus Quest: https://www.oculus.com/experiences/quest/2522558964527688/
Virtual Athletic League Tournaments: https://valvr.com/
Suggested:
Top 13 Best VR Fitness Games for a Mix of Fun and Burn
Suggested for Quest Owners:
Best Oculus Quest Fitness / Workout Games to Get Your Dream Body
More Information About Synth Riders and OhShape
Synth Riders VR
Synth Riders coming from Kluge Interactive and Retrowave VR is a combination of dancing and guitar hero, but your energy is crucial. 
In synth riders, you are on a rail, and you have to hit the colours to the corresponding hand as well as just simple hit markers.
There are held notes of which you have to follow the trail to continue earning points and maintaining your combo. Obstacles have to be avoided; otherwise, you will lose your combination and risk not completing the song. 
I like how the markers and maps enable you to get your groove on as they do have a pattern that promotes you to dance. Synth riders is a great fun VR title that is also a workout game allowing you to burn off that fat. 
There is also a beat map editor available for you to create your own tracks if you want to, but also on side quest, you can add custom songs as well.
 If you're not familiar with side loading and side quest and want to try this game for yourself, it's effortless to get it all set up.
So I've linked a couple of tutorials on how to start sideloading, or you can read the ultimate guide on sidequest. It takes maybe five to ten minutes max to get it all ready.
Some Notable Features…
OhShape VR
 OhShape is a VR rhythm workout exercise experience. The main gimmick is that blue walls are flying toward you and they have human-shaped holes inside that you need to match to keep progressing through the course. 
Besides that you'll also find red walls that you need to punch away and yellow obstacles that you'll either need to sidestep or squat to avoid.
 If you are Dude perfect subscriber or viewer then you should have watched the freeze-frame battle, OhShape VR just works like that.
There are three difficulty levels, and the three difficulty levels are as you would expect with easy: being kind of a breeze, medium: being a fair difficulty and hard: being an insane difficulty.
If you're looking for a VR workout experience and you're tired of playing beat Saber, then this is definitely a unique choice that stands out for its original visual style. The support of Custom songs is also available.
Some Remarkable reasons to BUY this Game