2 METHODS: How To Play Boneworks VR On Oculus Quest 2: WIRED & WIRELESSLY For FREE!
Do You Want To Know How To Play Boneworks On Oculus Quest 2 In The Easiest Way? Then Look No Further! This Guide Will Show You How To Play Boneworks VR On Your Quest 2 Either Wired Or Wirelessly And For Free In 2022!
Boneworks is an awesome game that was made specifically for VR. It's one of the most realistic and intense games out there and it's a must-play for any VR gamer.
With this guide, you will be able to immerse yourself in the magical world of Boneworks like never before. It's an experience that is not to be missed.
And With just a few simple steps, you'll be playing one of the most amazing VR game in no time.
You won't have to miss out on any of the action just because you don't have a high-end PCVR headset.
So in this article, we will be giving you a complete guide on playing Boneworks VR on Oculus Quest 2- both wired and wirelessly and we'll show you step-by-step what you need to do.
What are you waiting for? Let's get started!
Editor's Pick: TOP 3 Best FIGHTING / BOXING GAMES For Oculus Quest 2 [2022]
If you love Boneworks then you'll love these games for sure:
Top 15 Amazing Best ACTION Games For Oculus Quest 2
Is Boneworks on Oculus Quest 2?
If you are A VR fan then you must've heard about "Boneworks" because it's one of the best-selling VR games of all time.
And VR gamers have been eagerly waiting for Boneworks to release on Oculus Quest 2 ever since it was first announced.
Still, it is not available on The Oculus Quest platform. A fantastic VR experience; full of Adventures where you can use numerous weapons, tools, and objects to fight enemies on dangerous playscapes and mysterious worlds.
Requirements:
A PC; powerful enough to support Boneworks VR.


Buy & Install Boneworks. If you are buying Boneworks then we recommend buying it from the Rift Store


The WiFi connection must be 5Ghz if you want to play Boneworks Wirelessly. I personally recommend having a specific router like the ASUS AX5400. In which only your Meta Quest 2 is connected.
If you're just stepping into VR Then these games might help:
Top 15 Best BEGINNER Oculus Quest 2 Games To PLAY FIRST
Here's How To Play Boneworks VR On Oculus Quest 2 Wirelessly Using Oculus Air Link:
Step 1: Buy Boneworks From The RIFT Store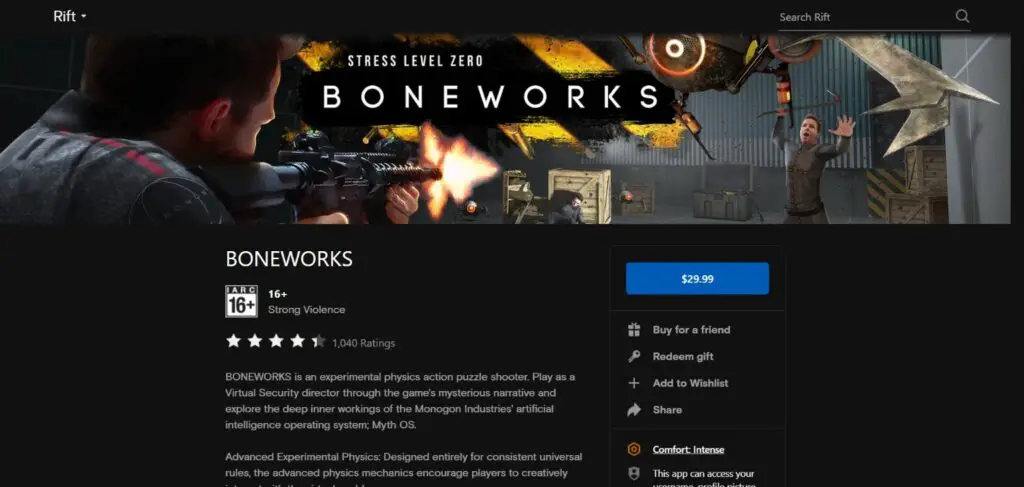 First, we need to buy Boneworks from the Oculus Rift Store and install it on our PC.
If you have brought Boneworks already from STEAM then don't worry, there's just 1 extra step that you need to do. You don't need to purchase the game again if you already own it on another platform
But If you are buying Boneworks then we recommend buying it from the Rift Store because the process is much simpler
Step 2: Enable AIR LINK And Connect Your Quest 2 w/PC
If you don't know how to enable/activate Oculus Air Link then you can watch our 2 Minute guide that is embedded above or you can read our Step-By-Step Air Link Guide. After enabling Oculus AIR Link,
Here's How To Connect Your Oculus Quest 2 With Your PC
Go to the

"Quick Settings"

Panel
Then Click On The Oculus AIR LINK Tab
Now, just select your PC and click LAUNCH
Step 3: Finding & Playing BONEWORKS On The Oculus Quest 2
You can directly open and play Boneworks as you are already in the "RIFT LOBBY". Just find Boneworks from the RIFT LIBRARY and Open it.
To access your RIFT Library use the "DIAL" that is in front of you.
Voila! Now, You can play The Boneworks VR on your Quest 2 wirelessly for completely FREE!
Top 3 Best Oculus Quest 2 EARBUDS/EARPHONES
To Buy In 2022
Here's How To Play Boneworks VR On Oculus Quest 2 Using Oculus Link:
Open the Oculus app on your PC and make sure that it is Updated. You can download it here if you don't already have it.


Plug your Oculus Link cable into a USB 3.0 port on your PC, and the other end into the side of your Oculus Quest 2 headset. "You Can Use Your Charging Cable As A Link Cable Or You Can Checkout The Best Oculus Link Alternative Cable: "Anker Powerline USB-C to USB 3.0 Cable (10ft)"


After Connecting The Link Cable, Two messages will pop up on your Quest 2, first, prompting you to "Allow access to data". Select "Deny". If you mistakenly "Allow" the prompt, unplug your Link cable from the Quest and plug it back in.


And the second one will be "Enable Oculus Link" select the option to "Enable" and you'll then be taken to the Oculus PC home screen on your Quest headset.


Choose Boneworks from your Rift library or Steam VR and you can begin playing Boneworks On Your Quest 2 using Oculus Link!

If you're facing any problems playing Boneworks on your Quest 2 then make sure to read the guide that we have linked below!
Here's the Best and Ultimate illustrated guide on How to Use & Setup Oculus Link that tells you everything about it, how to use it and leaves no space for confusion.
And here's how to increase the Oculus Link Quality and if you want to read the article then here's the link: 2 STEP: How To INCREASE OCULUS LINK PCVR Quality On QUEST 2:
*Continue Reading If you want to know which method is perfect for you*
Here's How To Play Boneworks VR On Quest 2 Using STEAM VR
You can watch the embedded video above or you can read the steps:
After connecting to your PC, Open STEAM and STEAM VR and make sure they are updated.


After that, you will be in the "STEAM VR Lobby". If you are not in the STEAM VR Lobby then Make sure in the STEAM VR toggle (on your PC), your Quest 2 Headset is "detected", if it is not then click on the "RESET Headset" while you are using Air Link or Oculus Link


And finally, find and double click on the Boneworks game file while STEAM VR is opened. Now you can play Boneworks VR Using Steam VR on your Oculus quest 2
For Roblox Fans:
How To Play Roblox VR On The Oculus Quest 2
Here are some more AAA games that you can play in VR:
How to Play Skyrim VR On Oculus Quest 2
How to Play GTA 5 in VR On Oculus Quest 2
How to Play Alien Isolation In VR On Oculus Quest 2
Which Method To Choose To Play Boneworks On Oculus Quest? WIRED or WIRELESS?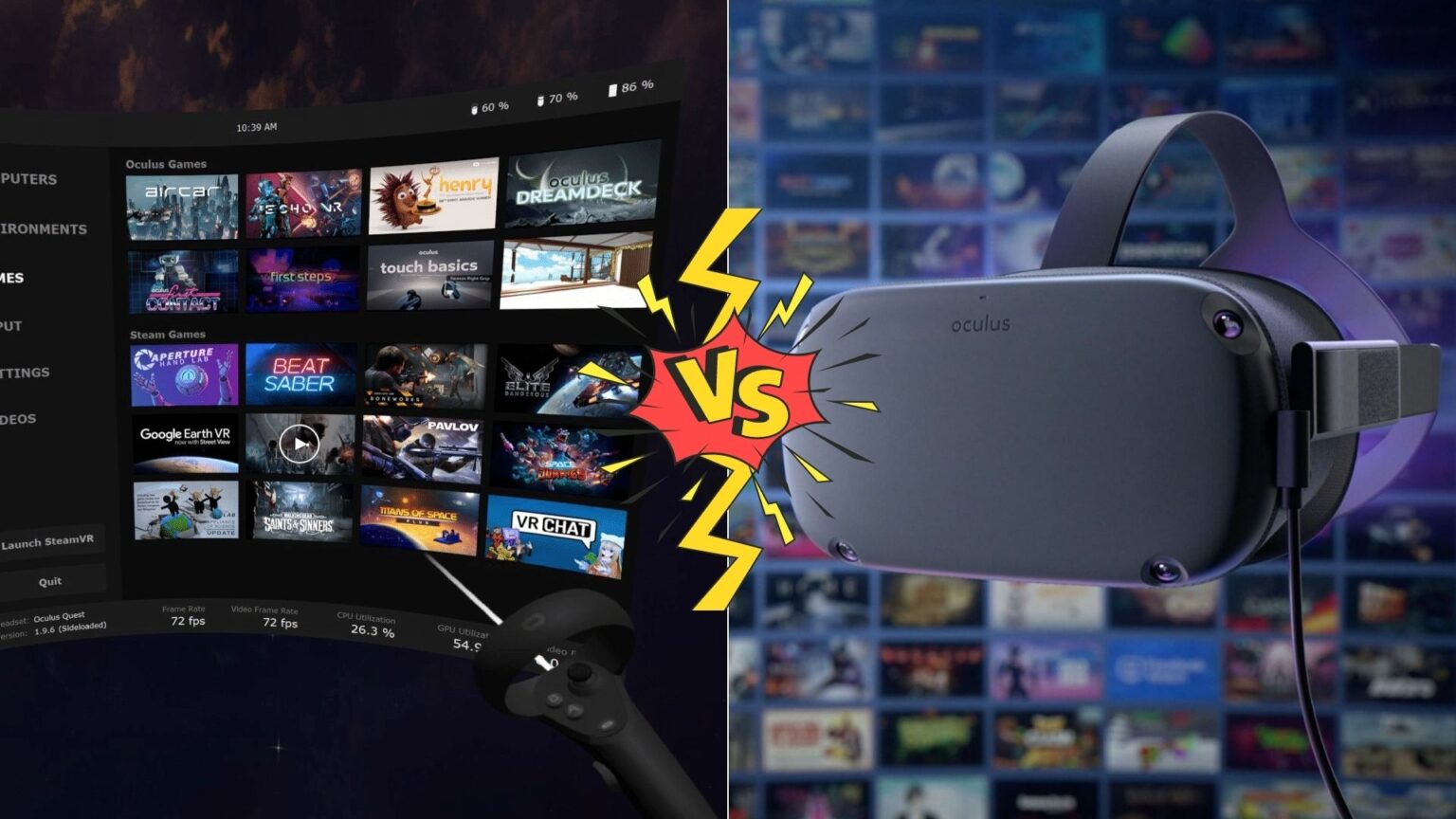 Your experience using Air Link to stream PCVR games on your Quest varies hugely depending on the game itself, your computer configuration, your router, and the physical format of your area.
Something as simple as a wall in between your Quest and your router might create chaos with the wifi signal from time to time, indicating you may experience stutters.
You can depend on Oculus Link to give you a strong experience with no latency till the end.
So If you have Amazing WiFi speed and there's no distraction to block your connection between your Quest and WiFi, then you should definitely go for Air link.
But If your WiFi doesn't provide a constant connection or there is some blockage, then you should go for Oculus Link Cable for smooth VR gameplay without latency.
It's nearly as good as playing on any kind of other PCVR headsets.
But make sure you have enough PC configuration to play PCVR games directly on your Quest via Oculus Link. 
Here are some controller accessories that you can buy to transform your VR Experience: The 8 Best CONTROLLER ACCESSORIES For Your Oculus QUEST 2
And if you want to record your Boneworks gameplay and share it with the world, then here's the perfect guide for you: How To RECORD YouTube VR Videos On Oculus Quest 2 2022 Guide
If you have PS4 or PS5 then this is a Must Read!:
2 STEP: How To Play PS4 & PS5 On Oculus Quest 1 & 2
So there you have it! You can now play Boneworks on your Quest 2 using Oculus Link & Oculus Air Link.
Whichever method you choose, we hope you enjoy this amazing game in its entirety!
And we also hope you found this article helpful. If you did, please share it with your friends and fellow VR gamers so they can get in on all the VR action too.
Don't forget to comment below and follow us on social media for more great VR content. And finally, don't forget to subscribe to our YouTube channel for more awesome VR videos. Happy gaming!
Until Then Stay Strong VR Army!
If you Love Boneworks VR, Then you'll love these games: Top 15 Best ADVENTURE Oculus Quest 2 Games w/STORY [2022]
Editor Pick:
Top 10 SCARIEST & Best HORROR GAMES On Oculus Quest 2 (2022)