If You're Hunting for Sweet Cosmetics to Show Off And Make Other Players Jealous, Here's How to Buy Shiny Rocks in Gorilla Tag!
Shiny rocks are the in-game currency which was introduced back in September 2021, but they can be hard to obtain, especially if you are a new player.
You get 100 shiny rocks per day and that's not enough if you want to purchase cosmetics like shirts, hats, and even a pair of shorts!
So, Here's the Easiest and Quickest guide on How To Buy/Purchase SHINY ROCKS In Gorilla Tag VR!
How To Buy Shiny Rocks In Gorilla Tag Step-by-step: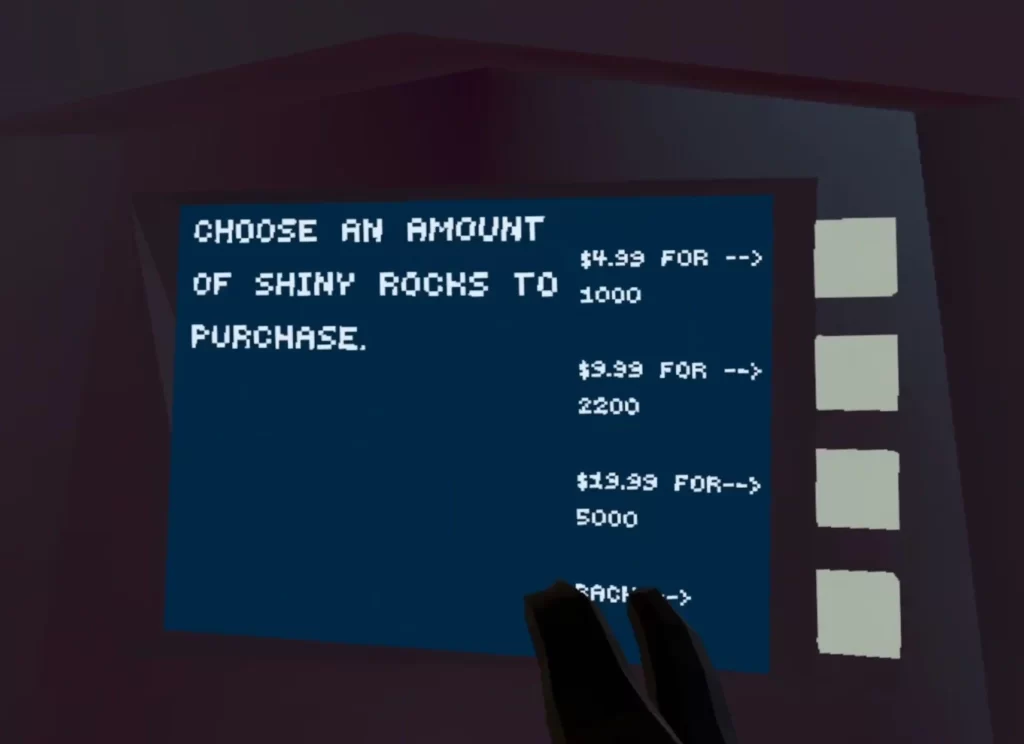 First, open the game and look to your left and you'll see a moon-looking tunnel. Go inside that tunnel and at the end you'll see an ATM.
Now, Follow the steps on the ATM to purchase shiny rocks. There are three options available:

1000 shiny rocks for US$5 (enough for one average hat)
2500 shiny rocks for US$10 (enough for one or two average hats, or possibly one slightly cooler hat)
5000 shiny rocks for US$20 (enough for the cooler hats)

Now, just choose your preferred method to buy shiny rocks and you'll be good to go!

You can also use a Meta Quest gift card or store/promotional credit to buy shiny rocks.
So that's how you can buy Shiny Rocks In Under 2 minutes. You can purchase shiny rocks unlimited times. And to check your shiny rock balance, just go to the ATM!
Editor's Pick:
5 Best Free VR Games Like Blade And Sorcery On Meta Quest 2
Buying shiny rocks in Gorilla Tag on Oculus Quest 2 is a simple process. Just locate the ATM in the game, follow the steps on the screen, and you're good to go.
I really hope you like this post and if so then read our other articles too and subscribe to our YouTube channel to stay up to date on the latest VR gaming news, reviews, and guides!
Until then Stay Strong VR Army!
The Best Free VR Games Like Beat Saber (Meta Quest + PCVR)