Muse Returns to Synth Riders with a Music Pack Featuring Their Greatest Hits and an Unforgettable Visual Experience
Muse Returns To This Fan-favorite Vr Rhythm Game With A Dedicated 5-song Pack, Among Which Are Best-selling Tracks!
Synth Riders invites players to join Muse on an interstellar rock journey through the band's greatest hits.
Muse returns to this fan-favourite VR rhythm game with a dedicated 5-song pack, among which are best-selling tracks such as "Starlight", "Uprising", and "Madness".
The new collection is now available on Oculus Quest and Steam (with PSVR to follow in two weeks), featuring five paid DLC songs and a unique visual Experience for "Starlight".
The pack will also be included in a special physical edition on PlayStation VR, scheduled to release through Perp Games on 12th November.
"New Experiences And 5 New Songs!"
Related:
Top 11 Amazing Best VR Party Games – Must-Play Party VR Games
The Synthriders Muse Music Pack Includes:
What's In The "Muse Music Pack"
"Muse Music Pack" is the sixth music bundle for Synth Riders, a VR rhythm game known for freestyle-dancing gameplay and unique visual Experiences.
The new pack pays tribute to these incredible British electro-rockers, with five tracks, including their best-selling single of all time and spanning twelve years of their career.
Influenced by electronic, progressive and glam rock, the band blends these styles into a truly distinctive Muse sound, topped by Matt Bellamy's soaring vocals.
The "STARLIGHT" Experience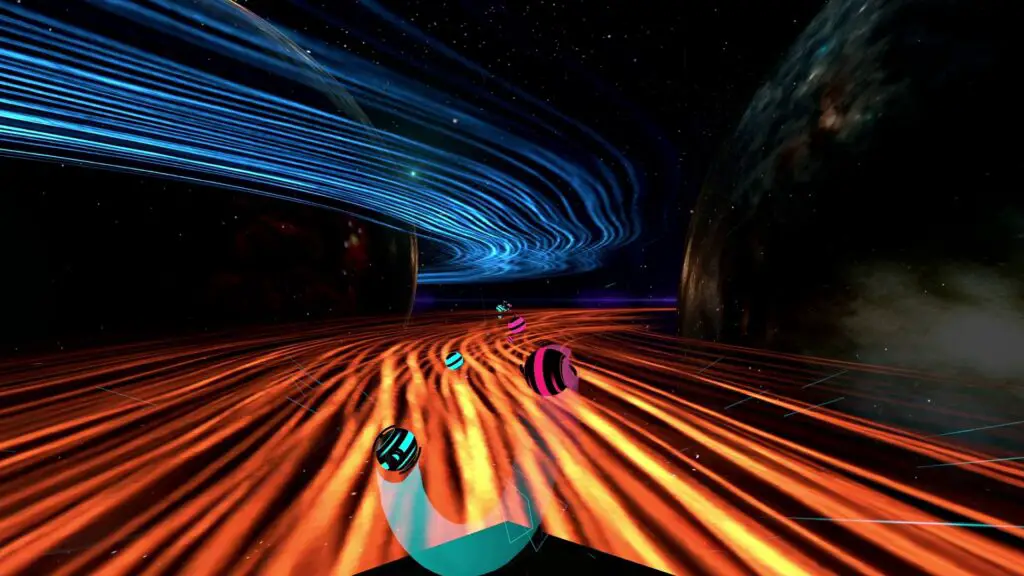 Following on from the previous experience for Muse's "Algorithm", the pack includes a brand new Synth Riders Experience, tailored for Muse's massive hit "Starlight".
Players are invited to immerse themselves in the artistically driven visuals inspired by this epic intergalactic rock ballad, and let the game blend sight, sound and movement together into something truly unique.
The Five Paid DLC Songs:
The Muse Music Pack features five paid DLC songs:
Starlight + Experience
Uprising
Madness
Reapers
Pressure
Like Always: A Word From The Creative Director:
"It's incredibly inspiring to be able to work with Muse again. They are a perfect fit for Synth Riders because of their sound – when you ride the rails to match the vocals, the combination is electrifying and emotional. For the Experience, our creative interpretation of the song's lyrics gave us the freedom to explore a whole galaxy of particles, abstract images, and even a black hole!"

~Abraham Aguero – Creative Director Kluge Interactive
Suggested:
Top 13 Best VR Fitness Games for a Mix of Fun and Burn
Partnership With Perp Games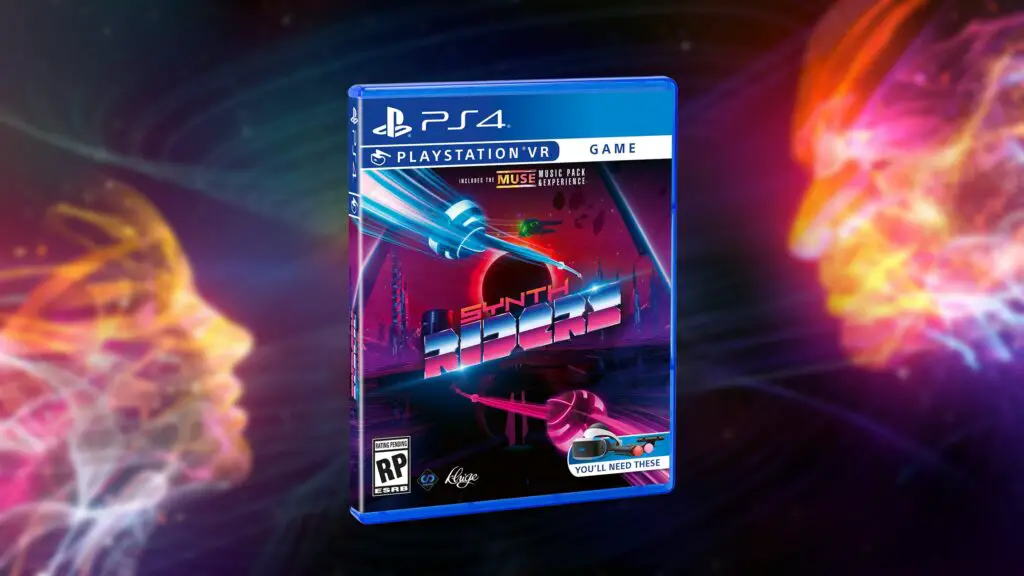 Kluge Interactive, the developer of Synth Riders, is also proud to announce a partnership with Perp Games (a well-established publisher of Moss, Vader Immortal: A Star Wars VR Series, and more) to bring a physical version of the game to PlayStation VR, coming November 12th and bundled with the brand new "Muse Music Pack" and exciting extras.
A word from the Managing Director at Perp Games:
"Synth Riders is one of the highest-rated PSVR games ever and absolutely loved by everyone who plays it. We are extremely excited that the Physical Edition will also contain this amazing new Muse Music Pack, providing fans of physical games with a very special box indeed."

~Rob Edwards, Managing Director at Perp Games
Suggested:
Top 25 Best Multiplayer VR Games – CO-OP, Team VR Games
With the addition of the "Muse Music Pack" Synth Riders' soundtrack now features 54 free and 30 DLC songs, all of them playable in Multiplayer on PCVR and Quest, and in a variety of difficulty levels and modes across the game.
Oculus Quest owners who haven't yet played the game can try it out for free in the demo available on App Lab, featuring 5 songs with all modifiers.
The "Muse Music Pack" launches today on Oculus Quest (cross-buy with Rift), Steam, and Viveport, followed by the PlayStation VR release scheduled for September 29th.
All five tracks can be purchased individually for $1.99, or together as a bundle for $7.99 with a 20% discount.
Follow Synth Riders on Twitter, Facebook, and Instagram, and join their Discord community for more news and events.
More Information About Synth Riders
Synth Riders VR
Synth Riders coming from Kluge Interactive and Retrowave VR is a combination of dancing and guitar hero, but your energy is crucial. 
In synth riders, you are on a rail, and you have to hit the colours to the corresponding hand as well as just simple hit markers.
There are held notes of which you have to follow the trail to continue earning points and maintaining your combo. Obstacles have to be avoided; otherwise, you will lose your combination and risk not completing the song. 
I like how the markers and maps enable you to get your groove on as they do have a pattern that promotes you to dance. Synth riders is a great fun VR title that is also a workout game allowing you to burn off that fat. 
There is also a beat map editor available for you to create your own tracks if you want to, but also on side quest, you can add custom songs as well.
 If you're not familiar with side loading and side quest and want to try this game for yourself, it's effortless to get it all set up.
So I've linked a couple of tutorials on how to start sideloading, or you can read the ultimate guide on sidequest. It takes maybe five to ten minutes max to get it all ready.
Some Notable Features…