How To Uninstall Apps & Games That You Sideloaded Using SideQuest – Oculus Quest 1 & 2
Super Easy Guide On How To Uninstall Apps & Games Using SideQuest! (UPDATED 2022)
Hello VR Army, in this post I'm going to show you how you can uninstall Games & Applications that you Sideloaded Using SideQuest — works for both Oculus Quest 1 & 2
This post is going to be super useful for those who are looking to free up some space from their quest. As it's a NO BS tutorial, let's go and see how you can uninstall apps and games using Sidequest.
*You can Uninstall Any Game or App whether you've sideloaded it directly from the Sidequest, from .apk file or from the Official Oculus Store*
Here's how you can Use Sidequest Wirelessly On Your Oculus Quest 1 & 2:
How To Use SideQuest WIRELESSLY On Oculus Quest 2 -WIN & MAC
How To Use SIDEQUEST WITHOUT PC on Quest – SideQuest Android
Here's How To Uninstall Apps & Games Using SideQuest – Quest 1 & 2
Make sure that you have connected Oculus Quest with SideQuest properly. You can confirm that by seeing at the TOP LEFT CORNER, a Green Light indicates that you've connected SideQuest with your Quest properly. 

And now you're ready to Uninstall any Sideloaded applications or games that you don't need on your Oculus Quest. 


Now, To Uninstall any game or app, click > the gear icon for your desired game or app.


Click > uninstall app and do the same for other apps and games if you want to uninstall more than one game or app (Refer to the Images)
Yup, that's it. That's all you need to do to UNINSTALL Apps And Games through Sidequest
Read Next:
Top 15 Best ADVENTURE Oculus Quest 2 Games w/STORY [2022]
How To Setup SideQuest (Perfectly Without Errors)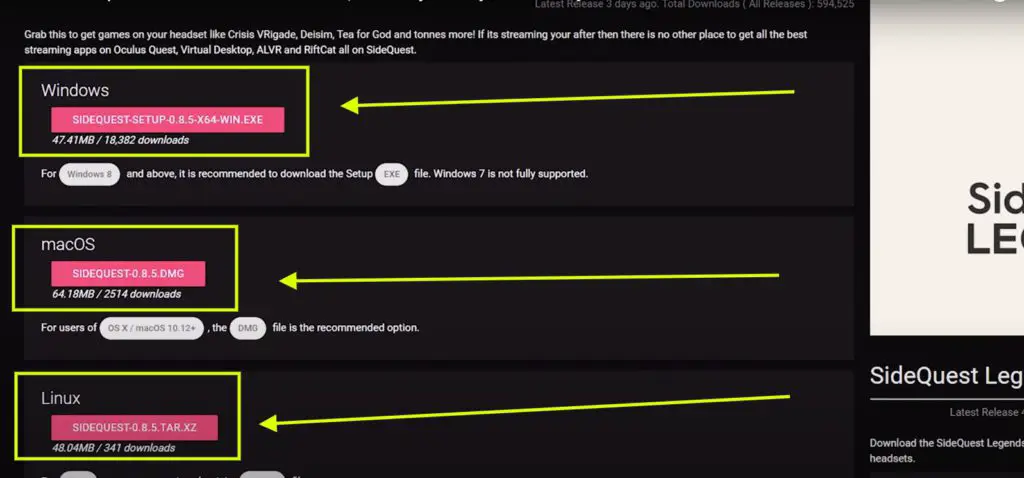 If you're having trouble setting up sidequest on the Oculus Quest 1 & 2 and getting some errors then are some tutorials If you're not familiar with side loading and side quest, it's effortless to get it all set up.
So I've linked a couple of tutorials on how to start sideloading, or you can read the ultimate guide on sidequest. It takes maybe five to ten minutes max to get it all ready to go. 
If you're just stepping into VR Then these games might help: Top 15 Best BEGINNER Oculus Quest 2 Games To PLAY FIRST
So that's How you can Uninstall any sideloaded games and apps using Sidequest. Please share this article with your loved ones, it'll mean the world to us.
And if you have any suggestions or problems while setting up sidequest or uninstalling any apps or games then make sure to comment below. We'll replay as fast as lightning.
Power Up Your Quest 2 with Oculus Link:
How to Use Oculus Link With Steam
Why Sideloading And Why Use SideQuest to Sideload Oculus Quest?
By sideloading, you can open up new and unlimited conceivable outcomes to enjoy VR in Oculus Quest. So to sideload oculus quest you have to download "Side Quest" in order to sideload games or apps safely.
Sideloading applications is the ideal method for opening the maximum capacity of your Oculus Quest 1 & 2. There is a massive library of games and apps that you can Sideload your Oculus quest with.
What Is SideQuest?
Sideloading apps and games on the Oculus Quest using SideQuest is the easiest method to sideload the oculus quest. SideQuest serves as a platform for small developers who could not pass the publication filters of the official Oculus store.
It should be clarified that the content offered in sidequest is legal and Oculus doesn't mind using it.
SideQuest works with Windows, Linux, Mac and Now with Android.
Also, there is a massive library of games and apps that you can Sideload oculus quest with.
If you want to read more about sidequest: Is it legal or not? Is it Safe?
I've tried to answer all of the burning questions that are not answered anywhere regarding SideQuest and sideloading and I've kept it short 'n' simple and easy to digest.
So check out our Ultimate Sidequest Guide
If you want more Best Oculus Quest 1 & 2 Games Lists then here are some of our List, Until then STAY STRONG VR ARMY!
Top 25 Best Oculus quest Multiplayer games – Co-Op , Team quest Games
Top 21 Best SideQuest Games to Sideload on Oculus Quest
Top 10 Best Oculus quest Horror Games | Scariest VR games on Quest
Top 15 Best Oculus Quest Puzzle Games 2022 | Best VR Puzzle games
Top 10 Best Oculus quest Rhythm Games | Games like Beat Saber
Learn About PSVR 2:
Playstation VR 2: Release & Everything You Need To Know 2022