GREEN HELL VR REVIEW: Is It The Best SURVIVAL VR GAME? + GIVEAWAY! | After TWO WEEKS REVIEW
Does Incuvo Succeed To Make Its Use Dignified In Virtual Reality? Let's Find Out Together In The Green Hell VR Review!
I have been surviving in the "Green Hell" for about two weeks and now I think, I'm ready to make a stunning review about the hell that I've experienced.
While I was in the forest stranded from the world, I found a key to this hell, so if you want to win this "KEY" of Green Hell VR For FREE then, check it out here:
Make sure to use the chapters to navigate easily through this video and Make sure to make that RED button that says "SUBSCRIBE" to GREEN or grey whatever but make sure it's not RED.
So are you a fan of the Survival Genre And in search of adventure, becoming the king of resourcefulness and a bit green?
Then Don't wait, throw yourself and your heart and soul, into the virtual reality adaptation of the famous survival game which sees a re-edition in VR for Meta Quest 2
THE FIRST FEW MINUTES AND AN OVERVIEW OF GREEN HELL VR
The first sentence that I want to start this review is with this: If you are a survival lover, Green Hell is for you.
Green Hell VR opens into a wild forest and We dive into the shoes of Jake Higgins, who finds himself stranded deep in the Amazon rainforest and must fight for his survival while trying to trace the past he forgot and discover the reason for which he is here
After learning the basics of the gameplay in the first 15 minutes or so and then our wife disappears into thin air, and it will be up to us to be able to find her while trying to survive the inhospitable environment we are trapped in.
The jungle is our playground, Still, we are not welcome here. The environment is extremely hostile, and above all, we are not alone.
In order to survive in this world that doesn't want us, we need to first understand the forest and its mechanisms. The title offers a realistic day and night cycle as well as dynamic weather.
HOW TO SURVIVE THE "GREEN HELL"
Nothing should be taken lightly in this game, be constantly on the lookout, because danger lurks everywhere, and it does not always come from where we might expect it.
Remember to constantly watch where you are stepping, and pay attention to the slightest sounds, at night more than during the day.
To avoid dehydration, remember to drink regularly, but be careful not to consume too much water from the river because it must be filtered first. You need to Cook your ingredients, even spiders and scorpions, and it's better to eat with clean hands.
You must therefore know how to adapt according to the weather, and know how to find the right resources, water points, food, and plants while avoiding the traps of the jungle.
In short, understand your environment because to move forward, you have to be in good health in order to survive.
By means of a connected watch, the only technological tool available to us, we can follow our constants which are health and sleep.
But that's not all, we also have to watch our rate of carbohydrates, fats, proteins and hydration under penalty of seeing our physical and mental health getting worse and our abilities to correctly perceive this jungle filled with spectacular things to explore.
Suggested:
Top 13 Best VR Fitness Games for a Mix of Fun and Burn
DIY YOUR WAY OUT OF THE "GREEN" HELL
DIY goes really far and almost everything is possible. The crafting is very well thought out thanks to the unique capabilities that virtual reality brings…
To make a spear, for example, you have to cut down a tree with an axe or a hammer made by assembling a stone and a branch.
From this tree, we'll get different shapes and sizes of wood that must be sharpened with a sharp stone, resulting in shaper branches.
And then To assemble the spear, you have to find vines to wrap around the sharpened stick and add the carved stone. Besides, the physics of the game is very advanced.
THE BACKPACK AND COMBINING THE RESOURCES
We also have a backpack to store resources and survival and crafting catalogue, but nothing is pre-filled in advance, This is why we need to test the various combinations offered by all the elements of the game, as well as their multiple uses.
For example, you can either hit and open a coconut, eat its flesh and then use the empty bowls to collect water or you can just peel the outer layer, drink the coconut water, grab a vine and craft that coconut into a water bottle…
If you dive deep into this game then I'm sure you'll find more things that will surely amaze you… 
THE CRAFTING OF "THE FITTEST"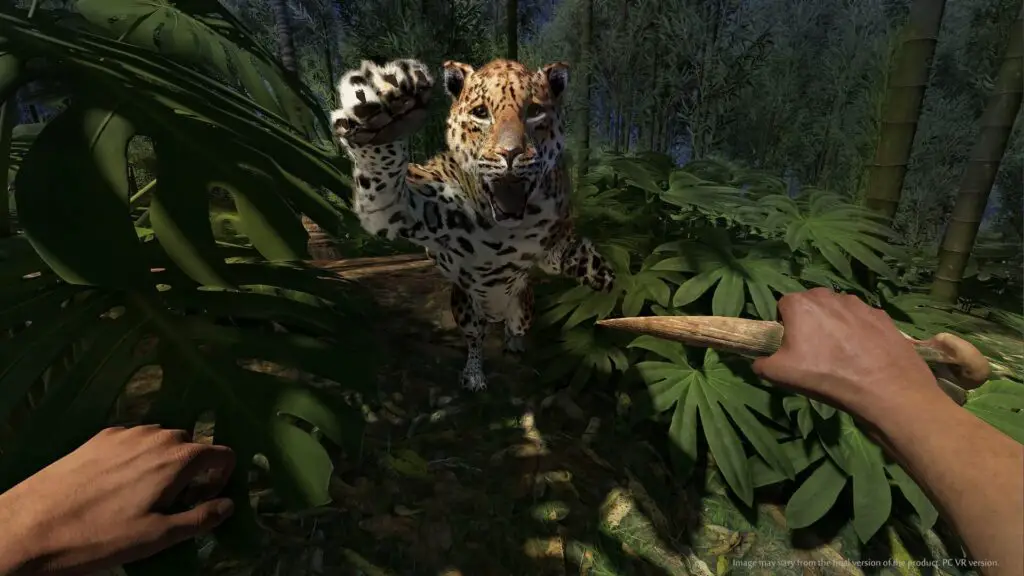 You will understand, that it is a constant survival. Ditch your cell phones and 5G, nothing happens here, comfort does not exist and you have to do everything yourself. Resourcefulness is therefore the keyword.
The forest is full of all the resources necessary to meet our needs. Unfortunately, to learn this jungle, you have to try everything, literally everything even if it means getting sick from tasting a plant or a mushroom that we thought was delicious.
And That's Why THIS HELL IS NOT FOR EVERYONE
Suggested:
Top 25 Best Multiplayer VR Games – CO-OP, Team VR Games
WHY THIS HELL IS NOT FOR EVERYONE
Green Hell is probably one of the best survival games we've ever played. The immersion is beyond our expectations and the title is intended to be extremely immersive and intensive and that's why it's not for everyone.
We won't hide it from you, Green Hell VR is a difficult game that requires dying to learn the basics, until you obtain the knowledge and benchmarks necessary to advance effectively.
Luckily, there are multiple difficulty levels if you want to focus on the story rather than survival.
And Before playing Green Hell VR, I would highly recommend you to read and watch guides regarding Green Hell VR because I'm pretty sure you'll need it.
So I have linked a few guides in the description of the review that we made on GREEN HELL On YouTube regarding Basic survival in the game, how to build and craft weapons and other such topics
THE GREEN FOREST HELL
Green Hell VR offers near-flawless gameplay, but what would it be without great level design? The title also pulls it off perfectly.
We are propelled into this very dense and full of life jungle and we can clearly feel the heaviness of the atmosphere and the pressure that reigns here. We are in the first person and therefore we are immediately immersed in the hostile environment.
The game has awesome graphics for the Meta Quest 2 because it is the first official game to take advantage of the Space Warp feature, but sometimes it's uneven.
Still, the work is admirably well done if we set aside some runny textures. The plays of light, shadows and the weather, just like the rendering of the water, are also very well rendered.
Suggested:
Top 25 Best Multiplayer VR Games – CO-OP, Team VR Games
THE "SPATIAL" HELL
The immersion goes even further with the soundtrack of the title. Apart from quality dubbing that reveals the emotions of the characters, Green Hell VR plays on spatialized sounds.
For Example, the water falling over our heads when we are in a tent does not produce the same sound as when we venture outside.
This spatialization has helped us immensely during our nighttime adventures or simply to hunt and find a stream. The objects we use also offer various sounds depending on the elements with which we collide them.
THE PLAYTIME AND MODES
Green Hell VR is as much a survival game as it is a title focused on psychology, yours, but also that of Jake, whose mental health is not in good shape after losing his memory and he must go deep into the forest to discover himself, find Mia and understand their links with the famous tribe.
A plot that provides around 10 to 15 hours of gameplay, but depending on your ability to survive can double. During our review, we approached approximately 20 hours.
In addition, it also offers a storyless mode focused solely on survival. And it never takes a step back if you choose the survival difficulty.
Suggested:
Top 25 Best Multiplayer VR Games – CO-OP, Team VR Games
THE VERDICT
RATING: 4/5
We have been waiting for it for more than a year and the experience is what we should expect in 2022.
Green Hell is one hell of a game that uses VR technology to perfectly capture and immerse us into their "GREEN HELL".
It's a psychological epic where you have to rely only on yourself, a deep story about human nature, a lot of resourcefulness, cold sweats and a painful but rewarding learning process.
The Incuvo studio brilliantly took over the title of Creepy Jar and was able to magnify it for virtual reality.
This is not a simple port, but rather a complete overhaul of the gameplay, reinforcing the aspect of survival by 200% while bringing a very successful physical dimension…
The studio has also succeeded in making everything fit in the Meta Quest 2 without slowing it down. For all this, Kudos to them. Also, the multiplayer mode is already in the making.
So, If you are looking for a hyper-hardcore survival, in which you can immerse yourself, And want to feel and experience the sheer feeling of survival where you have been left out and trying to live then you can't go wrong with Green Hell VR reviewed on the Meta Quest 2
Don't forget to enter the giveaway to win a free green hell VR key, the details are in the description and also in the pinned comment
So do you like this review? What's your opinion regarding green hell VR, we would love to hear your opinions…
And also do check out our other videos, articles and guides that we made on green hell VR that is also linked in the description of this video…
Until then Stay Strong VR Army!
Prevent Motion Sickness:
9 Ultimate Tips on How to Prevent Motion Sickness in VR Forever!