4 Best Oculus Quest 2 Glasses Accessories For a More Comfortable & Immersive VR Experience
If You're One Of The Millions Of People Who Wear Glasses, Finding The Right Oculus Quest 2 Glasses Accessories Can Make Your Virtual Reality Experience Much More Comfortable. Here Are Our Top Four Picks.
It can be painful and uncomfortable for people who wear glasses to use virtual reality, whether it's for gaming or other purposes.
Fortunately, there are many glasses accessories available for the Oculus Quest 2 that can help with these issues.
So, if you want to fully immerse yourself or your kids in the world of VR, here is a list of the Top 4 Best Oculus Quest 2 glasses accessories that you should purchase in 2023.
Editor's Pick: Best BATTERY PACKS For Oculus QUEST 2: BUDGET & NEED [2022]
The Best Glasses Accessories For Oculus Quest 2 That Are Worth Every Penny:
Amavision VR Prescription Lenses: For Those Who Wear Glasses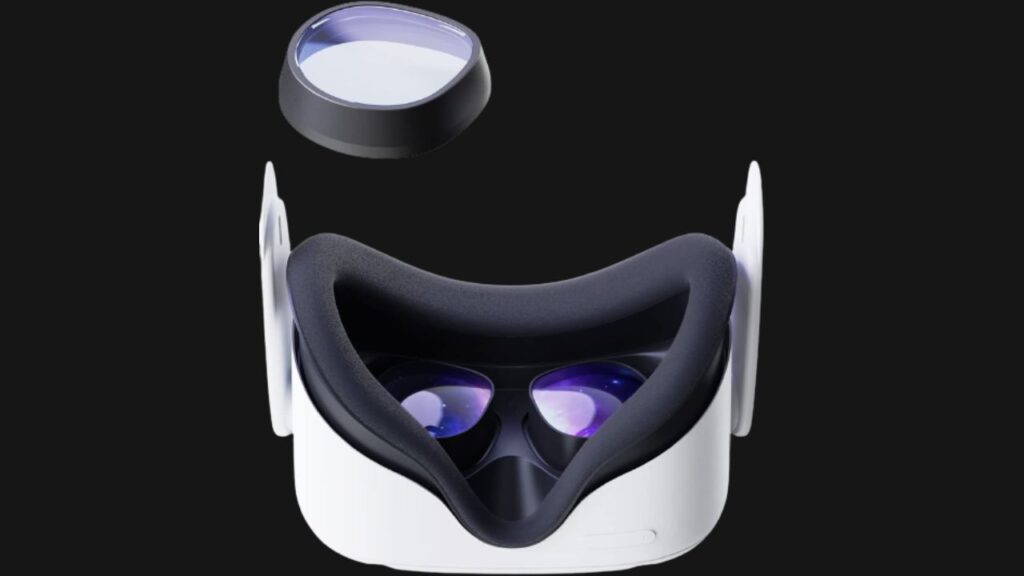 For the people who wear glasses, it's pretty uncomfortable or even impossible to wear the headset with glasses on, as a result, they get a blurry VR experience.
One solution to this problem is glasses spacers but sometimes it also doesn't help much.
So if glasses spacers don't work for you and you're in search of a better alternative for it, Amavision's VR Prescription Lenses are the one you should go for.
These prescription lenses allow people who wear glasses to maintain their image quality in VR without having to remove their glasses or put on bulky contacts.
They also have anti-reflective coatings, which reduce eye strain from the bright lights produced by LCD screens, as well as antifog technology, which prevents fogging even after an intense VR session.
For Whom This Product Is For?
Some people may be sick of wearing glasses in real life, let alone in virtual reality.
If you're one of those VR enthusiasts, you should invest in Amavision VR Prescription Lenses to fully immerse yourself in the virtual world.
These high-quality lenses are lightweight and have a non-glare coating on them and are super easy to install.
Some Notable Features…
Clean VR Kit: For Cleaning The Lenses Of Your Quest 2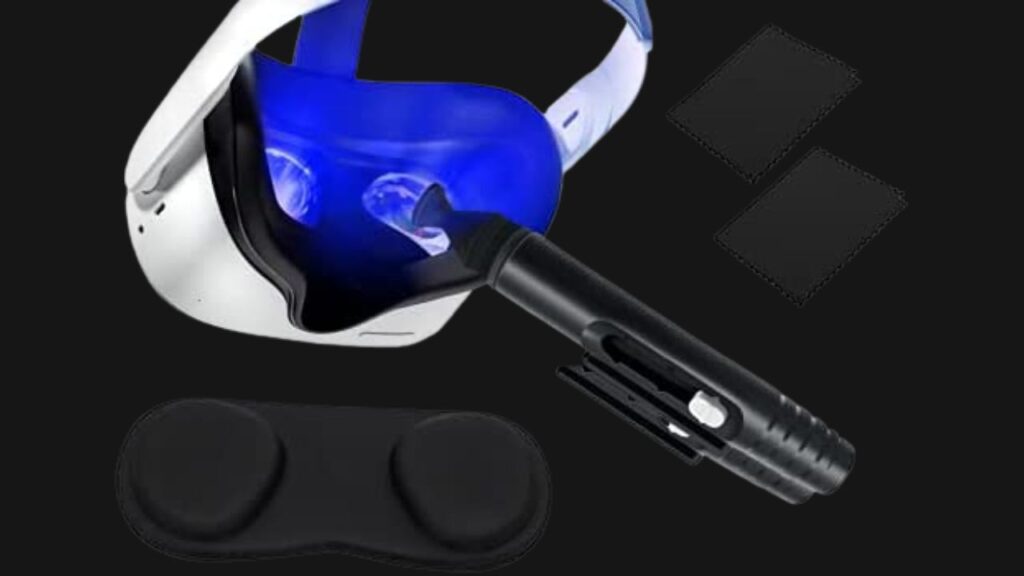 Oculus Quest 2 Headset is a prized possession and for obvious reasons, you expect complete immersion out of it.
But what's stopping you? Maybe those fingerprints and dust particles on your lenses.
If you own a VR headset you need to have a Microfiber Cloth & a Cleaner to keep the smudges and fingerprints off your headset so that you can see the ghost standing behind you.
The Kit comes with a Lense Cleaning Pen + 2 Microfiber cloths & Lens Cover which helps to remove dust and debris and prevent your lenses to make sure they stay shining clean.
For Whom This Product Is For?
If you want complete immersion in VR but smudges and marks are stopping you then my friend, you should invest in a good quality Microfiber Cloth and a Cleaner.
Some Notable Features…
Oculus Carrying Case
The Oculus Carrying Case is an excellent choice for those wanting to protect their headset and glasses at home or during travel.
Your headset and glasses are safe from scratches as the interior moulding is made of contoured foam while the outside casing is built of two shells.
Your entire Oculus set can fit in one suitcase. It comes with a comfy hand strap and can be carried anywhere conveniently.
The Oculus Carrying Case is the best on the market since it is long-lasting, portable, and attractive.
For Whom This Product Is For?
If you're going on a trip & want to take your headset with you, you'll need to have a carrying case, not just any handbag, but The Oculus Carrying Case.
It keeps the entire set safe, your lenses will be scratched free and you'll be able to carry it easily.
Some Notable Features…
Oculus Quest 2 Elite Strap W/Battery: Comfort + Battery
The Oculus Quest 2 Elite Strap makes it easier for people with glasses to comfortably enjoy their VR experience without having to worry about eyestrain or any vision problems.
That's why it is a must-have accessory for VR players who wear glasses.
Not only it doubles your playtime in VR, but also offers a snug fit to provide optimized comfort and weight distribution for different head sizes and glasses frames.
The Elite Strap also has thick padding which helps keep your glasses from slipping off and provides extra cushioning for extended use.
For Whom This Product Is For?
The Meta Quest 2's head strap does the job well but if you love VR and want to increase the playtime then you must have a comfortable head strap too…
But why do we recommend Oculus Quest 2 Elite Strap? Because it hits two birds with one stone.
By buying a single product you can instantly double your Quest 2's playtime while making it heavenly comfortable for the player who wears glasses.
(It comes in two variants one without a Carrying Case and one with a carrying case, you can check out both from the links below)
Some Notable Features…
Use Your Quest For More:
How To Watch Movies & Series On Oculus Quest 2 (FREE)
These four Oculus Quest 2 Glasses accessories are essential for anyone who wears glasses while playing VR games or using VR in general.
The Elite strap provides a snug fit for optimal comfort and weight distribution, the Oculus Carrying Case protects your device during transport, and the VR Clean Kit keeps your lenses clean and clear of any smudges or dirt that may interfere with your experience.
And finally, Amavision's VR Prescription Lenses are for the players who wear glasses to have a comfortable and spectacular VR journey.
You get a pleasant experience without having to worry about vision-related issues such as eyestrain or blurry images caused by their lenses.
Comment below your Favourite Accessories and do subscribe to our Youtube channel.
Until Then Stay Strong VR Army!
Top 13 Best FITNESS And WORKOUT Games On Oculus Quest 2
Top 15 Best Oculus Quest ARCADE GAMES You Should Try In 2023
TOP 3 Best FIGHTING / BOXING GAMES For Oculus Quest 2 [2023]
Editor Pick:
How To Play CYBERPUNK 2077 In VR On Oculus Quest 2 – REAL VR