Lucky's Tale Surprise Release On Oculus Quest 2
This Is Not The First Time That A Game Has Been Released By Surprise On Oculus Quest And It Is Once Again The Case Today With The Platform Game Lucky's Tale.
Playful and Oculus Studios have announced the Oculus Quest 2 version of the platform game Lucky's Tale.
In 2016, a little fox named Lucky accompanied the owners of the brand new Oculus Rift to the wonders of virtual reality.
It was one of Rift's launch games and one of the first to explore third-person platformers in virtual reality
You will find the same game adapted to the new controllers of the Oculus Quest 2 compared to those of the Rift of 2016.
In This Post:
Suggested:
Top 9 Best Oculus Quest 1 & 2 ADVENTURE Games w/STORY [2021]
What's Lucky's Tale?
The third-person platformer stars Lucky Swiftail, a fox whose goal is to save his friend Piggy from the clutches of Glorp.
The title bets on colourful graphics that give life to worlds where we will run, jump, climb, meet different characters, discover secrets and face bosses.
What's new about Lucky's Tale?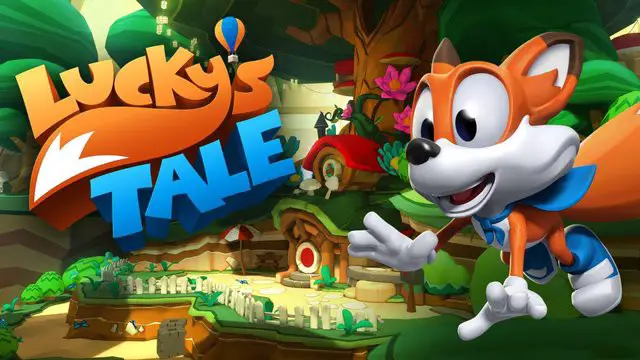 Lucky's Tale for Quest 2 is a "remastered" version, which means they have updated the "lighting" and "rendering", optimizing it for Quest 2 along with changing the main character as appearing in the flat screen adventure.
They also point out that they have remixed the audio.
Price And Crossbuy?
Its price is $19.99 (it has no cross-purchase with the Rift version), and it is only compatible with Oculus Quest 2, as with the recent Medal of Honor: Above and Beyond, Resident Evil 4 VR and Blade & Sorcery: Nomad.
Related:
GTA 5 VR – How To Play GTA 5 VR On Oculus Quest (FREE)
The game will only require 3.5GB of disk space. However, only owners of an Oculus Quest 2 will be able to use it.
The game is therefore available now at a price of $19.99.
The game must end up in your cart immediately as it represents a title that is as unique as it is essential in its genre in VR.
Suggested:
How To Play DOOM In VR On Oculus Quest 1 & 2 EASIEST Method