Beat Saber Update v1.13.4 Brings Pro Mode, New Modifiers And Multiplayer Badges
A new update for Beat Saber has appeared on all platforms, which includes five new modifiers, multiplayer badges and minor improvements.
With version v1.13.4, Beat Saber is again interesting for people for whom the game was simply too easy until now. A total of Five new modifiers are available that can complicate your life or simplify it: Here are the New Modifiers:
Super Fast Song – increases speed to 150%
Pro Mode (in beta) – hitboxes are the same size as cubes
Strict Angle (in beta) – the cutting direction becomes more strict
Small Notes (in beta) – cubes are 50% smaller (but hitboxes are a little less small)
Zen Mode – no cubes or interface, allowing you to enjoy music and lights
The modifiers that are currently launched as "beta" have no influence on the distribution of points.
"Beat Saber v1.13.4"
If you are finding Best Multiplayer VR Games then I've also made a list on that Check it out Best 25 Multiplayer games – Co-Op , Team quest Games
Beat Saber: New Badges For Multiplayer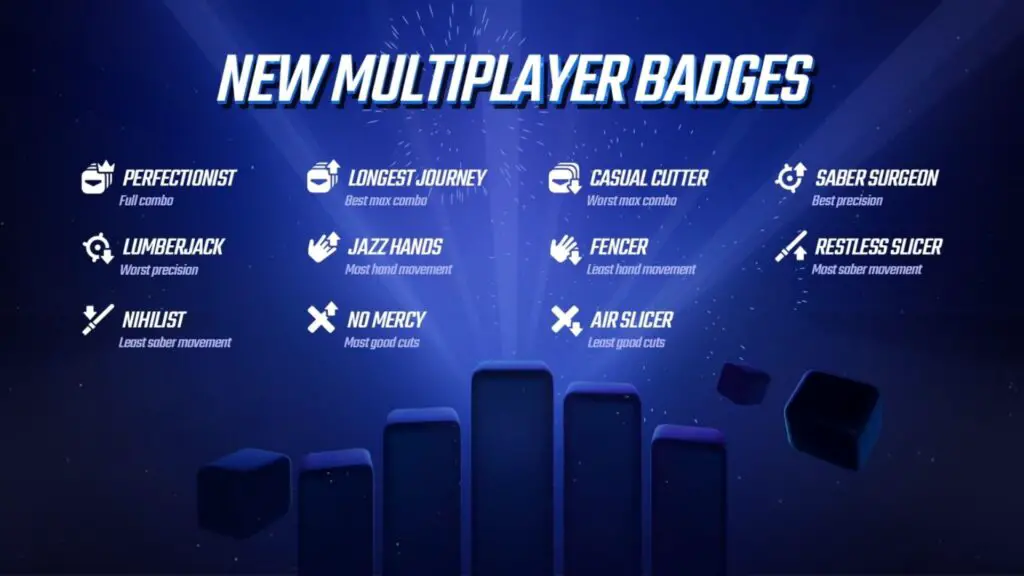 So that you can show how great you have done in multiplayer rounds, there are 11 badges, which are collected on a special badge page. Here is the list of multiplayer badges and their meaning:
Perfectionist – Full combo
Longest Journey – Best max combo
Casual Cutter – Worst max combo
Saber Surgeon – Better Accuracy
Lumberjack – Worst Accuracy
Jazz Hands – Greater hand movement
Fencer – Smallest hand movement
Restless Slicer – Biggest Saber Move
Nihilist – Smallest saber move
No Mercy – Most Good Cuts
Air slicer – Fewer number of good cuts
The 1.13.4 release of Beat Saber is now available on all platforms. However, the PlayStation VR has not yet received the long-awaited multiplayer mode, only new modifiers are added to this version of the game.
Beat Saber is available for PC VR, PlayStation VR and Oculus Quest and is arguably one of the most successful VR games of this generation. You can find the game here on Steam.
Read More News and Articles on VR Marvelites: