How To Play Boneworks On Oculus Quest 2 Using The Oculus Air Link (3 STEPS & In 2 MINs)
Want To Play Boneworks VR On Your Oculus Quest 2 Wirelessly And For FREE? Then, This Is The Complete Guide On Playing Boneworks VR On Quest 2 For FREE Using Oculus AIR LINK (Updated 2022)
Boneworks is one of the best-selling and in-general Best VR games of all time. It is an ultimate "PHYSICS" simulator that means you can do anything you want.
Still, it is not available on The Oculus/Meta Quest platform.
And Playing Boneworks on the oculus quest 2 is an experience that I can guarantee, you won't forget because you have no wires to restrict you unlike playing it with a PCVR headset.
Using Oculus Air Link to Play Boneworks VR on your Oculus Quest is the easiest and the best way as it requires no wires.
So in this post, we have laid down all the STEPS that will help you to play Boneworks on your Quest 2 in just 2 Minutes  
Are you ready to test both your combat skills and create a mess that you won't regret?
Editor's Pick: Top 13 Best FITNESS And WORKOUT Games On Oculus Quest 2
If you love Boneworks then you'll love these gmes for sure:
Top 15 Amazing Best ACTION Games For Oculus Quest 2
Step 1: Buy Boneworks From The RIFT store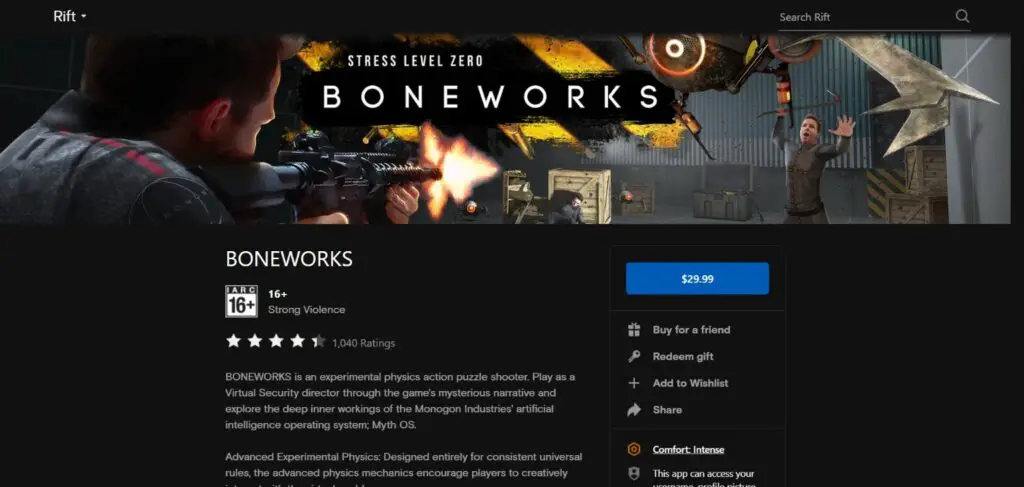 First, we need to buy Boneworks from the Oculus Rift Store and install it on our PC.
If you have brought Boneworks already from STEAM then don't worry, there's just 1 extra step that you need to do (STEP 4)
But If you are buying Boneworks then we recommend buying it from the Rift Store because the process is much simpler
Step 2: Enable AIR LINK And Connect Your Quest 2 w/PC
To perfectly play Boneworks on your Oculus quest 2, your WiFi connection must be 5Ghz.
I personally recommend having a specific router like the ASUS AX5400. In which only your Meta Quest 2 is connected.
If you don't know how to enable/activate Oculus Air Link then you can watch our 2 Minute guide that is embedded above or you can read our Step-By-Step Air Link Guide. After enabling Oculus AIR Link,
Here's How To Connect Your Oculus Quest 2 With Your PC
Go to the

"Quick Settings"

Panel
Then Click On The Oculus AIR LINK Tab
Now, just select your PC and click LAUNCH
Step 3: Finding & Playing BONEWORKS On The Oculus Quest 2
You can directly open and play Boneworks as you are already in the "RIFT LOBBY". Just find Boneworks from the RIFT LIBRARY and Open it.
To access your RIFT Library use the "DIAL" that is in front of you.
Voila! Now, You can play The Boneworks VR on your Quest 2 wirelessly for completely FREE!
If you're just stepping into VR Then these games might help:
Top 15 Best BEGINNER Oculus Quest 2 Games To PLAY FIRST
Step 4: Opening STEAM VR And Playing Boneworks VR (ONLY For STEAM VR Users)
You can watch the embedded video above or you can read the steps:
After connecting to your PC, Open STEAM and STEAM VR and make sure they are updated.


After that, you will be in the "STEAM VR Lobby". If you are not in the STEAM VR Lobby then Make sure in the STEAM VR toggle (on your PC), your Quest 2 Headset is "detected", if it is not then click on the "RESET Headset" while you are using Air Link


And finally, find and double click on the Boneworks game file while STEAM VR is opened
***This step is only for the players who have brought Boneworks on STEAM, others can SKIP this step.***
A MUST-READ:
The 25 BEST OCULUS QUEST 2 GAMES You Need To Play In 2022
So that is How To PLAY BONEWORKS VR On Oculus Quest 2 WIRELESSLY Using Oculus AIR LINK in the easiest way.
Do tell us after playing Boneworks VR, if you enjoyed the game or not, personally, we loved this game and we can't wait to hear your opinions.
If you Love Boneworks VR, Then you'll love these games: Top 15 Best ADVENTURE Oculus Quest 2 Games w/STORY [2022]
And If you have any suggestions or if you're facing any issues, then the comments section of VR Marvelites is always open for the VR Army.
Until Then Stay Strong VR ARMY!
Editor Pick:
Top 10 SCARIEST & Best HORROR GAMES On Oculus Quest 2 (2022)