How to Play & Get Phasmophobia VR On Oculus Quest 2 Using 2 METHODS; Wired or Wireless
Experience The Terror Of This First-person Horror Game; Phasmophobia, Right In Your Own Home. The Oculus Quest 2 Provides An Incredibly Immersive Gaming Experience That Will Have You On The Edge Of Your Seat. Play Phasmophobia Today And See For Yourself Why It's One Of The Most Popular VR Games Around.
Phasmophobia VR is one of the best horror VR games out there that has taken the gaming world by storm. People are obsessed with it, and for good reason and the Oculus Quest 2 is the perfect platform for this title
It's a really fun, challenging and scary game that puts you in the shoes of a ghost hunter that is sure to get your heart racing.
Can you play Phasmophobia on Oculus Quest 2? Yes, you can play Phasmophobia on Oculus Quest 2 but its not available on the Quest Store instead we need to use Steam
So if you want to play this horror classic on your Quest then we're here to help. The game offers full 360-degree immersion, so you'll feel like you're truly in the haunted house.
Plus, the intuitive controls make it easy to navigate the environment and battle the ghosts.
So In this article, we'll walk you through how to play Phasmophobia on the Oculus Quest 2 wired or wirelessly!
Editor Pick:
Top 10 SCARIEST & Best HORROR GAMES On Oculus Quest 2 (2022)
How to Play Phasmophobia on Oculus Quest 2?
There are two ways using which you can play Phasmophobia on Oculus Quest 2 that are Oculus Link; the wired method and the 2nd one is Air Link; the wireless method.
We recommend the wireless method because it eliminates the wires and gives you the complete immersion.
First, check your Oculus Link Requirements to see if you meet the minimum requirements for the Oculus Link and the Air link, now there are two ways to play Phasmophobia on Oculus Quest 2
Can You Play Phasmophobia On Oculus Quest 2 Using Oculus Link?
Open the Oculus application and make its updated to the latest version
Turn on your Oculus Quest 2 and Plug your

Oculus link cable

or an

alternative USB 3 cable

into your Quest 2 headset.
And now, connect the other end to a USB 3.0 port on your PC
After Connecting The Link Cable, Two messages will pop up on your Quest 2, first, prompting you to "Allow access to data". Select "Deny". If you mistakenly "Allow" the prompt, unplug your Link cable from the Quest and plug it back in.
And the second one will be "Enable Oculus Link" select the option to "Enable" and you'll then be taken to the Oculus PC home screen on your Quest headset.
Open Steam on your PC
And Finally Start Playing Phasmophobia On Your Oculus Quest 2 using Oculus Link!
As Oculus Link is a Wired Method, the gameplay you get is uninterrupted and you don't get any Lag or drop in the frame rates but it can be limiting sometimes because you can't move around freely.
You can depend on Oculus Link to give you a strong experience with no latency till the end.
Can You Play Phasmophobia On Oculus Quest 2 Wirelessly?
Yes, you can play Phasmophobia On Oculus Quest 2 Wirelessly and for FREE using Oculus Air Link. Here's how:
Open the Oculus application and make its updated to the latest version
Turn ON your Quest 2 and go to "Settings"
Click On The "Experimental" Tab
Scroll down and turn ON the "Air Link"
An "Air Link Requirements" pop up will appear, click "Continue"
Open the Quick Settings Panel and now, you can see the "AIR LINK Tab", just click on it
You can see your PC listed, select your PC and click "PAIR"
After selecting your PC, a pairing code will appear in your Quest, make a note of that code
Now, on your PC Oculus app, a pairing code will appear, Click "CONFIRM"
After Confirming the pairing code, click on "CONTINUE" on your Oculus Quest 2
Finally, you can click on "LAUNCH" to access your PC using the AIR LINK
Now, Open Steam
And Start Playing Phasmophobia On Your Oculus Quest 2 Wirelessly for FREE using the Oculus Air Link!
Your experience using Air Link to stream PCVR games on your Quest varies depending on the game itself, your computer specifications, and mainly your router
The WiFi connection must be 5Ghz if you want to play Phasmophobia Wirelessly. I personally recommend having a specific router like the ASUS AX5400 in which only your Meta Quest 2 is connected.
Something as simple as a wall in between your Quest and your router might create chaos with the wifi signal from time to time.
So If you have Amazing WiFi speed and there's no distraction to block your connection between your Quest and WiFi, then you should definitely go for Air link.
(Please watch the embedded video below, to perfectly activate The Oculus Air Link)
If you're just stepping into VR Then these games might help:
Top 15 Best BEGINNER Oculus Quest 2 Games To PLAY FIRST
Can't Play Phasmophobia On Oculus Quest 2? Then Here's The FIX:
After connecting to your PC, Open STEAM and STEAM VR and make sure they are updated.


After that, you will be in the "STEAM VR Lobby". If you are not in the STEAM VR Lobby then Make sure in the STEAM VR toggle (on your PC), your Quest 2 Headset is "detected", if it is not then click on the "RESET Headset" while you are using Air Link or Oculus Link


And finally, find and double click on the Phasmophobia game file while STEAM VR is opened
Phasmophobia Oculus Quest 2 Controls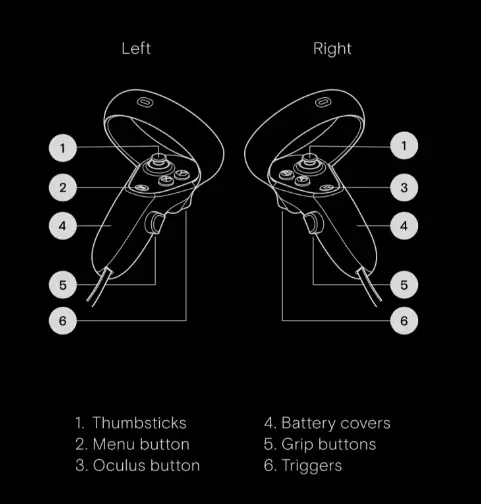 A MUST-READ:
The 25 BEST OCULUS QUEST 2 GAMES You Need To Play In 2022
So that's how you can play Phasmophobia VR on your Oculus Quest wired and wirelessly and if you're looking for a truly immersive VR horror gaming experience, then Phasmophobia is the game for you. Trust me, you won't be disappointed.
Experiencing Phasmophobia in VR offers a much more immersive and terrifying experience than playing the game on a traditional monitor.
It's a must-play for any horror fan. The game is so immersive and intense, that I can't even begin to describe it. You need to experience it for yourself.
And thanks to our guide, you can now enjoy this title on your Oculus Quest 2. So go ahead and share this article with your friends, comment below and let us know what you think of the game.
And be sure to subscribe to our YouTube channel for even more awesome VR content.
We hope you enjoy playing Phasmophobia on your Quest 2 as much as we enjoyed creating this guide! Happy hunting! Until Then Stay Strong VR ARMY
Read This Next:
TOP 3 Best FIGHTING / BOXING GAMES For Oculus Quest 2 [2022]