Espire 1: VR Operative Spectre Update Adds Sawn-Off Shotgun for Extra Loud Stealth on Oculus Quest
New Campaign Weapons and the "Hardest" Challenge Ever Made. Enter Espire 1: VR Operative with Latest Free Content Update
Publisher Tripwire Interactive and developer Digital Lode are proud to announce their continued commitment to improving Espire 1: VR Operative, the award-winning virtual reality stealth experience and top-selling Oculus Store title, with today's launch of the Espire 1: VR Operative Spectre update.
Enhanced for the new Oculus Quest 2 and Oculus Quest, today's update introduces two new playable weapons to the title's campaign, offering stealth savvy veterans a new way to enjoy the game. Also included are two brand-new, ultra-difficult challenges that will test the mettle of even the most experienced Espire Agents.
For full details on the Espire 1: VR Operative Spectre update, please visit the official Tripwire Interactive forums.
"The Best Stealth Quest Game Just Got Better"
What's In The Spectre Update
Suggested:
Top 15 Best Oculus Quest 1 & 2 Shooting Games To Play In 2021
Espire 1: VR Operative Spectre Update Details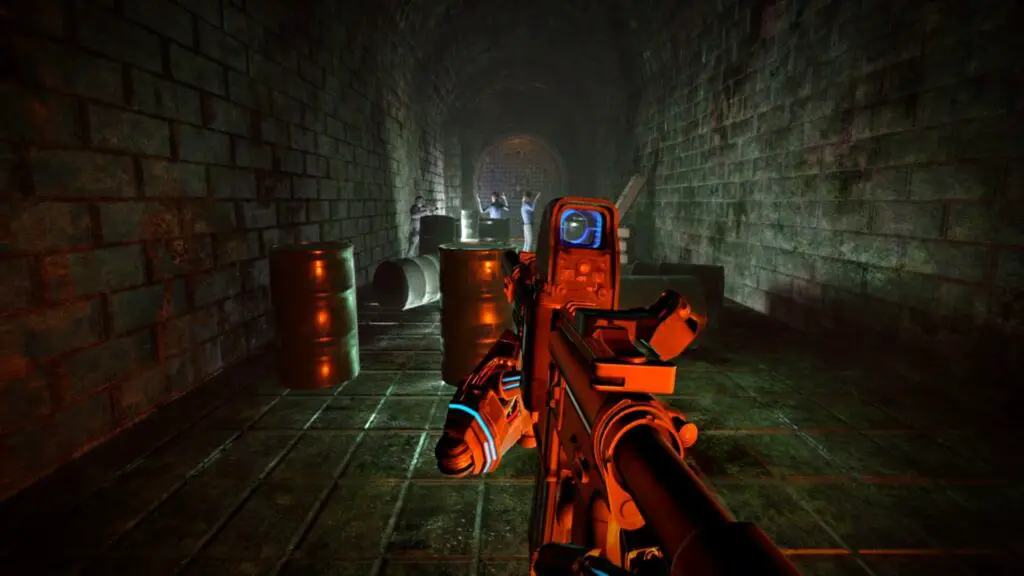 New Campaign Weapon: Sawn-off Shotgun: Playable for the first time in the campaign, the Sawn-off Shotgun offers Espire Agents the option to forgo stealth with this extra loud boom stick. This is the perfect weapon for "tanking" your way through the campaign, guns blazing. 
The Sawn-off Shotgun's compact size allows for it to be holstered as either the primary or secondary weapon – and is reloaded via magazine clips. So, there is no need to worry about individual shells. Complete the Shotgun Virtual Challenges to unlock this new weapon for the campaign. 
New Campaign Weapon: Spectre SMG: Playable for the first time in the campaign, the Spectre SMG comes equipped with a suppressor and an extended 45-round magazine. With it's unique firing mode, Espire Operatives can fire a round on a trigger squeeze with a second round firing upon release with reduced recoil. Complete the SMG Virtual Challenges to unlock this new weapon for the campaign.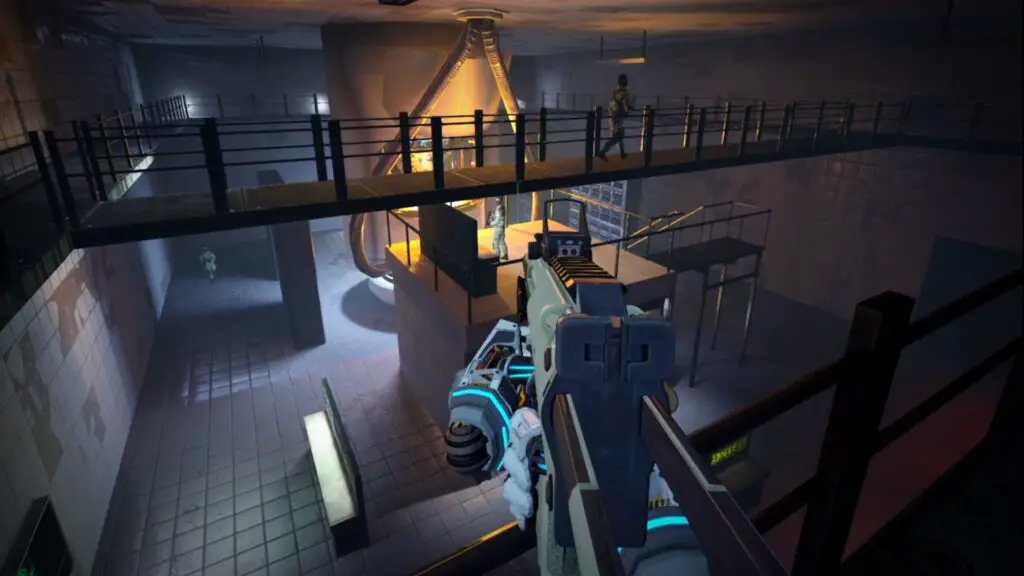 New Virtual: Mangua: This brand-new Takedown challenge offers branching paths and rewards players who explore with special weapons to help complete their objectives. As always, keeping an eye out for guards patrolling above you and using zip lines to get the drop on enemies is critical for success.
New Virtual Challenge: Furcata: Described by the Digital Lode developers as the "most difficult" Hostage rescue challenge ever made, Furcata features multiple starting points, skilled marksmen, and well-guarded hostages. 
Espire 1: VR Operative aims to set the new gold standard for the stealth genre in virtual reality –introducing the "Control Theatre," a unique solution to the challenge of VR motion sickness for first-person titles. Espire 1: VR Operative drafts players as drone operators of the future. 
Players become "Espire Agents" and use cutting-edge Virtual Reality hardware to remote-operate the Espire model 1 from the safety of their Control Theatre.
The technology behind the Control Theatre and the game's approach to movement lie at the heart of Espire 1: VR Operative's gameplay and intuitive VR control system. Any time a player performs any artificial locomotion, the game world shrinks down to the size of a floating tablet, with the Control Theatre visible in the player's peripheral vision. 
This "VR within VR" system allows for precise, full freedom movement, while maintaining immersion, and eliminating "VR motion sickness" for almost everyone. The Control Theatre is fully customizable to suit the player's level of comfort, and can be fully disabled for those already comfortable moving in VR.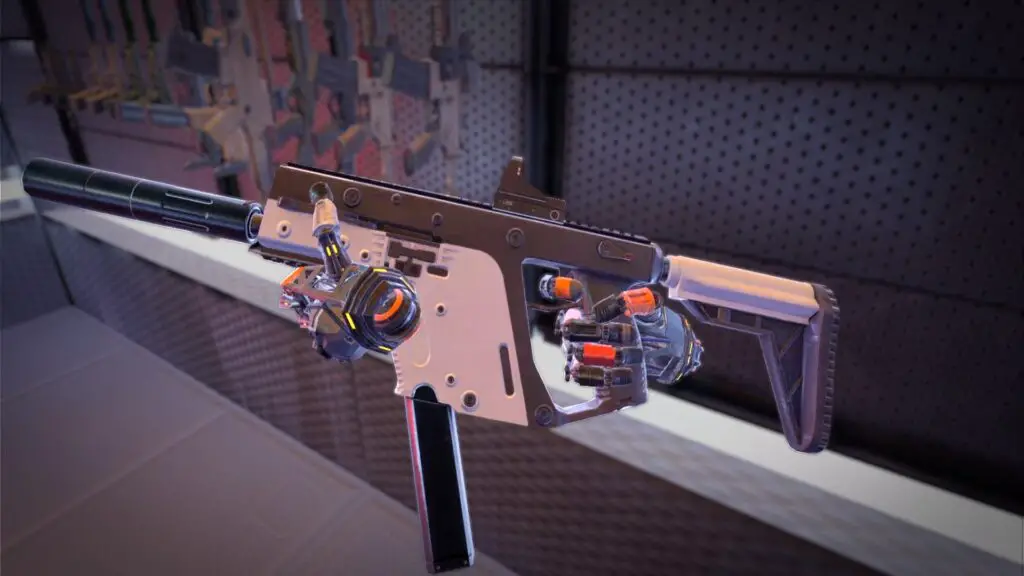 Suggested:
Top 13 Best VR Fitness Games for a Mix of Fun and Burn
To stay up to date on the latest news as development for Espire 1: VR Operative continues, be sure to visit the official website – and follow the developers on Twitter, Facebook, Instagram, and YouTube. 
More Information About Espire 1: VR Operative
Espire 1: VR Operative
Espire 1: VR Operative is one of the most anticipated VR game announced at E3. Espire one is a first-person stealth action shooter VR game in the vein of metal gear solid and other tactical stealth games. 
This is one of the games I personally have been waiting for since it was announced.
Gameplay-wise the mechanics is initiative. The locomotion is excellent, and the gunplay functions perfectly, and climbing is just awesome; it really brings another level of stealth.
 There are a variety of different weapons for you to pick up. Another great gameplay mechanic is that you can also use the slow-motion ability to slow time and allow you to react to enemies or throw yourself at them.
Visually the game looks pretty awesome. The devs did say that soon they'll be releasing an update that will make the graphics significantly better. 
Sound wise I love the spatial audio which really helps when you're trying to sneak around. 
There are a total of six main missions, and each mission can take anywhere from half n hour to 45 minutes, maybe an hour. 
The game doesn't end there as there is a challenge mode that will keep you coming back along with cheats.
If you're looking for a game that'll make you feel immersed in a futuristic stealth world then Espire one is a great game to start. 
Some Notable Features…